Self-Service: Report Issue Update
Our brand new Automation Add-on is designed to help you bring your customers' Self-Service experience to the next level!
The add-on is available on all Gorgias subscription plans, both legacy and current ones.
How it works
If you already use Gorgias, you most likely have the self-service portal installed on your chat already. You will continue to have access to all 4 of the self-service portal features, of course. However, we have a brand new enhancement that can only be activated by installing the add-on.
This enhancement extends the current experience of the 'Report Issue' feature on Gorgias self-service. Once the add-on is activated, you can customize the Report Issue feature to offer only the most relevant options based on the unique Shopify variables for each customer. This will help reduce your customers' need to start a chat with an agent and offer a smoother experience with self-service.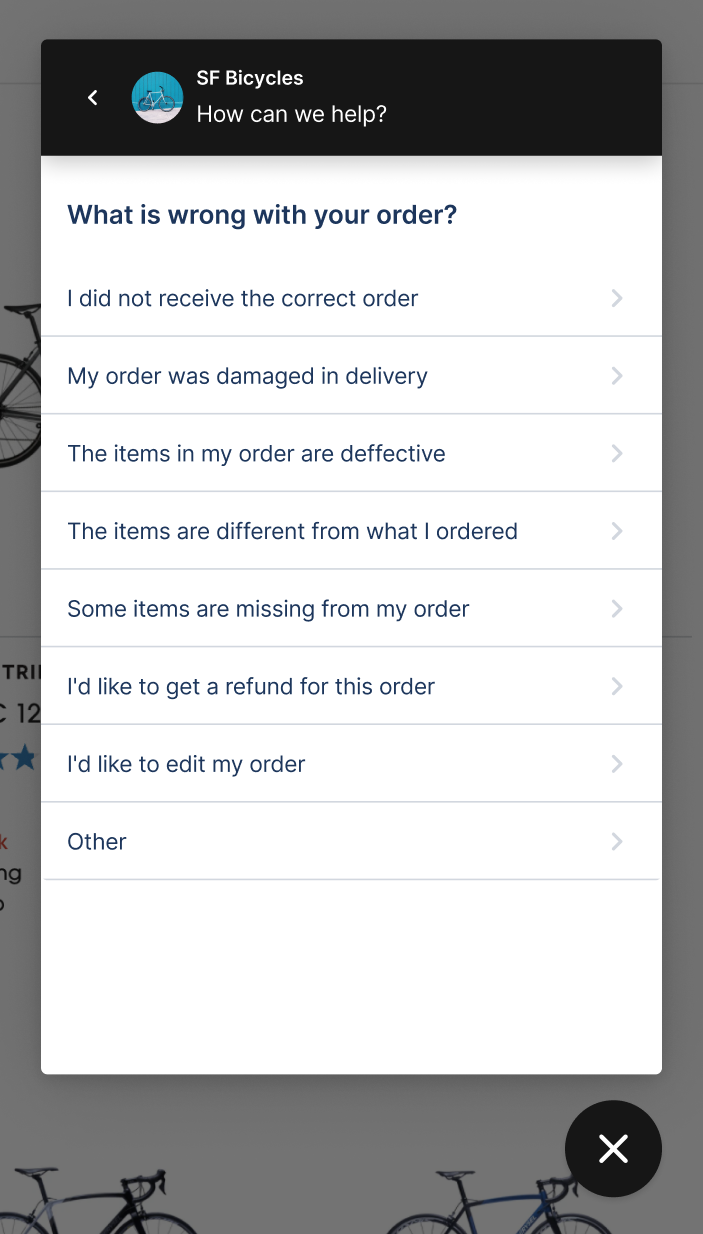 We consider you an existing Gorgias user here if you subscribed before October 4th 2021.
Setup Instructions
To enable this option, please follow the steps below in order to set up the Automation Add-on first. Then, please refer to this guide in order to set up the 'Report Issue' option on self-service.
Go to Settings and then pick 'Self-Service' under Automation. Here you will find your self-service settings where you can choose which options are enabled. You will notice a button next to the 'Report Issue' option titled 'Get Automation Features':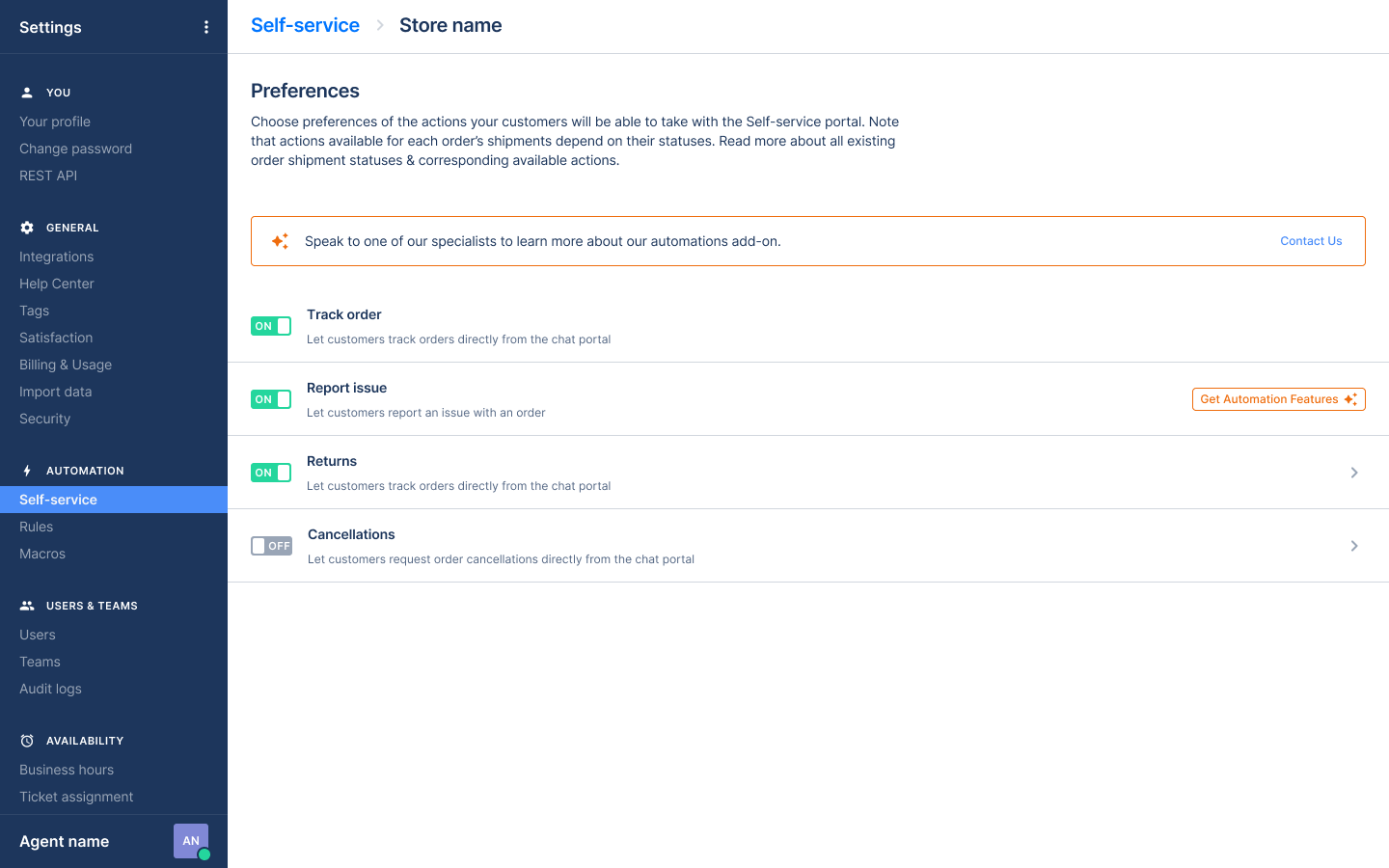 Once you click on the button, a pop-up will appear to provide you with some details about the add-on. You can complete your subscriptionfor the add-on within this window: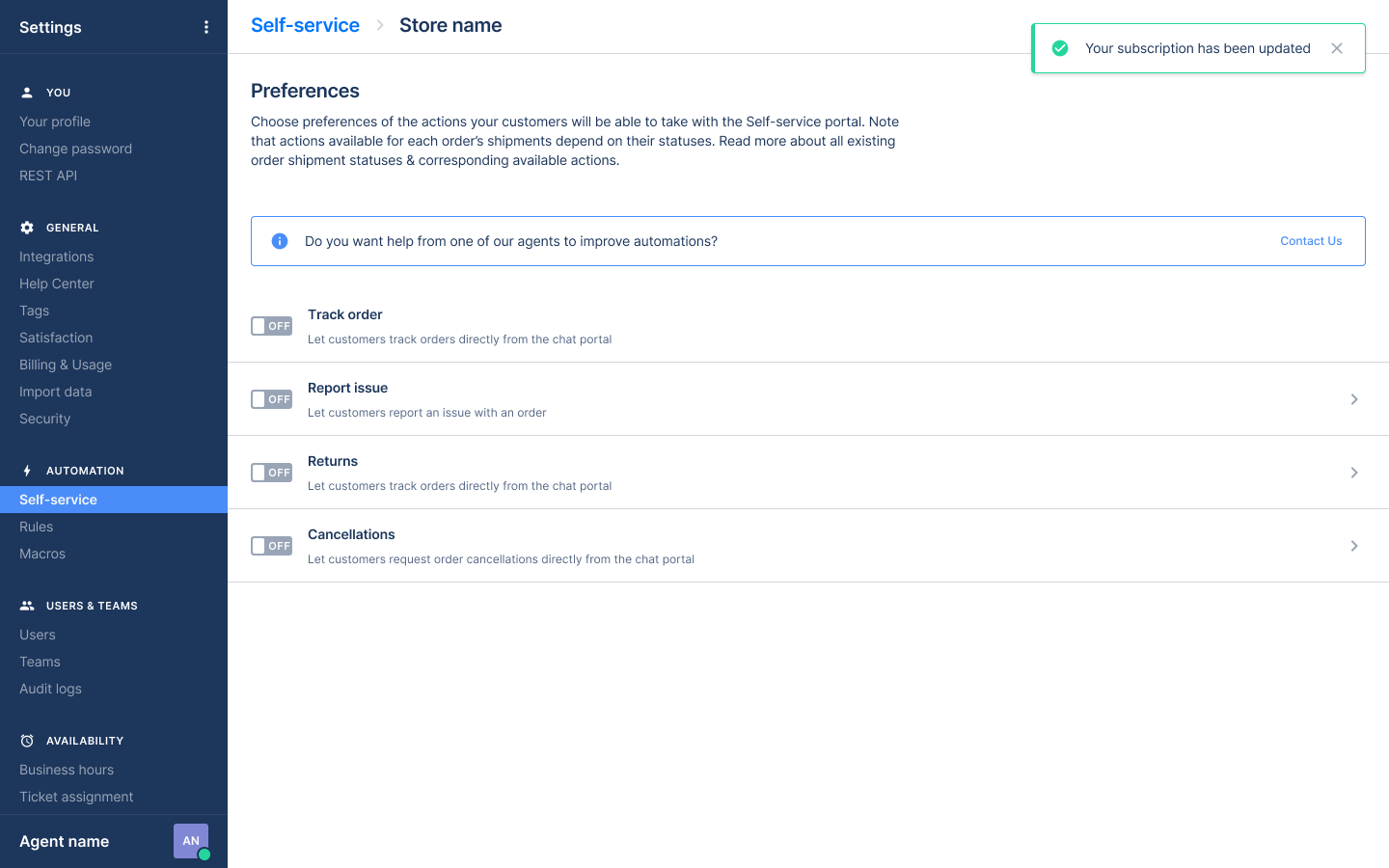 All done! You can now customize the 'Report Issue' option to optimize your self-service experience.
There are two more ways to complete your Automation Add-on subscription!
Navigate to your Billing & Usage page under General in Settings. You will notice a window on the right where you can subscribe to the add-on: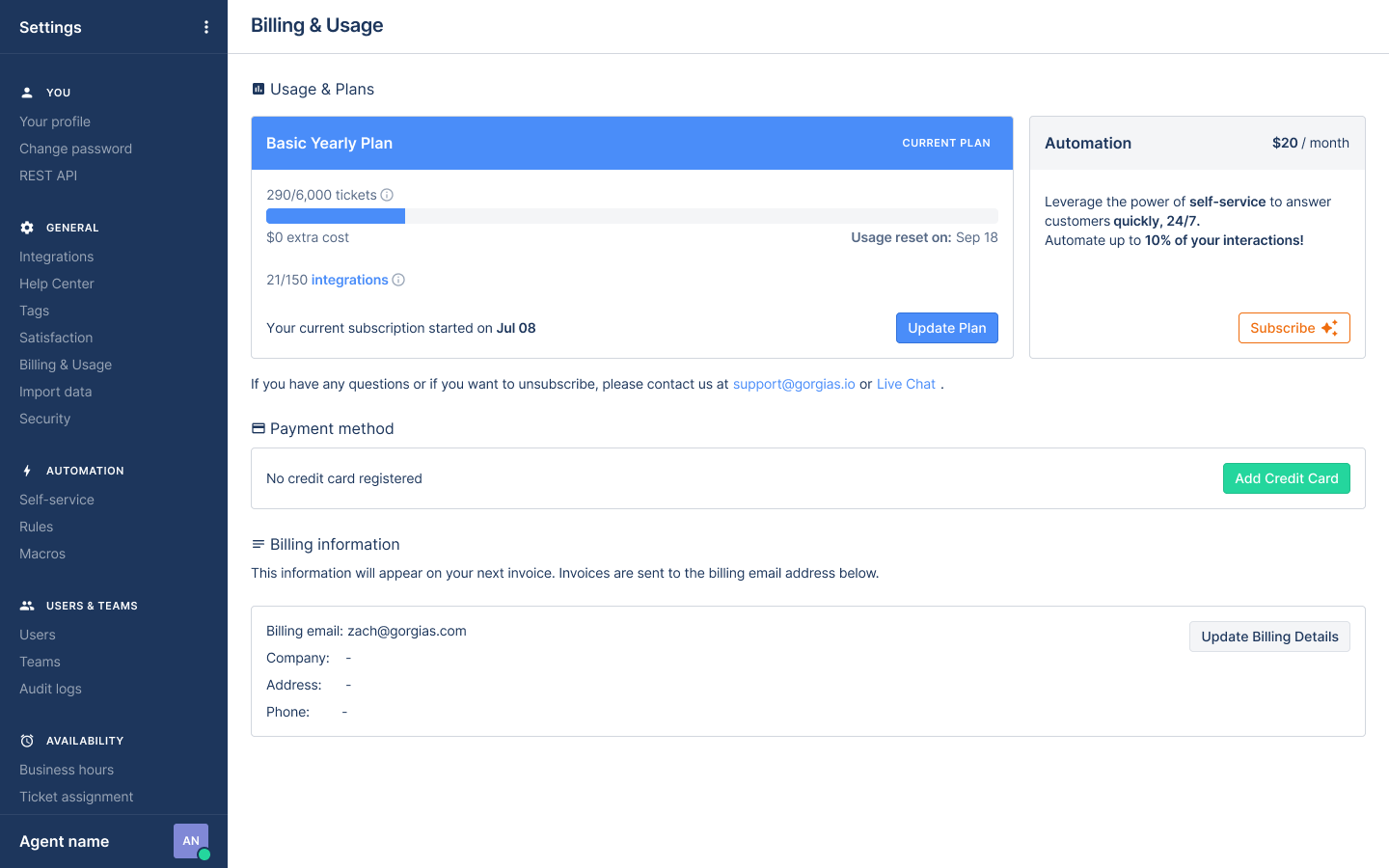 And finally, if you are looking to update your Gorgias subscription plan, you will have a checkbox on the pricing pageto add the Automation Add-on to your new subscription:
Once selected, please click 'Add to Plan' in order to complete the subscription: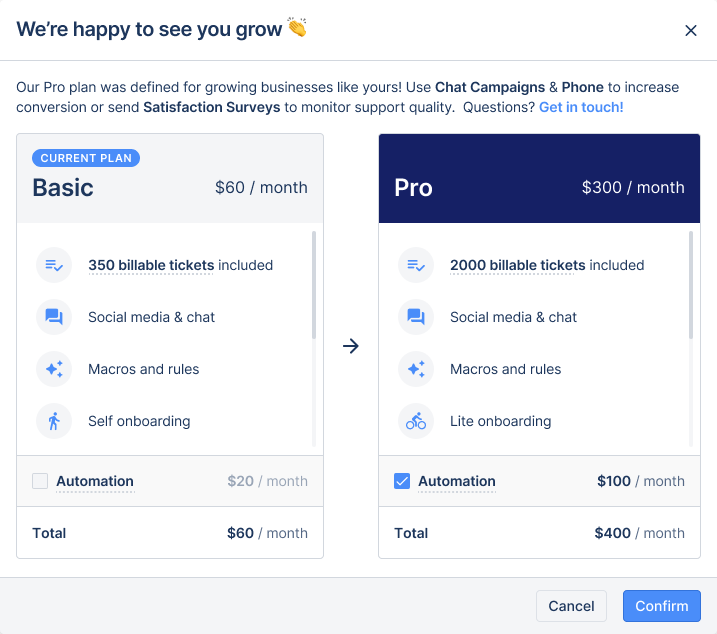 Congrats! 🙌 Your Automation Add-On has been enabled. You can now optimize the 'Report Issue' option on Gorgias self-service.
Pricing
The pricing structure for the Automation Add-on varies depending on your current Gorgias subscription plan.
Please refer to the table below for details:
| | | |
| --- | --- | --- |
| | Monthly | Annual |
|    Basic | $30 / month | $300 / year |
|    Pro | $180 / month | $1800 / year |
|    Advanced | $450 / month | $4500 / year |
If you are subscribed to an Enterprise (Custom) plan, then please reach out to your CSM directly and they will provide you with a quote!
You will see the exact price for your chosen subscription plan on the Billing & Usage page in the helpdesk as shown below: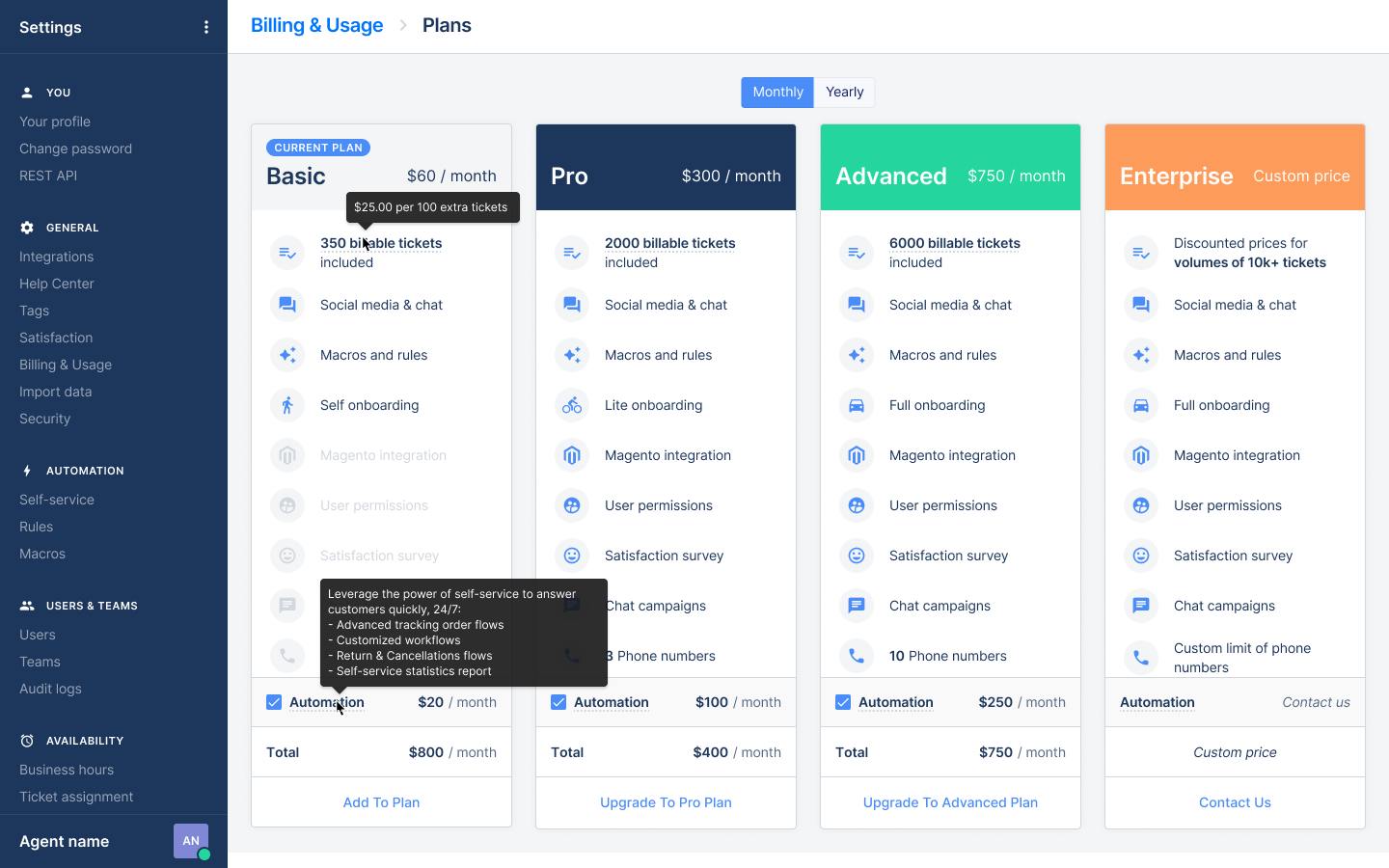 Finally, if you have any additional questions about how the Automation Add-on works, our Support Team is here for you! You can reach out to them via email at [email protected] or via the live chat on our website.
Was this article helpful?