Automation Statistics
Updated 17 days ago
Gorgias is all about automation. With the new Automation Overview page, you can keep track of all of your automations and see how well they're performing.
How it works
Navigate to the Automation Overview page on Gorgias to have a bird-eye view on all of your automations. At a glance, you can see:
how well your rules help you automate your customer interactions
which channels are best performing
where some improvements can be made
What is an automated customer interaction?
An interaction is considered automated when the inquiry is answered entirely by an automated process (i.e. rules and/or self-service), and is closed without any agent interaction. If an agent sends a message (even with a macro), we do NOT count it as an automated interaction. We filter out trash, spam and internal notes so they do not affect the score.
The statistics on the Automation Overview page only represent closed tickets.
Setup instructions
Follow these steps to access Automation Overview page on Gorgias:
Click on the menu in the top-left corner of your Gorgias dashboard and select 'Statistics':
Navigate down to the last section on the left sidebar. You will see 'Automations'at the bottom. This is the one that you'll want to check out:
In this section you can choose to review 'Overview', 'Macros' or 'Intents':
Like all pages on Statistics, you can filter the data you want to display by integrations, channels or time period:
Graphs
Overview
Overall Automation will help you understand your global automation rate across all channels. This rate reflects the percentage of automated customer interactions within total customer interactions.
Now you can also find your self-serve statistics here! Showing the impact of your self-service setup: overall percentage of your workflow automated, self-serve automation flow and the number of tickets automated by self-serve.
Displayed underneath the global automation rate, you can also view how you improved compared to the previous period.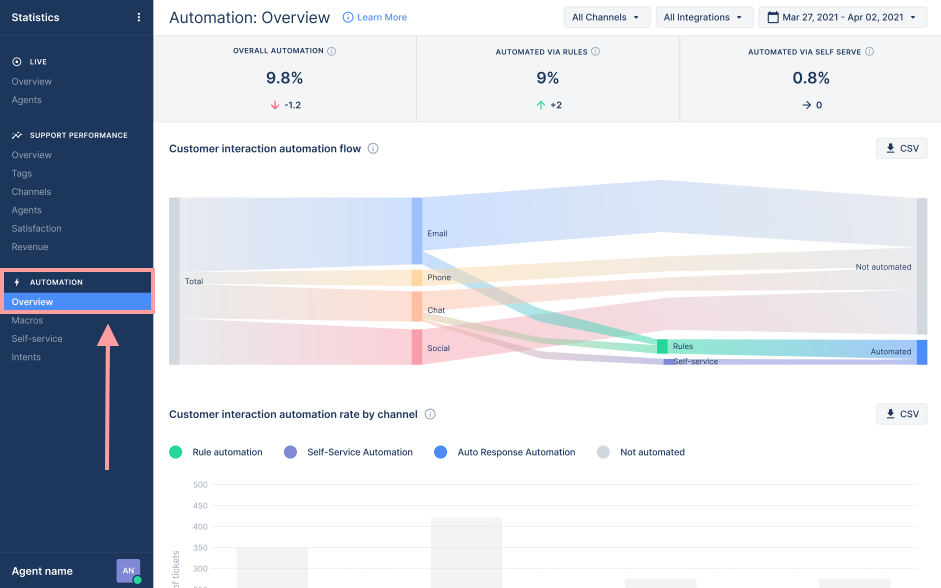 The Automation Flow will enable you to visualize the distribution of automation across all channels. You can quickly see which channels are performing well with automation and the rest of the volume that's answered manually.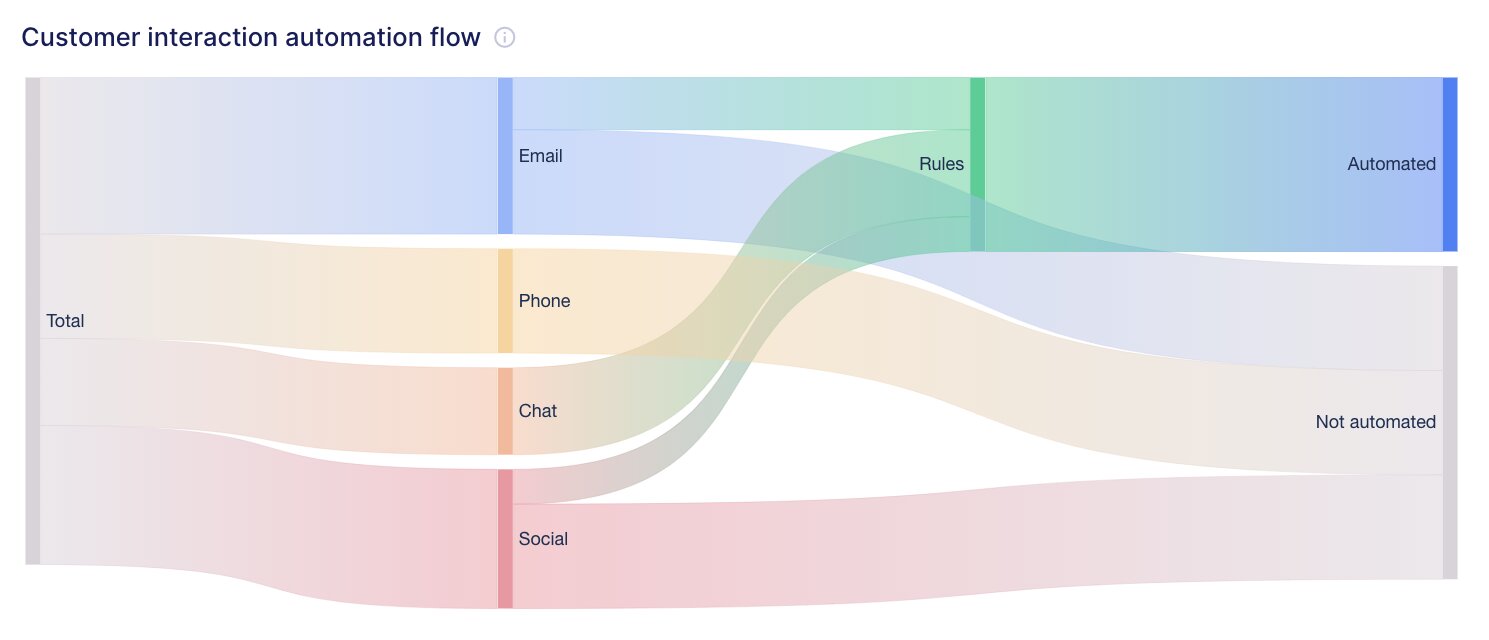 Automation Rate per Channel chart will give you detailed information on each channel. It will help you determine your next steps to improve your global automation score. You can export this data for your own analysis.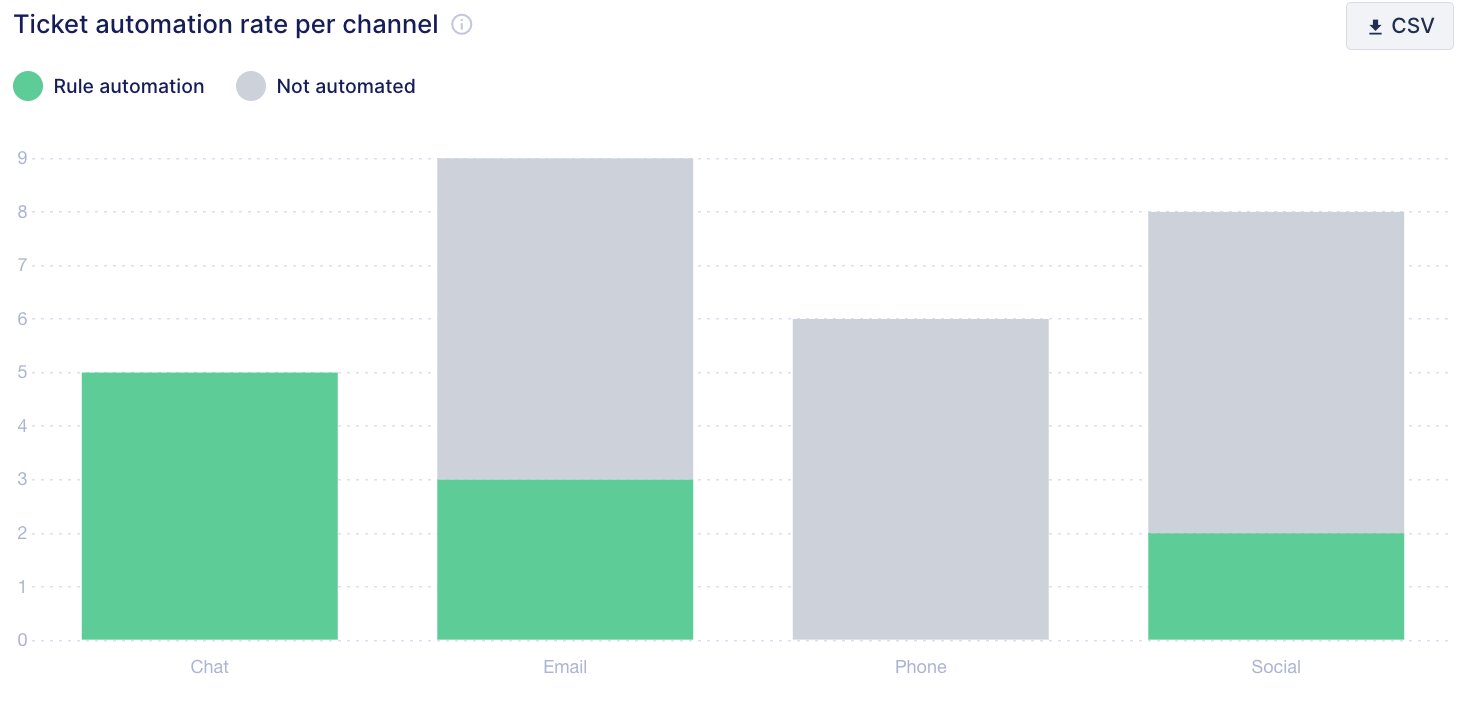 Macros
The Macros section of is an excellent way to ensure your agents are maximizing the features in Gorgias and utilizing the macros. It also provides the ability to hone in on what macros are being used the most often and then assess how you can provide this information elsewhere in order to help reduce your support inquiries. Or, you can see where there may be opportunities for automating the responses using Rules.
Macro usage can now be checked from the Macro page in settings as well and you can check more info on that here.
We always recommend that our clients add tags to macros. You really want to try and tag 90% of the tickets you are responding to. Then use the Macros statistics and Tags statistics to compare.
Example: Let's say I have a macro for order cancellation called 'Cancel Order' and that macro has the tag attached to it called 'cancel'. If I go into Macro statistics and I see that the macro for 'Cancel Order' was used 50 times and then I go into the Tags statistics and see that the tag for 'cancel' was used 100 times then that tells me there were 50 instances in which the macro wasn't used. Now you can think about the following - Do you need another macro? Do you need more information in the existing macro? Do you need another tag? It is these little inefficiencies that can make a huge impact on your support productivity.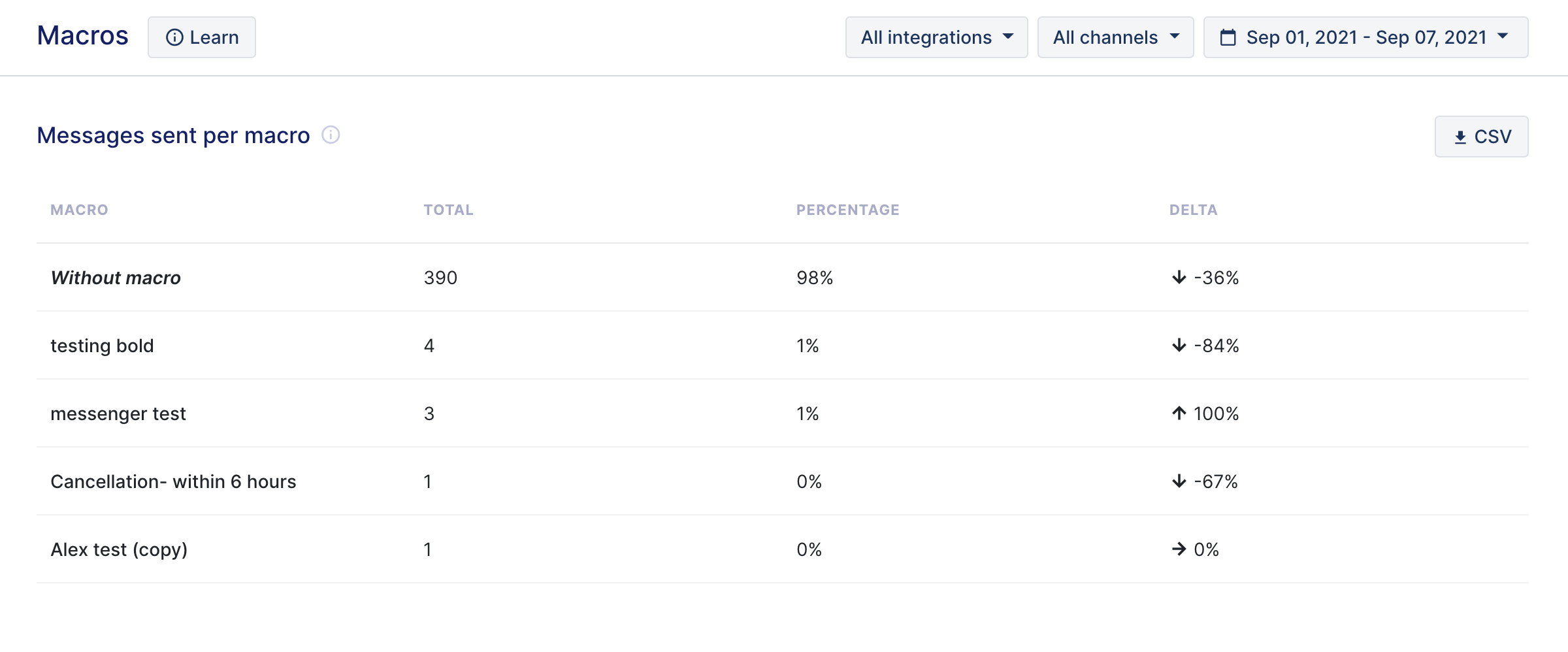 Intents
In the Intents dashboard you can track what your customers want and need, and it will detect the most recurring inquiries too. This can help you adjust your rules workflow to focus on the inquiries with a high automation potential and address those better!
Just in case that you're not familiar with our intents feature yet, please find more details here and check out our intent detection as well.
Was this article helpful?