Customer success tracks
Updated 2 days ago
Customer Success Tracks are our playbooks designed to help you take your customer support to the next level.
Based on Gorgias's experience working with over 10,000 ecommerce merchants, these best practices will set your team up for success, streamline agent workflows, and provide your customers with exceptional service.


What is included?
There are 5 simple to-do lists for you and your team to review. Each track is focused on a key area of customer support. Within each track, you'll find a checklist of simple tasks to complete.
By completing these tasks, you will be able to:
Identify trending support issues 💡
Assist customers faster ⏱
Improve team productivity 🚀
Improve customer satisfaction 😃
Turn customer support into a profit center 💸
Note : If you are an Advanced or Enterprise customer, feel free to contact your Gorgias Success Manager and we'll guide you through these best practices in detail.


Track 1: Discovery 💡
Identify your most frequently asked questions (FAQs) and trending issues
The first step to providing exceptional customer support is to understand the needs of your customers.

Gorgias tags allow you to label, sort, and flag tickets, helping your team keep track of the topics your customers are contacting you about. Tags add additional information to tickets which can then be used in Views, Macros, Rules, or Reporting purposes
Create a tagging system
Brainstorm, add, and categorize your brand's tags using a spreadsheet. Here's an example of how a brand uses a simple Google Sheet to organize their tags. Discuss with your team what tags should be used in different scenarios.
Use upper-case letters for primary tags and lower-case letters for secondary tags. For example, adding not only [REFUND] but also a [damaged/defective] tag to a ticket provides additional detail to your customer's issue.
Also, consider using different colors to group similar tag categories. For example, all returns/exchanges should be one color, order-status inquiries another, product-related questions another, and so on.
Set up Auto Tag rules
Use Message intents, keywords, common phrases, and other conditions to automatically tag your tickets.
Follow these instructions to help you identify priority tickets, flag urgent tickets, identify VIP customers, and much more.
Review your Top 10 Tags
At the beginning of every month, run a 30 day report under Statistics > Support Performance > Tags to review your brand's Top 10 Tags for the month.

This will help you understand why your customers are contacting you, what the most common issues are, and will give you clues on how you can improve your customer experience (ex. shipping delays, quality issues, product defects, etc.)
Review tickets without Tags
Create a view for tickets where tags is "empty". Carefully go through these conversations. What other Tags have you not considered? Continue adding these tags to your team's spreadsheet and in Gorgias (Settings > Tags).
Review your message intents
Gorgias automatically detects the intent of every customer message and provides you with insights on why customers are contacting you.
At the beginning of every month, go to Statistics > Automations > Intents and run a 30 day report. Now, compare your top 10 message intents to your top 10 tags. Are you noticing any similar trends?
Brainstorm and discuss with your team
Meet with your team regularly (ex. monthly) to discuss FAQs, trending issues, or important topics.
Encourage teammates to add new tag ideas to your team's tag spreadsheet preferably in a new tab, which you'll review during your next meeting. Approve or reject these tags and update your team accordingly on any new updates.
Make Tagging a requirement
To make sure you and your team are capturing data on customer support issues every month, require make it a team requirement to tag every ticket, before closing a ticket.
Refer to the above section "Review tickets without Tags" to identify teammates who aren't tagging tickets.


Track 2: Speed ⏱
Decrease your First Response Time (FRT) and Resolution Times (RT)
First Response Time plays a crucial role in determining the levels of customer satisfaction. This customer support metric tracks how long it takes for you to reply to the first message in a ticket. Top performing companies using Gorgias have an average first response time of .54 hours.
Create Teams in Gorgias
If you haven't already done so, create "Teams" in Gorgias to designate your agents by function (ex. Tier-1, Tier-2, Sales, Social Media, Wholesale, Warehouse, etc.).
Determine which Views teammates or teams are responsible for
Determine which "Views" agents and teams are responsible for during their shifts. Indicate the priority if they're monitoring multiple views (Ex: #1 Urgent, #2 VIPs, #3 My Tickets, #4 Unassigned).
Set up Auto-Assign Rules
Instead of waiting for your teammates to claim or assign tickets to themselves, enable Gorgias's "Auto Assign" feature to automatically route tickets to the agents and/or teams of your choice.
Create Macros
Macros are pre-made responses that help you respond to your customers faster. Is a customer asking you repetitive questions? Use a macro!
Here are examples of the most commonly used macros formatted for both email and chat.
Based on your most FAQs, Tags, and Message Intents, create a set of macros unique to your brand.
Need ideas? For a list of common Customer Support scripts used by other e-commerce brands, see sample scripts.
Gorgias also offers bi-weekly, live Macro Workshops where our team will discuss the most effective and create macros that other ecommerce brands are using today!
The top Gorgias brands achieve first response times of ~10 minutes and resolution times of <60 minutes by focusing on macro usage. A healthy team goal is 40-50%. We can't emphasize using them enough! 
Create Auto-Reply Rules
To further automate your work, you can set up auto-reply rules that will send out an automated response to your customers. Depending on the scenario, you can automatically let customers know when to expect a response, answer their most commonly asked questions, provide them with their tracking information, etc.
However, please note : messages sent by auto-reply rules technically do not reduce your "First Response Time" under your Gorgias Statistics, as Gorgias measures the median time between the first message sent by a customer and the first response sent from an agent, but will still facilitate conversations between you and your customer.
Create a Team First Response goal
Refer to our "Industry Standards" to see how other similar brands in your industry compare. Your First Response Time (FRT) directly correlates with your resolution time and customer satisfaction (CSAT) scores, so make sure your team understands the importance around this metric. Bonus / incentivize them accordingly!
Set up your Automation Add-on
Gorgias's Automation Add-On helps 1,400+ brands provide faster customer service by providing chat automation, email automation, and other self-service tools enabling your team to respond faster to the tickets that matter most! Watch this video:

Bonus! Gorgias Keyboard Shortcuts
Navigate Gorgias like a pro and maximize productivity by using the following Gorgias keyboard shortcuts!

Resolution Time is the amount of time it takes from when a ticket is created to when it's resolved. It's a critical metric to tracking team performance highlighting potential improvements to internal workflows and processes.
Staff your team according to your busiest hours
Staff your team according to your busiest hours. See Statistics > Support Performance > Overview to see the # of the tickets created by hour. Example: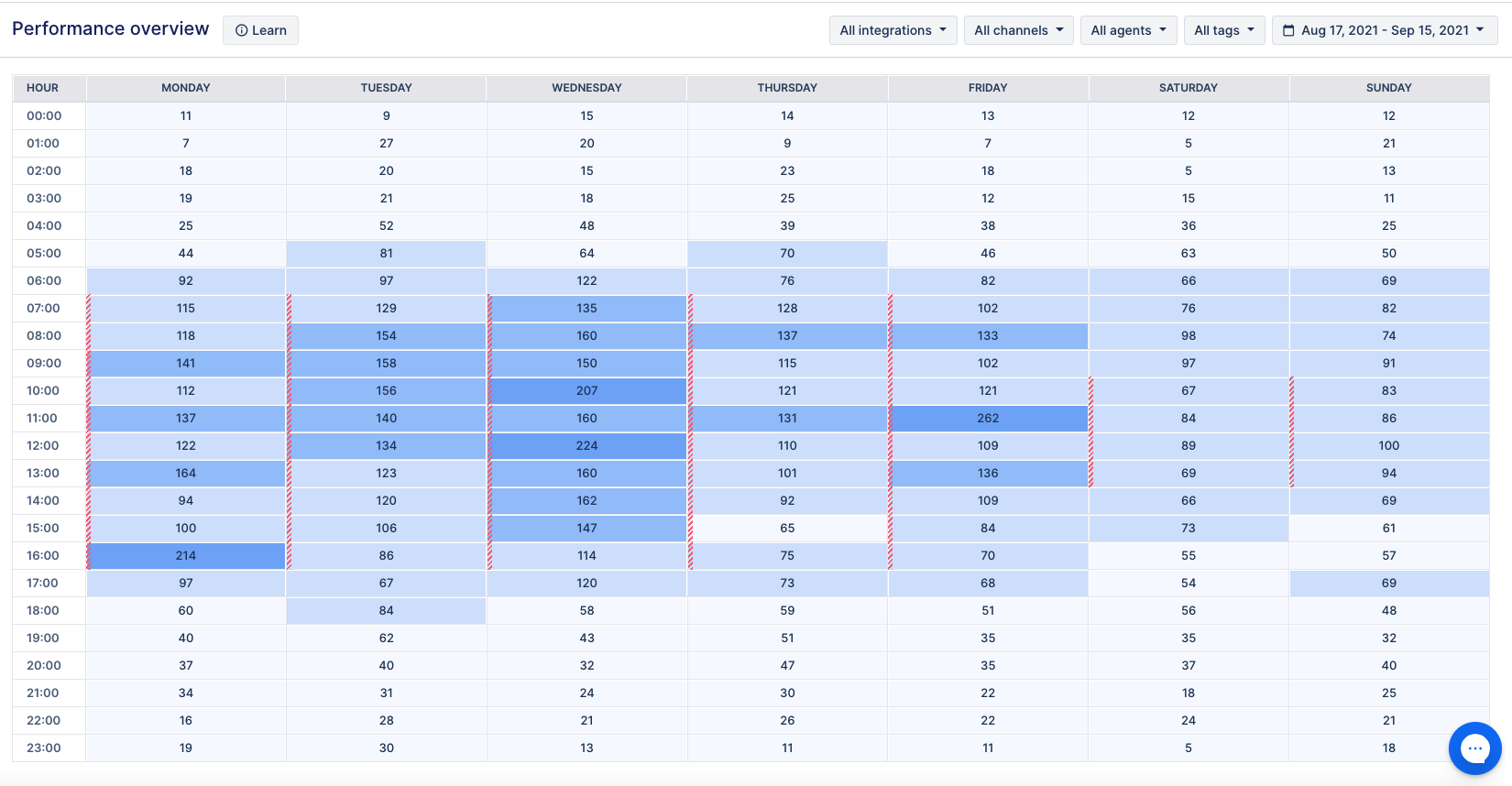 Sort your views from oldest to newest
It's very easy to get distracted by new tickets coming into your Helpdesk, so make sure to sort all of your views from oldest to newest. Failure to do so not only impacts your performance statistics, but also leads to poor customer experiences for those eagerly awaiting your assistance!
Use Quick Replies
If your customers are asking repetitive questions via live chat, setup chat quick replies. When a customer starts a chat, they will see up to three "quick reply" buttons and can click on them to start a conversation. You can also setup "auto-reply" rules to these conversations!
Consider Subject Matter Experts (SMEs)
During periods of high volume such as the holidays, consider implementing specialized roles / Subject Matter Experts (SMEs) where different agents/teams strictly handle shipping requests, returns, cancellations, product questions, etc. We've received several reports of this being an effective strategy for multiple ecommerce brands.
Create an internal Resolution Time team goal
Create an internal "Resolution Time" (RT) team goal. Refer to Industry Standards for ideas. Similar to First Response Times (FRT), bonus and incentivize your team accordingly. What gets measured, gets managed!
See our "SLA Best Practices for Effective Support Tickets Management"
Create a service level agreement (SLA) to manage customer expectations. With an SLA, you inform customers when they should hear back from you. This also helps your agents understand what's expected out of them and how to prioritize their queues. More here.
Once you have an SLA, consider creating views to monitor any tickets falling outside of your agreed upon service level agreement (SLA). Example: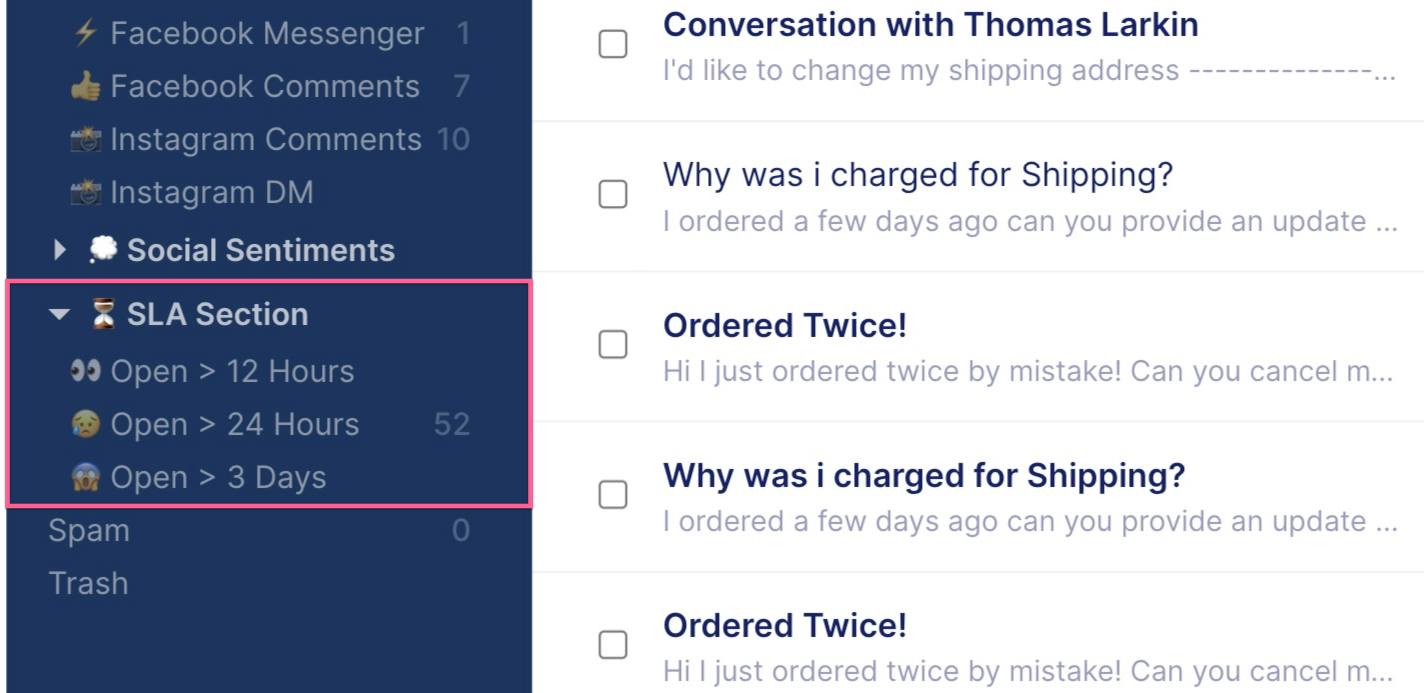 Track 3: Efficiency 🚀
Improving your team's efficiency results in higher customer satisfaction levels and cost efficiency for your company. Important metrics to measure include : Average First Response Time, Average Resolution Time, Volume of Tickets Closed, Macro %, and One-Touch %.
Create Auto-Close Rules
Automatically close tickets that don't require agent assistance (ex. general inquiries, notifications, spam messages, etc.). See instructions and main use cases here. Important - if a customer responds to these tickets, make sure these tickets don't get automatically closed again otherwise they'll never be seen by an agent. Do this by adding a tag in this rule and excluding the same tag from the same rule.
Install Self-Service Live Chat
Our self-service portal is a feature which can be enabled on your chat widget. It allows your customer to check their order status, tracking number, and shipping information, as well as to create templated tickets when reporting order issues. This means that your customer don't need to start a chat with your agents in order to get the needed information. As a result, our self-service chat portal can easily deflect and automate up to 30% of your chat tickets!
Add new Integrations
Gorgias is most useful when you connect it to other applications. Integrations let you communicate with customers through multiple channels, pull more information about them and perform actions in outside tools directly from Gorgias, enabling your team to be as productive as possible.

• Fact : our most successful brands utilize more than 12 Gorgias integrations! Click here to learn more!
Create follow-up Macros

We covered this already in "Track #2 : Speed", but ensuring you have a comprehensive set of Macros addressing every common customer support scenario, will ensure your agents are efficient and your customers are receiving accurate responses to their questions. We can't emphasize using them enough!
Here are examples of the most commonly used macros formatted for both email and chat. For a list of common Customer Support scripts used by other e-commerce brands, see sample scripts.
Gorgias also offers bi-weekly, live Macro Workshops where our team discusses the most effective and create macros other ecommerce brands use today!
The top Gorgias brands achieve first response times of ~10 minutes and resolution times of <60 minutes by focusing on macro usage. A strong team goal is 40-50%.
Track your team's Macro % usage by going to Statistics > Automations > Macros.
Track your team's performance using Statistics
Use the Statistics section in your Gorgias helpdesk to monitor your team's productivity and efficiency. Here are 5 important productivity metrics:

Average First Response Time:
This customer support metric tracks how long it takes for you to reply to the first message in a ticket. Inside of Gorgias, you can track your average first response time using visual statistics reports that make it easy to spot trends, changes, and issues.

Average Resolution Time:
The average resolution time refers to how long it takes for your customer service team to resolve tickets, with at least one response from an agent (or a rule).

Tickets Closed Per Agent:
You might also want to measure the number of tickets closed per agent for a certain time period. Look at the number of tickets each agent is closing per day to spot differences in productivity. You could look at a longer period of time, such as per month, to find which agents are consistently closing more tickets, assuming they each work the same number of hours. This will help you discover the agents who deserve praise and bonuses, and which ones might need training. If you find an agent that is consistently underperforming, it may be time to let them go unfortunately.

Macro %:
Creating templated responses saves a lot of time. You can get statistics on the utilization of your Macros in any given time period. You can then compare this to the use of tags. For example, if the tag "Cancel Order" was used 100 times in one week, but the Macro was only used 50 times, then that means that your reps only used the Macro half the time. Talk with your reps about why they're underutilizing certain Macros. You might need to improve the copy of the Macros or add more variables to make it more useful. Or, you might simply need to remind new reps about the Macros feature.

One-Touch %:
Customers love when can get their issues resolved with a single reply. The single-reply resolution rate (aka. One-Touch %) calculates what percentage of your tickets are handled with the first reply. It's also known as the first contact resolution rate or FCR.

Live :
Due to the prevalence of working from home, this real-time feature provides transparency to managers on the daily activity of the team: the workload of your agents at any given moment, how long they have been online and their current status (available or offline).
Set up your Automation Add-on
Gorgias's Automation Add-On helps 1,400+ brands provide faster customer service by providing chat automation, email automation, and other self-service tools enabling your team to respond faster to the tickets that matter most.
Brands deflect up to 20% of their support volume with the Automation Add-on enabled!
Includes features: Quick Answer Flows 💬 , Custom Order Management Flows 💬, Advanced Tracking Details 📦, Help Center with Self-Service Flows 🚀, Email Automation rules ⚙️, and Self-Service Statistics 📊.
Talk to your Gorgias Success Manager for more information or contact [email protected] if you're a Basic/Pro customer. Here's a video preview:
Still struggling? Contact your Gorgias Success Manager!
For Advanced/Enterprise plans) Your Success Manager is here to help you! Contact him/her requesting a meeting and we'll help you optimize your Gorgias Helpdesk (settings, views, macros, rules, etc.). Plan to meet with your Success Manager at least once a quarter.
Gorgias can also help analyze what type of tickets are generally taking your team the longest to resolve with the highest total message count. Our goal is to help you increase the % of One-Touch tickets (tickets closed with only one response by an agent or rule).
If you're struggling with team staffing, Gorgias will introduce you to our trusted Customer Support Partner network. Our Gorgias partners offer temporary, contract, or long-term hiring solutions.
If you need help evaluating or implementing other e-commerce tools (ex. order & inventory management, returns/exchange management, email + SMS marketing, shipment tracking, subscriptions, loyalty, analytics, etc.), let us know. We'll make warm introductions to our certified Partner network. Alternatively, you can fill out this short form.


Track 4: Delight 😃
Improve your Customer Satisfaction Scores (CSAT)
Speed (first response time), accuracy (resolution times), and friendly customer service are the three pillars of stellar customer satisfaction (CSAT). However, here are proven best practices to ensure positive customer experiences and customer loyalty.
Enable the Satisfaction Survey
Customer satisfaction ratings are one of the best ways to determine how well your team is supporting your customers. Click here to learn more and for setup instructions.
Understand the difference between Snooze & Close actions in Gorgias
Only close out a ticket once the customers' issue(s) have been completely resolved. This will trigger the satisfaction survey to send (if you have the satisfaction survey turned on).
Alternatively, snooze a ticket when you want to temporarily close a ticket without triggering the satisfaction survey. This is typically used when you're waiting on a customer's response.
Offer discount, promo codes, or refund shipping for loyal, repeat, or dissatisfied customers
In addition to other Shopify actions, discount/promo codes can be issued using a macro directly from Gorgias. See instructions here. Use these to incentivize, thank, and retain customers!
Improve your satisfaction survey response rates
Certain brands creatively use a macro or custom signature to improve their satisfaction survey response rates
Here's an example: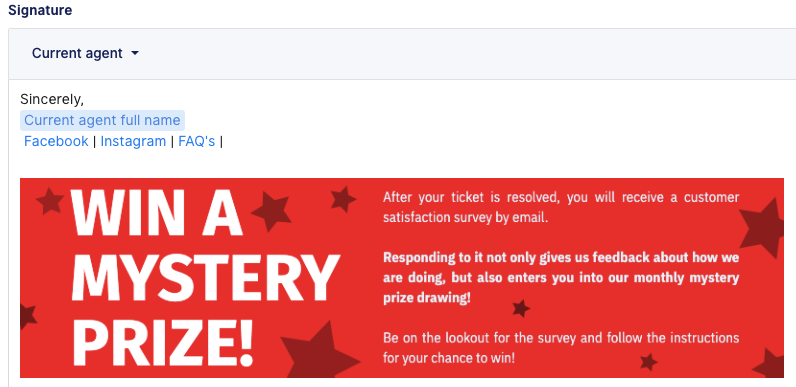 Install the Gorgias Live Chat

When properly utilized, Live Chat generates the highest levels of customer satisfaction offering an instant, personalized experience. Having immediate access to a real human being agent creates trust between your first time visitors, returning customers, and your brand.
Click here for more information and setup instructions.
Review your product issues
77% of consumers say that what increases their brand loyalty most is quality products. 
Have you ever heard the saying "you can't paint lipstick on a pig?" This is very true. 
Every other factor below won't improve your ecommerce customer satisfaction if you're not offering great products.
Review your damaged orders (or tickets with an "order/damaged" message intent) within Gorgias to identify SKUs, warehouse issues, or shipping issues affected by damages.

Find the right CSAT benchmark
Use the American Customer Satisfaction Index to find the right benchmark for your industry or product categories.



Track 5: Profit 💸
Turn your Support team into a profit center
A Harvard Business Review study revealed that businesses with strong pre-sales support have win rates of 40-50% new customers and 80-90% return customers. Another study revealed that almost 80% of companies witnessed increased customer loyalty, sales, and revenue after implementing live chat. 
Set up Auto-Tag Rules to identify VIPs, website leads, social leads, etc.
• Auto-Tag first time customers
• Auto-Tag VIP customers
• Auto Tag Social Leads
(instructions)
Install Gorgias Live Chat!
"9 out of 10 online shoppers feel that the ability to talk to someone in real-time is what gives them the confidence they need to finish their purchase."
"In a 2009 article, eMarketer showed studies finding that live chat could contribute to 36% of online purchases, and fully 62% of those who chatted said they were more likely to buy from a site again."
Many case studies show that live chat helps ecommerce merchants reduce first response time, boost customer experience, drive leads, and increase sales revenue.
Click here for more information and live chat setup instructions.
Gorgias also explains in this article how pre-sales support can grow your business and turn your support team into a revenue generating center.
Install Quick Answer Flows
Setup Quick Answer Flows to guide shoppers through their online shopping journey! Provide your shoppers with discount codes, return policies, sizing guides, and/or answers to Frequently Asked Questions (FAQs).
Install Chat Campaigns
Set up Chat Campaigns to proactively engage your website visitors. Promote products, offer a discount code, suggest bundles, and/or offer assistance. Chat Campaigns have helped Gorgias brands drive new sales, increase average order value (AOV), improve conversion rates, and reduce cart abandonment.
Understand when your customers are most active on your website
Refer to "Statistics > Support Performance > Overview" to determine the "busiest time of the week(s)" to staff your sales-focused agents accordingly! In 2020, the peak hour for e-commerce occurred between 8pm and 9pm.
Monitor Sales Generated from Support
(For Advanced & Enterprise plans), revenue statistics allow you to measure how much money your support team is generating by helping customers through the purchasing journey. See article.
Develop a Sales Commission Plan
Using the revenue statistics above, creative an incentive for your support team when they contribute sales and hit certain targets. With customer support typically being viewed as a cost, you can now prove your team's impact on not only customer satisfaction but on customer acquisition and revenue generation. Ask your Success Manager for example plans.
Train teammates to upsell, cross-sell, suggest bundles, and offer bulk discounts
See What is Gross Merchandise Value (GMV) and How to Increase it?

• Synced with your Shopify account(), use our new product picker to quickly send product links to your customers during conversations.

• Reminder - you can create new Shopify orders directly within Gorgias in the right sidebar! Simply click on "Create order". Now, you can add existing products via the search input, add custom items, apply a discount code, change quantities, add a note, add tags, apply a global discount, add shipping, and charge taxes (or not). Then, you can choose to create the order as paid or pending. You can also choose to email the invoice to your customer. You can then type a custom message for your customer.
E-commerce customer service can make or break your business. Rightfully so, a lot of attention is given to product development, marketing, and customer loyalty. But without great customer service, all of those efforts can crumble. 
We hope you found these tips and best practices helpful!
If you have any questions, reach out to your Gorgias Success Manager or to us at [email protected]!
Was this article helpful?