Gorgias Customer Success
What do Gorgias CSMs do?
Gorgias Customer Success Managers are there to help utilize Gorgias to the best of its abilities. The team can help you optimize and automate your daily workflows, improve your usage and get up to speed with our newest and upcoming features!
If you choose the Advanced or Enterprise subscription plan upon signing up, or if you upgrade your plan from Pro later on, you will get your own CSM assigned. You can find out more about our current subscription options here.
Once you have your very own CSM assigned, they can help you with the following:
About the product and its features:
Help you navigate Gorgias features & resources
Showcase new and upcoming features
Share tips & best practices based on your needs
Gather Product Feedback/Requests
Help with Native Integrations
About the value that Gorgias can provide:
Help you get the most out of Gorgias

Conduct Quarterly Business Reviews to review your account and goals/objectives
Help you deliver on your goals/KPIs with Gorgias
Drive agent efficiency/adoption
Organize Virtual get-togethers with fellow Adv+ customers to network and learn from each other
Get other helpful advice:
Recommend e-commerce tools, solutions, and consultants based on your needs

Consult on custom (HTTP) integrations
Discuss contract / billing questions
Other tasks/topics and who can help:
Office hours
In order to ensure that our Basic and Pro clients feel confident using the product too and can get the most value from it, we offer an opportunity to book slots for office hours calls. These calls are a one-on-one consultation call with a Success Manager and are held weekly from Monday to Thursday.
After Basic and Pro customers complete their onboarding, they will be provided with information to book office hours calls. They will also receive a reminder email about office hours two weeks after they start actively using Gorgias.
Customers can find the button to schedule these calls in Settings → Profile → Book Office Hours.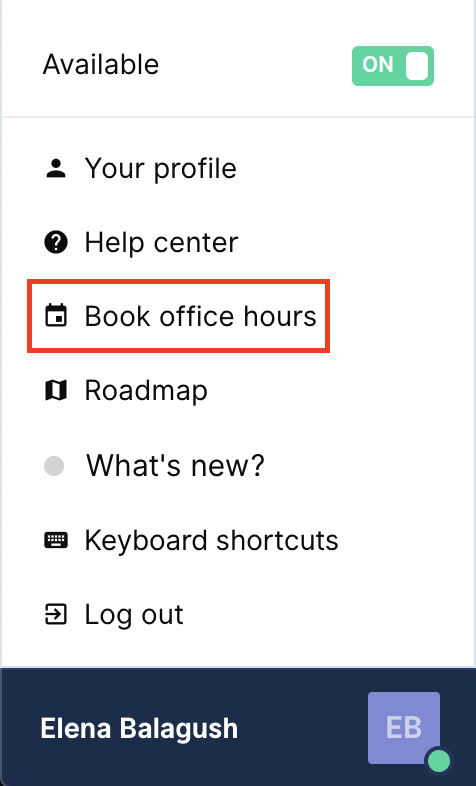 We offer three types of calls depending on your questions: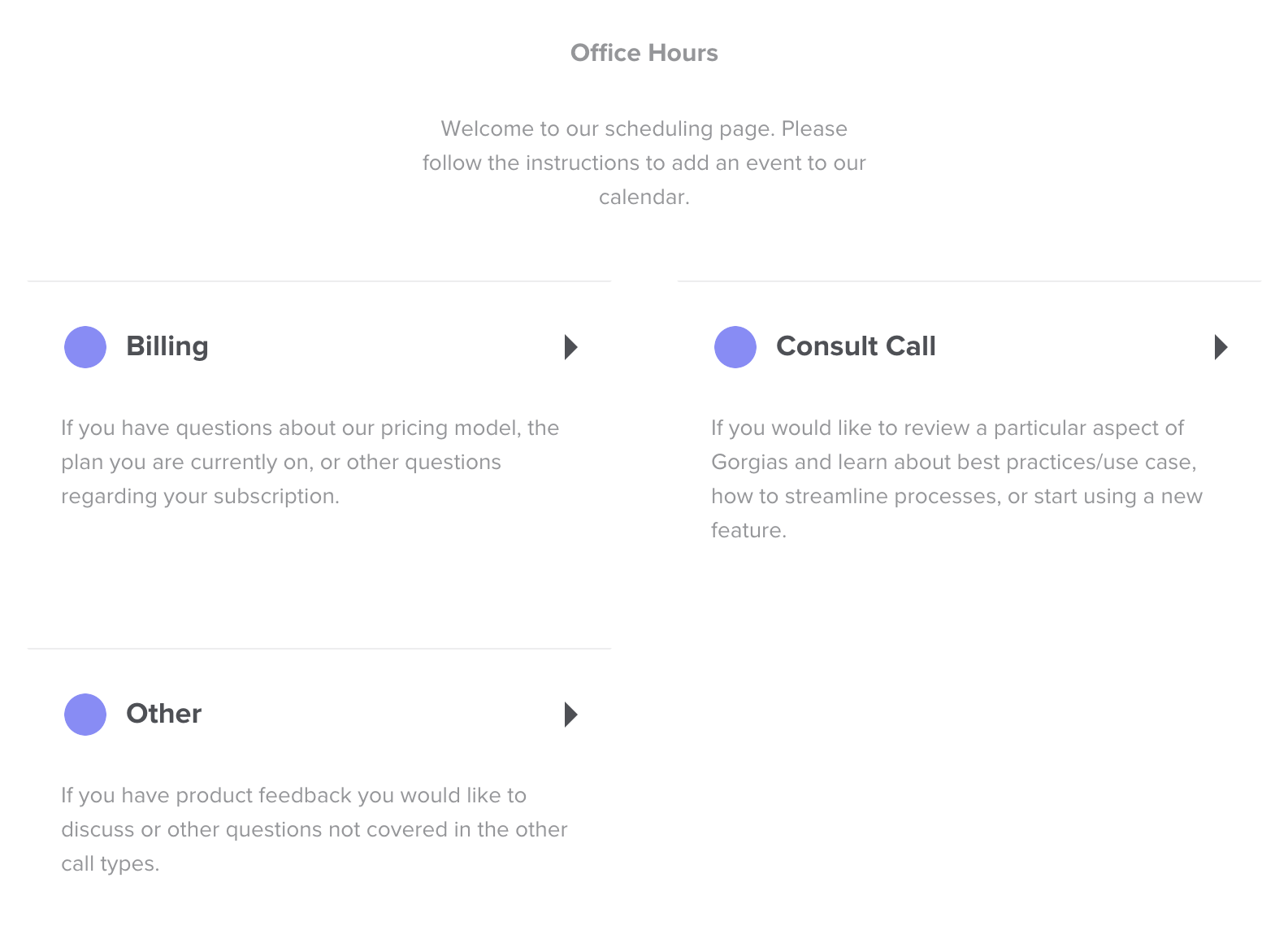 Note:
During these calls we will not cover technical support problems, rather, these requests should be made directly to
[email protected]
. The scope of these calls is training, overview of the platform, and other account-related questions. Anyone can also access our
Gorgias 101 Part 1
and
Gorgias 101 Part 2
videos for more assistance with self-onboarding.
Was this article helpful?