Automating your workflow using Views
Gorgias Views are segmented overviews that you can set up and save in order to have some of the most common ticket types filed under separate categories. They are quite similar to your email inboxes, for example, but there are some key differences that we will explain below.
How it works
Maybe you'd like to have your new unassigned tickets separate from your open assigned tickets. Maybe you'd like to have different teams handling these two types of tickets. Or maybe you'd like to have a view just for yourself, where you'll have all of the tickets assigned to you in one place that you can work from directly. This is where setting up views will help your daily workflow.
Setup instructions
Depending on how big your Support Team is and how tickets are handled, there are several standard ways to approach this topic. Automations can be completely customized to meet your team's needs. You can configure your views using filters and tags.
Before we begin, a short introduction tutorial:
How to create views with specific tags?
By default, Gorgias includes 4 views: 
Open tickets: all the tickets that are open, meaning that need your attention
My tickets: tickets that are opened & assigned to you.
Closed tickets: tickets that are closed. They don't need any further action from you. 
[email protected]: open tickets from your support email address only
A view displays all the tickets that match certain filters. Filters can be tag, status, integration, assignee, customer or channel.
To create a new view, please follow the steps outlined below:
Please click on the little plus icon on the left-hand sidebar. From there you can choose to create a new View or a new Section. Whether or not you choose to create a view from the shared or the private views table, you'll be able to change the view sharing sections later.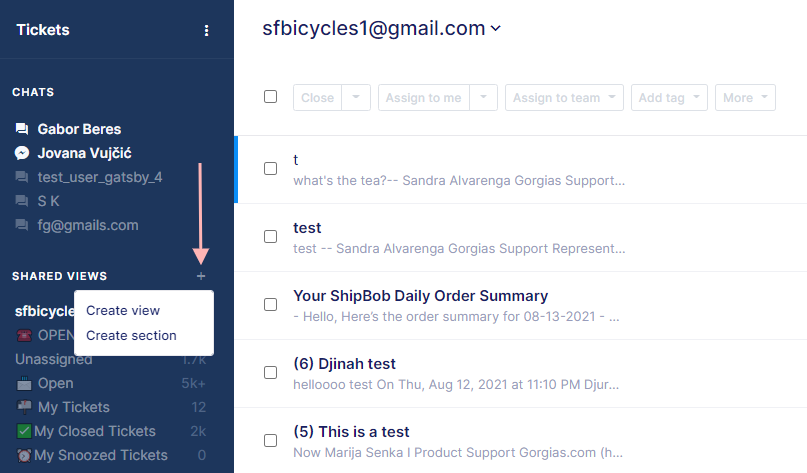 Please note that only Admins and Lead Agents can add new/reposition existing views under the Shared section, while all users can create Private views.
Now you can choose a name for your new view and the view filters. Setting up filters will help you isolate only the specific types of tickets that you want to have displayed in this view.
Once you are happy with the setup, simply click 'Create view'. Once saved, you will be able to adjust who this view is shared with by clicking on 'Sharing' in the right-hand corner. A new window will open up where you can select which team/user this view is shared with, or if it's maybe fully private or fully public.

Private views are the ones that only you can see, while public ones will be accessible to everyone by default.
If you feel like your new view is ready to go, feel free to hit 'Update view sharing'.
Now you can place this view inside the corresponding view section, or you can create a new section for this view only. To move this new view to a view section, simply grab the view in the left-hand sidebar and then drag and drop into the view section of your choice.
Organizing views
You can simply reorganize the list of views by drag & dropping them. A slight blue line will appear to display the target location of where the item will be dropped.
Lead Agents and Admins can drag & drop both shared and private views to re-order them. Changes in the order of views are visible to everyone.
Private views cannot be dragged into the Share view area, and vice versa.
Agents can drag & drop private views to re-order them.
Updating and deleting views
If you wish to readjust an existing view, simply select the view in the navigation bar and click on the arrow next to the view name. Apply all the modifications you need and click on 'Update view'.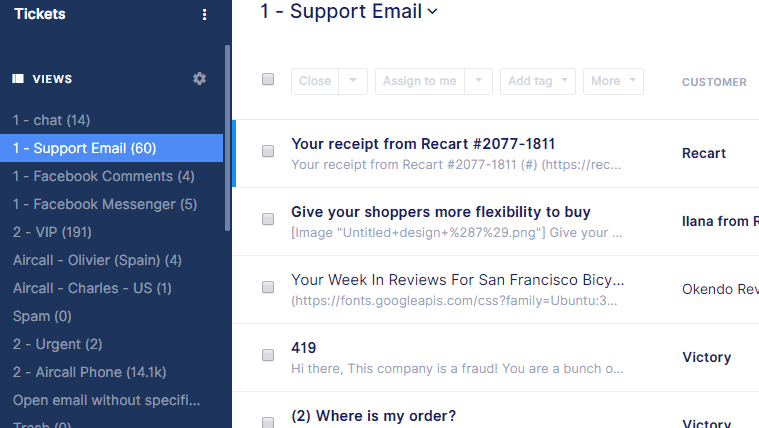 To delete a view, simply click on the arrow next to its name, select 'Delete view' and confirm.

Easy-peasy! Now let's take a look at some of the most common view setups and help you create your first view.
Common view setups
Best practices
The best views and sections for your Support Team can depend on the type of business you operate.
Below are 3 examples of view setups for some of the most common business structures: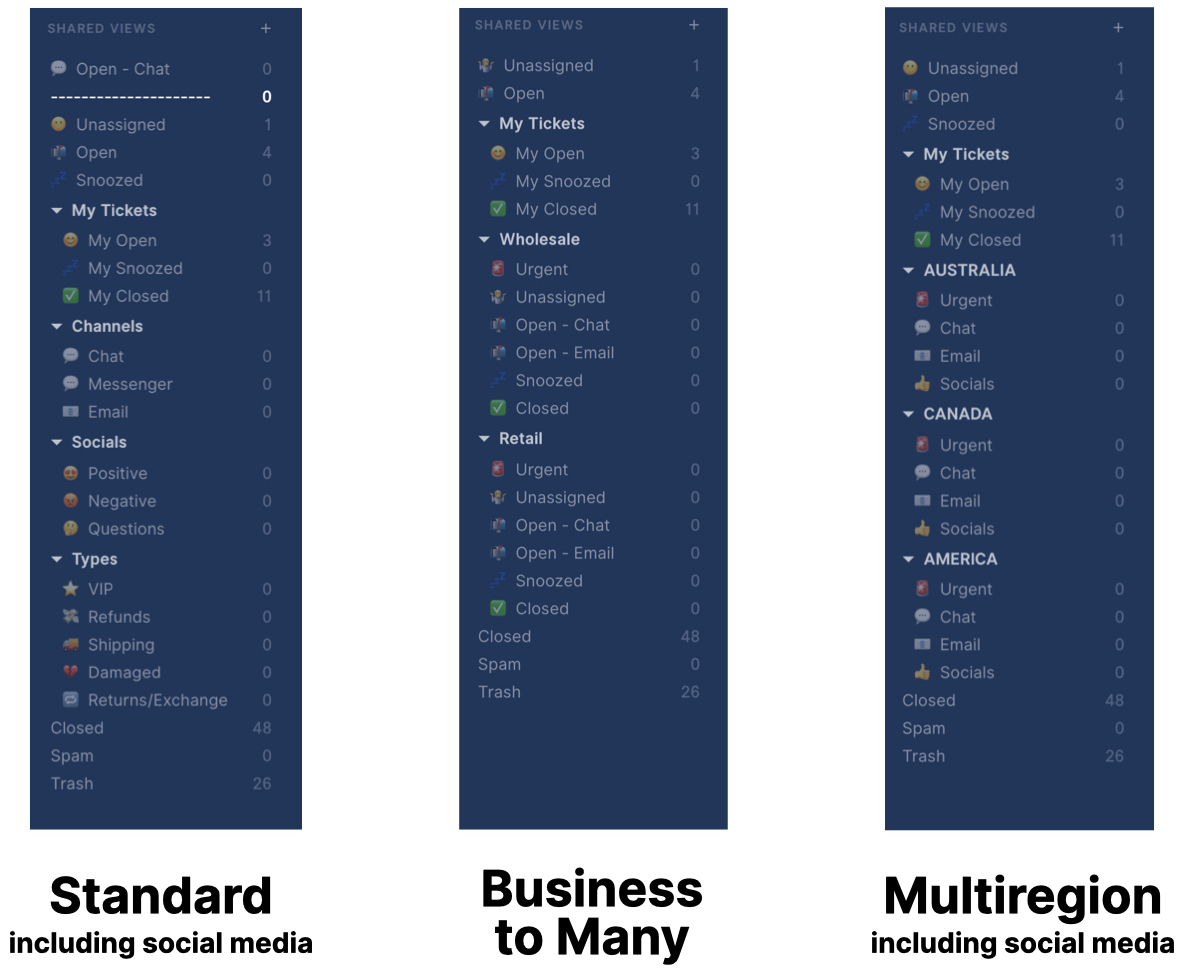 My Tickets
"My Tickets", "My Chats", "My Snoozed Tickets", and "My Closed Tickets" are all utilizing a variable in the filters. This variable makes it so that each agent only sees tickets that are assigned to them.

Unassigned & tagged
The tickets in these views are all tickets that are unassigned, open, and have a specific tag attached to them.


Unassigned by channel
The tickets in these views are all tickets that are unassigned and are specific to a certain channel such as email, messenger, or chat.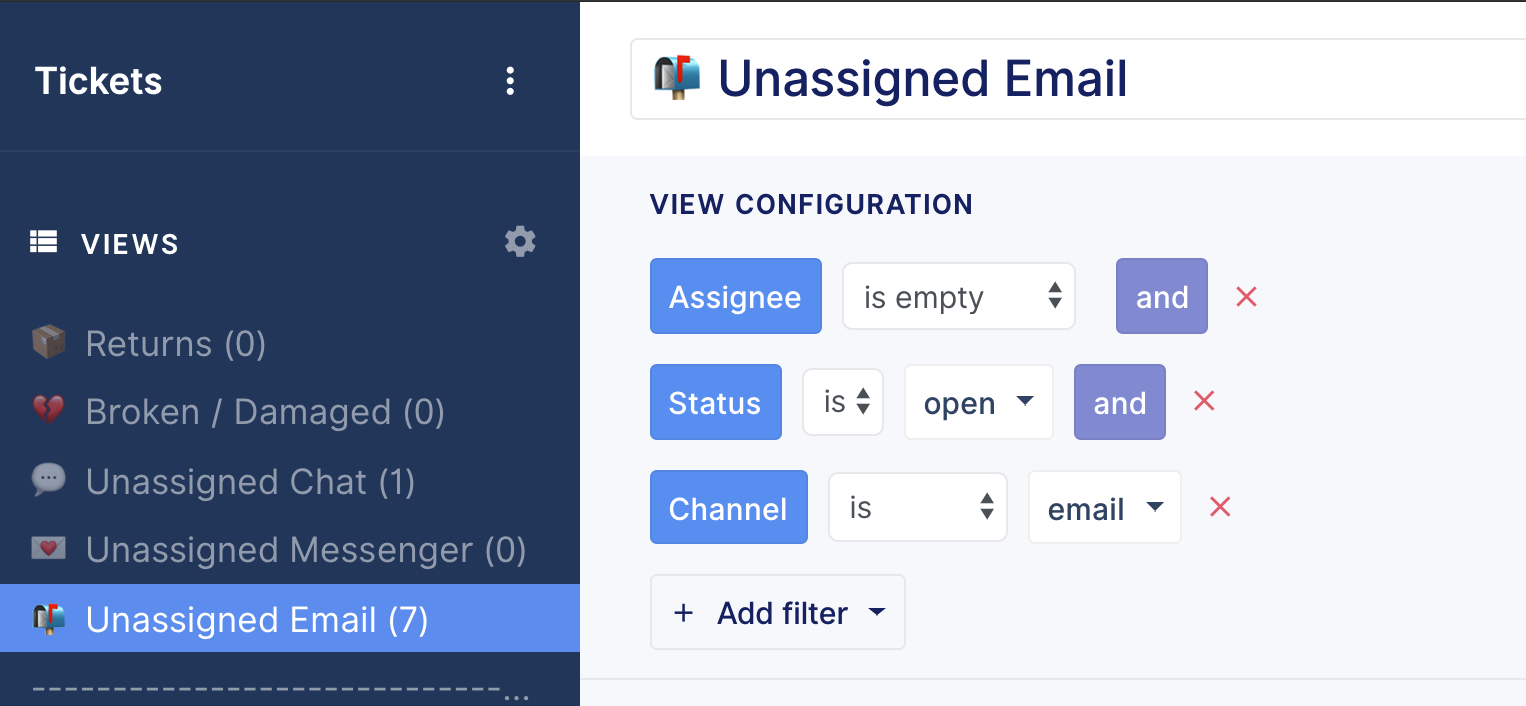 Unassigned & tagged social media comments
The tickets in these views are specific to your social media comments and are also filtered by the different tags associated with them.

Unassigned social media comments
The tickets in these two views are social media comments that are specific to the social media channel and are unassigned.

Remember that as you work through the tickets from the different 'unassigned and tagged' views that you will start to clear out some of the tickets in the 'unassigned by channel' views. This also means that you will see the same tickets in the tagged views as you will in the unassigned channel views.
Troubleshooting
Some of my views have a red exclamation mark next to them. What does that mean?
If you delete an integration that is used in the filters of a view, then this view will automatically be deactivated. The same thing happens when you delete a team, a user, a tag or a customer that is used in the filters of a view. Here is how a deactivated view looks like: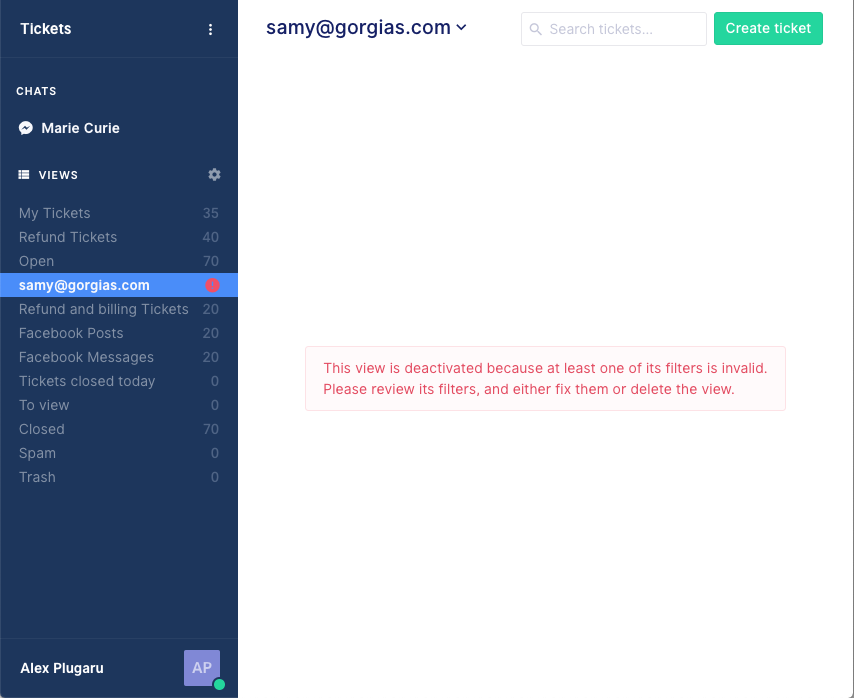 Then, you can update its filters, or delete the view if you don't need it anymore.
Was this article helpful?