How to get started with Facebook
Using Facebook integration, your customers can easily make support inquiries through your Facebook page or Messenger.  Integration creates tickets when customers post on your Facebook page or send you a message on Facebook Messenger. This allows your agents to manage Facebook inquiries directly from your HelpDesk.
How Facebook integration works
For the connected Facebook pages, we will create a ticket in Gorgias whenever your customer posts on your wall or sends a direct message.
How a ticket will look like in Gorgias: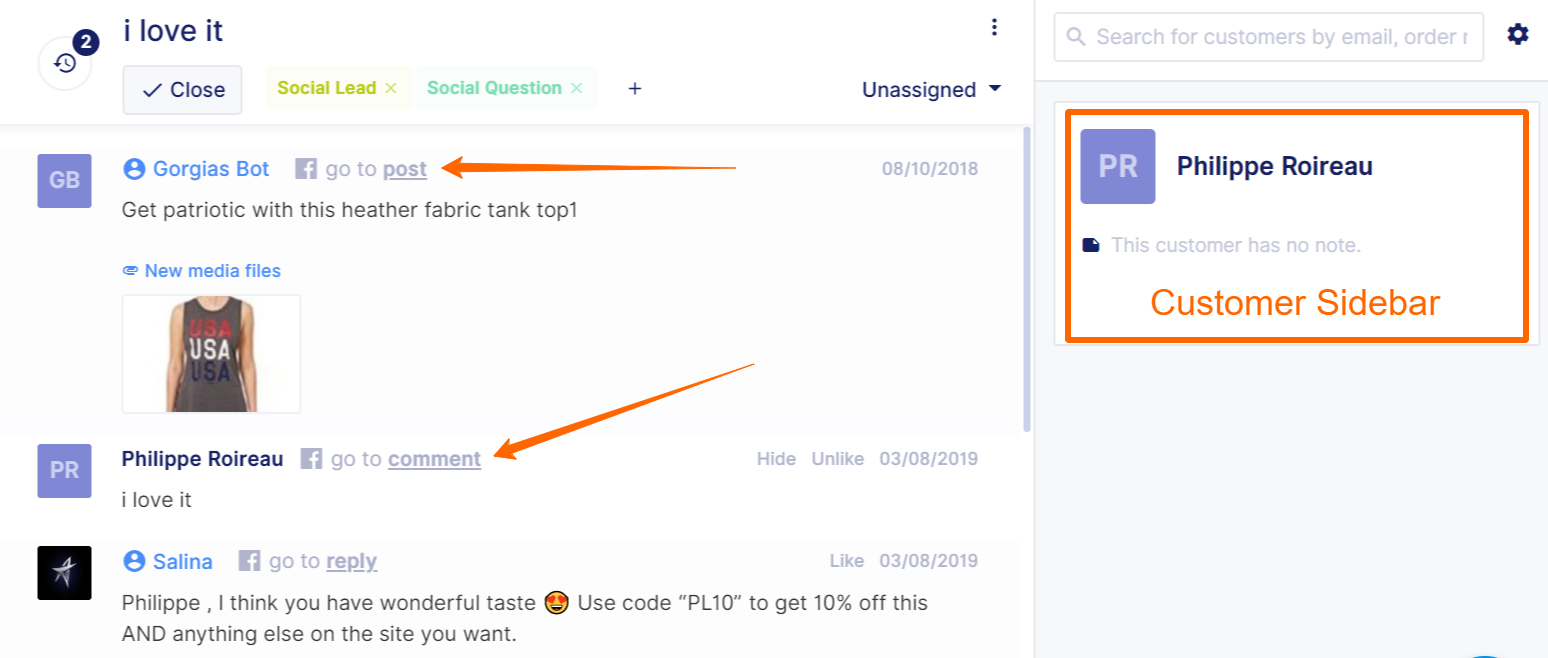 This is how your reply will appear to your customers:

Every comment on that same post will create a separate ticket, from where you have options to hide, like/unlike and respond to those comments from your dashboard.
Each posting customer will have a unique Facebook ID and you will be able to see every previous post/message from that same user under ticket history. If the same customer communicates with you through the Facebook channel and via email or chat you will have the option to merge users and keep every communication with that customer in one place.
When you respond to this ticket, your response will be visible to the customer on Facebook, and also to your team on the Facebook Messenger app. The message will remain as unread in Facebook, however this will not impact the Facebook response time from saying something like "typically replies in x minutes".
If you respond via Messenger or to a comment through your Facebook page directly, those responses will still come into Gorgias and the sender will show as Gorgias Bot. This is an alias used when we don't know precisely the sender of the message but the response was done through Facebook page or Messenger directly, so it usually signifies that one of your agents replied.
We now support carousel posts and comments to carousel posts as well!
Due to Facebook's update, you can only reply to FB Messenger tickets from Gorgias if the last customer's message in the ticket was sent less than 7 days ago. An agent will not be able to reply after 7 days.
How to connect your Facebook page to Gorgias
Settings > Integrations > Facebook, Messenger & Instagram
Hit "Log in with Facebook" button in the top right corner. Note: make sure that you are logged in with the correct Facebook account.


This should be your Facebook private account, under which you have Admin, Editor or Moderator access to the pages. But only the page information will be pulled.

Authorize the Gorgias app on Facebook
Select the page you want to add
Choose your import settings
Click "Add page"
All set! You should see something like this on your dashboard now: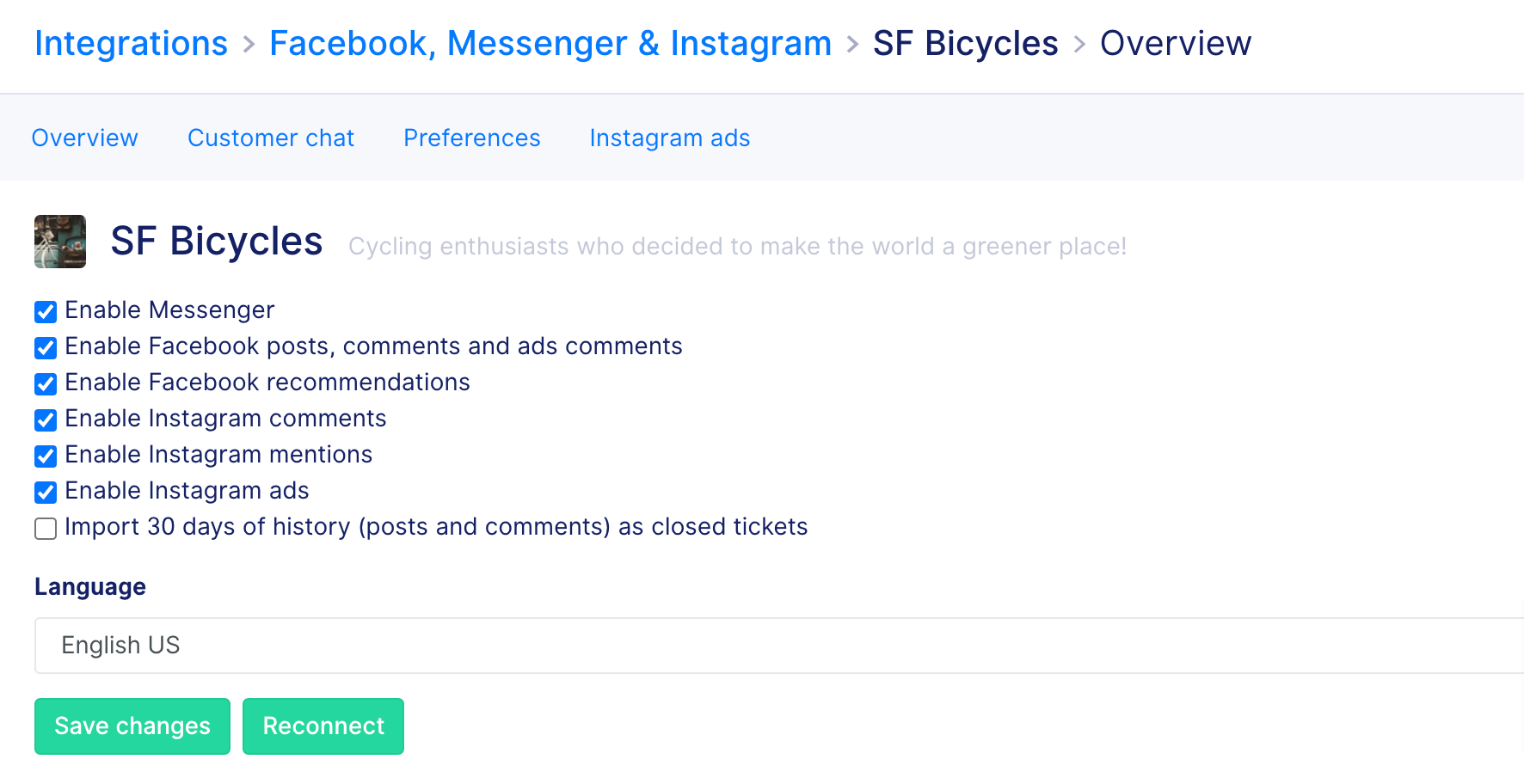 Once you've added a Facebook page, every time someone posts on the page, comments on a post, or contacts the page via Facebook Messenger, it will create a ticket in Gorgias. From here you can check the channels you wish to use: Messenger, Facebook comments and/or Instagram comments, Instagram ad comments, Facebook recommendations, Instagram mentions. And then, simply save the changes!
Note that you will need to be set as admin on Facebook's side for the pages you wish to connect to your Gorgias Account. If your pages are not showing up when you click on the "Login to Facebook" button, please make sure that you are logged in with the correct account. The best way to make sure is to use incognito mode > login to Gorgias > settings > integrations > Facebook > hit "Login to Facebook" and you will be prompted to login to your Facebook account. If you are indeed logged in with the correct account, but the pages are still not showing up, please follow the troubleshooting steps here.
If the agent who added the page to Gorgias no longer has admin permissions on the page, you'll need someone else to re-authorize the page on your Gorgias account. For more details on the permissions that you'll need to arrange, please refer to
this article
.
Troubleshooting
Your Messenger tickets are not coming in? Do you get any error messages when you try to reply to a comment? For these and other issues, we have an article that can help :) Please take a look at: Troubleshooting Issues with your Facebook Integration
If a customer responds to a Messenger ticket after 3 days of inactivity, this will create a new ticket. This way, we can separate conversations about different topics.
---
---