Klaviyo
Klaviyo is an email marketing platform for creating, managing and measuring every email your business generates.
We've just released a new and improved integration with Klaviyo, allowing you to segment customers and send targeted outbound messaging campaigns based on Gorgias events, as well as include Gorgias events in your Klaviyo analytics dashboards.
How it works
You can choose any of the following events in Gorgias to send into Klaviyo:
Ticket created
Ticket closed
Satisfaction survey sent
Satisfaction survey responded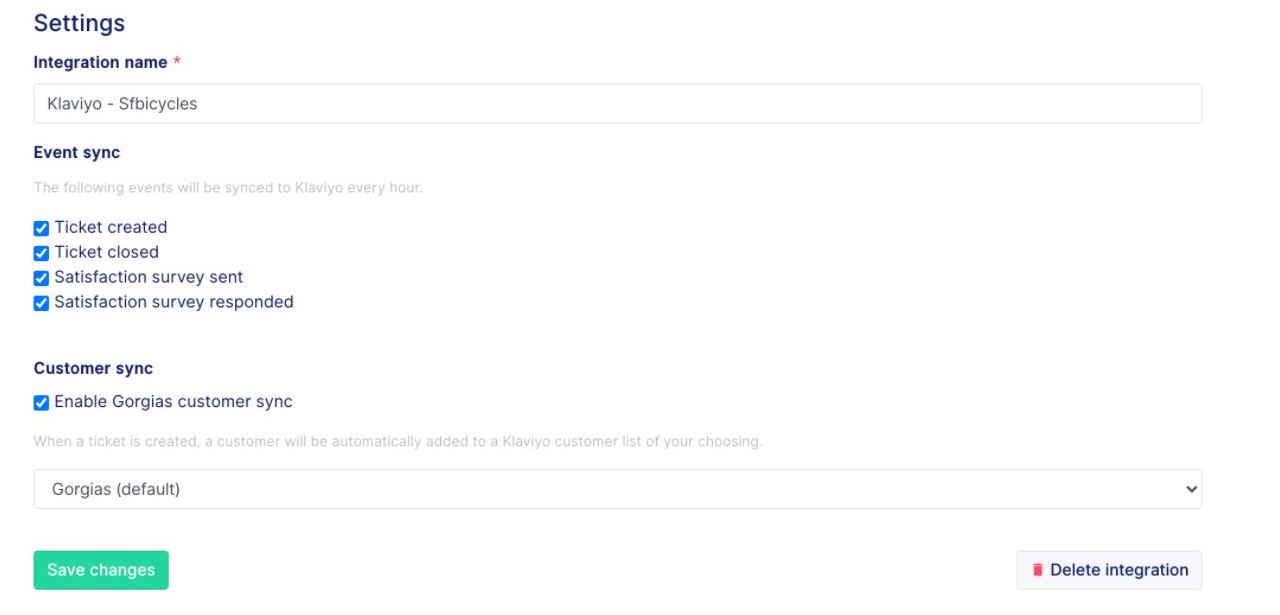 Using these events, you can target campaigns based on customer support interactions, including…
Promoting sales or new products to customers who had positive support experiences to drive upsell and revenue generation from support, by targeting customers who gave you a 5-star satisfaction rating, or by sending a campaign to customers who inquired about a product but haven't purchased within 5 days.
Excluding customers with open support tickets from promotional messaging campaigns
Sending target coupons or discounts to win back customers who reported poor support experiences
More use cases can be found in our Facebook Community.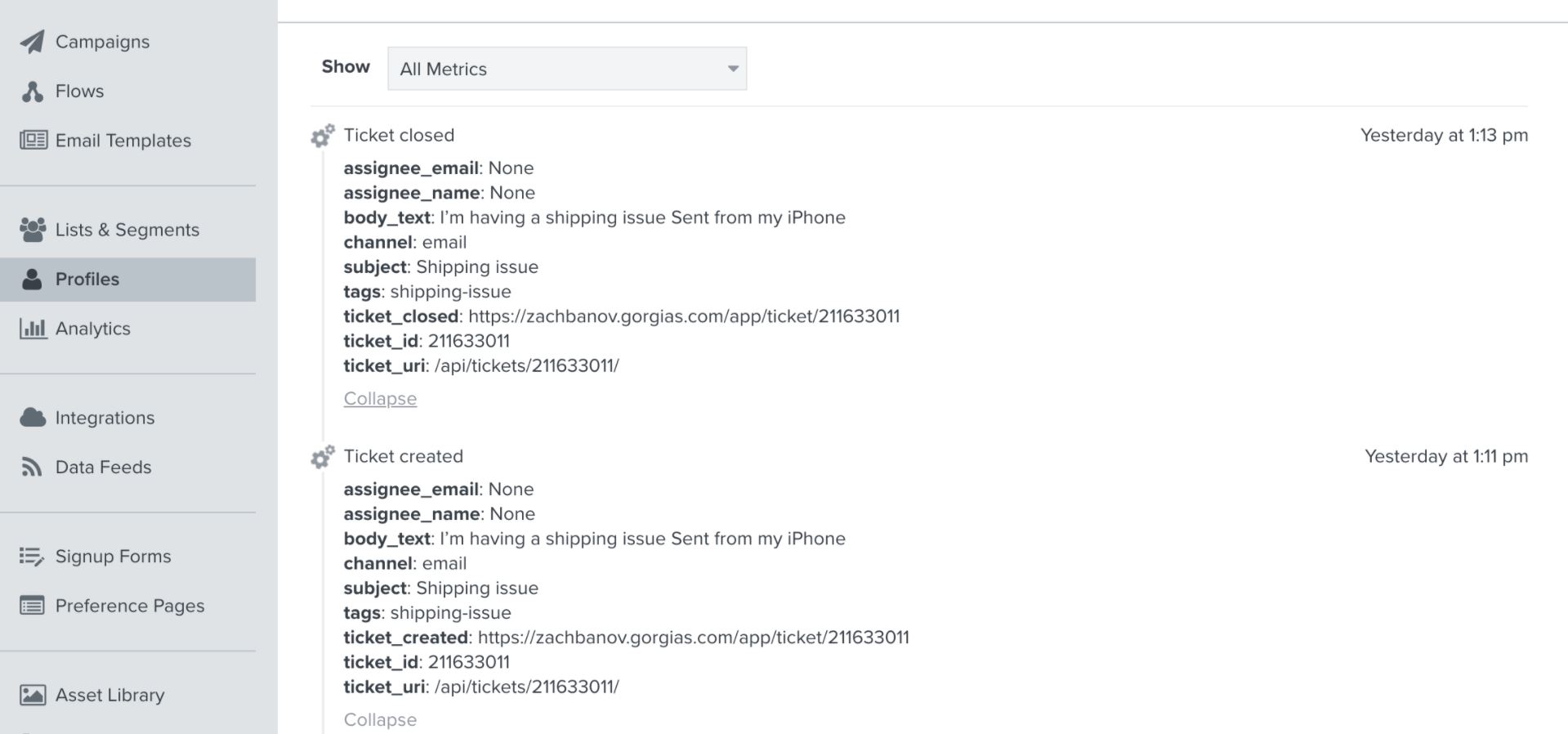 You can also automatically add Gorgias customers to the Klaviyo list of your choice whenever a new ticket is created! This would be done using the Customer sync option.
If toggled ON, then your new customers will be synced into Klaviyo automatically. If toggled off then Gorgias will only send events for customers that exist in Klaviyo already.

Setup instructions
To make sure that integration will work properly, please select
Single Opt-In
option for your customers lists as described in
Klaviyo docs
.
Go to your Klaviyo account and find your public and private API keys.
These keys can be found in the API keys settings page. If you're currently logged in to Klaviyo simply click here.

Otherwise these can be found by selecting Account (upper right corner of your dashboard) -> Settings -> API Keys as pictured below:

Public API Key
At the top of the page, copy your public API key, as pictured below, and store it in an accessible document.

Private API Key
Below the public API key, look for a section called Private API Keys and click the blue Create Private API Key button to generate a new private API Key, specific to Gorgias' integration.

Don't forget to name this API key in case you need to find it again in the future!

Click the eye icon under Private API Key to reveal the private API key, which should look something like:
pk_41852f70e4222265e2e14ea04ae2c807a5
Copy the private API key and store it in an accessible document.
Go to your Gorgias account and go to Settings -> Integrations and scroll down until you find the Klaviyo integration tile, then click this tile.

Click the button on the top right of the page, titled Add Klaviyo Integration.
Add an integration name as well as the public and private API keys you got from the first step.

You can also select which events you'd like to sync into Gorgias as well as toggle whether to add new customer Gorgias into Klaviyo, though these options will also be accessible and editable after the integration has been created.

Select the Add integration button at the bottom left of the screen. This will create the Klaviyo integration and take you into that new integration's settings page.
From here, you can change what events to sync into Gorgias, whether to add new Gorgias customers into Klaviyo, and if so, select which list to automatically subscribe them to.
Please bear in mind, Klaviyo needs 2 hours to sync with Gorgias.
The Enable Gorgias customer sync option allows syncing all the customers whether they have or not events (for example, ticket created) attached to them. This is also used when doing a history import.
Even if Enable Gorgias customer sync is not enabled, Gorgias will still sync all customer's events to Klaviyo - all customer's events that happen after the integration is added. To send these events, customers must be created on the Klaviyo side so that the event is linked to the customer.
Set up segments in Klaviyo using the Gorgias integration
Now you can create a subscriber list in Klaviyo that you will automatically send your customers to from Gorgias. Just follow the instructions below:
Open your Klaviyo account and then navigate to the Lists & Segments tab in your account. Click Create List / Segment in the upper right corner. Next, click the Segment option on the creation page.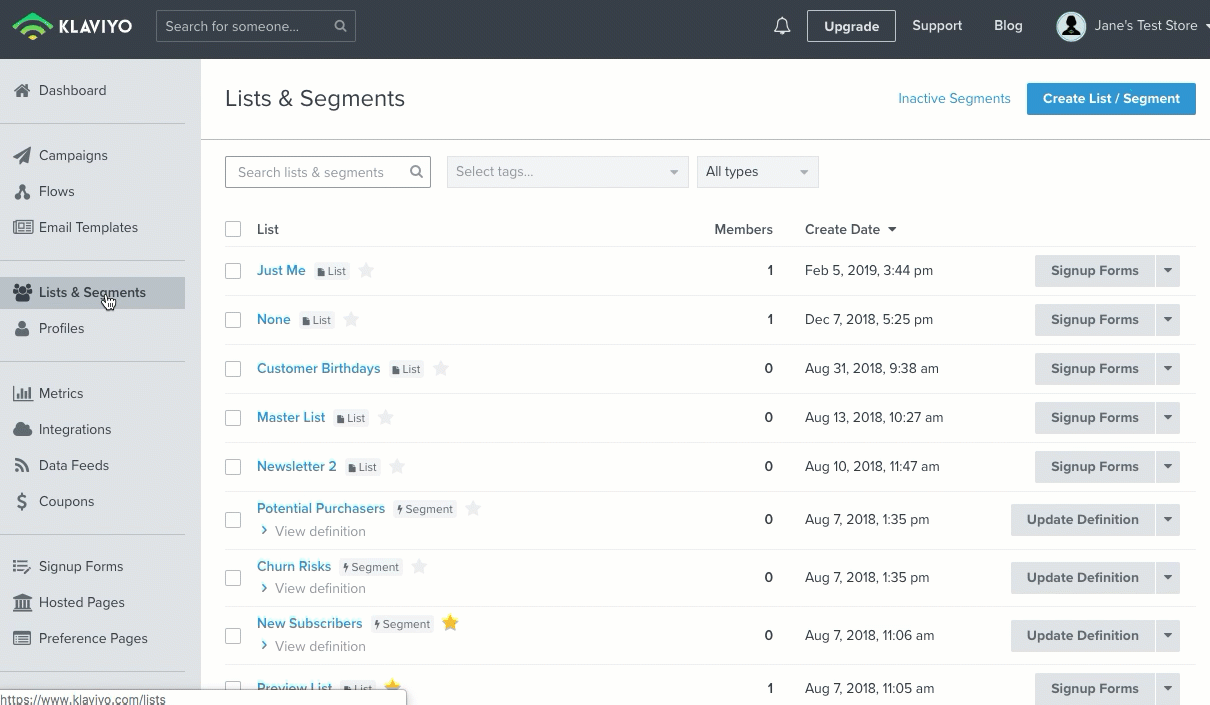 You will then be taken to the segment builder where you can add conditions to build out a segment definition. Here is a suppression list for new tickets and recent low satisfaction scores, for example:

Once you are satisfied with the definition you created, click Create Segment. Depending on the size of your segment, it may take a while to populate.
Now, when you have a new ticket from a customer that isn't on your Klaviyo list already, Gorgias will automatically send them to the list.
---
What do you think? Yay or Nay?
---