Your Profile
Each Gorgias user has a section specific to them titled "Your profile". This section is where variables for "Current agent" and "agent" will pull data. These variables are used in macros and in the email signature setup by the admin of the account. The name and images here are also what will show when you are using the Gorgias chat integration.

Setup instructions
There are two ways you can access "Your Profile":
Click your name on the bottom left and select "Your Profile".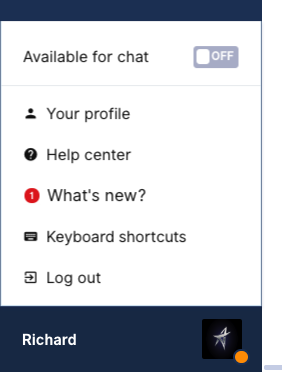 Navigate to "Settings" in the top left and select "Your Profile" from the left-hand navigation menu.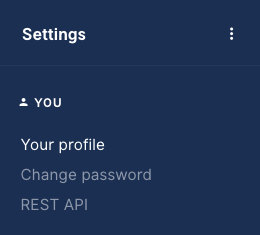 Join and Log In
Via invite
You would need to be invited by your Admins, and you can then use the link in the email invite to set up your user account and log in. The email address shown in the "Your profile" section is the one that you'll be using to log into your Gorgias dashboard. Upon joining you will also be prompted to set up your password.
If you want to change your password later, you can do so by logging out and then clicking on the 'Forgot password?' button on the screen: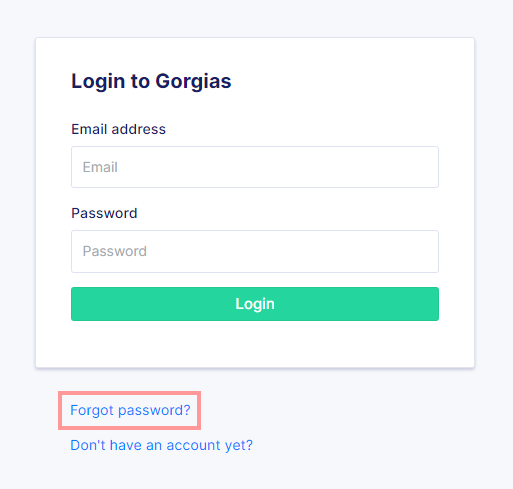 You will then be prompted to type in your email address for further instructions and prove that you're not a robot by Captcha as well: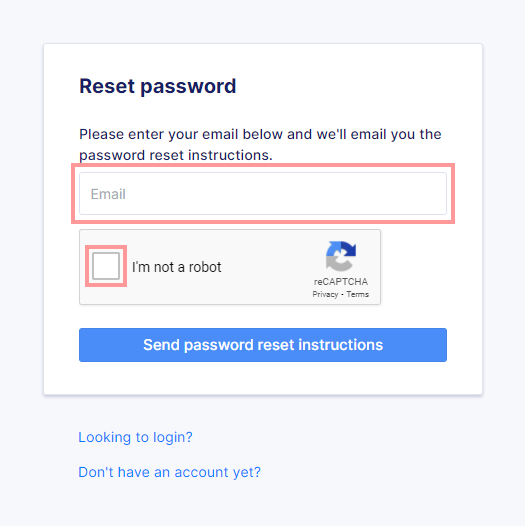 You should now have an email in your inbox that looks something like this:

If you click on the link, a new page will open up where you can insert and confirm your new password: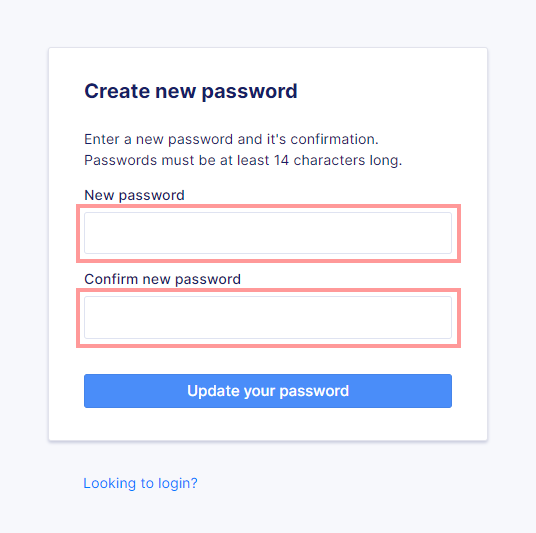 Self sign-up
Agents can now sign-up by themselves, if the option is enabled in the help desk. This means that admins can authorize agents to join the helpdesk on their own, they don't have to invite them manually.
If self sign-up is enabled, users that arrive on the login page will be shown a link to sign-up, marked with 1 below: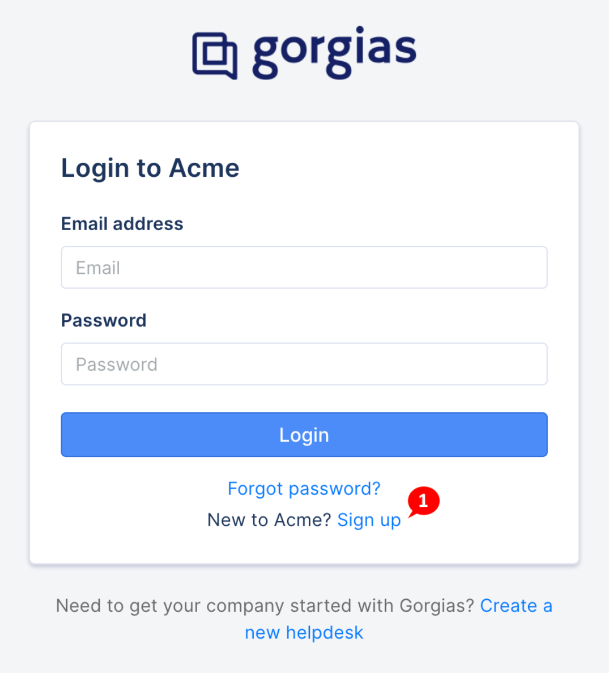 To enable this feature as an admin, go to your helpdesk Settings, and head to the brand new 'Access management' page as shown below (1):
There, you will find two options to choose from (step 2 on the screenshot above):

Invite people manually, which is the same as before, helpdesk admins must invite agents manually.
Let people sign up automatically, where agents will now be able to access a new sign-up page to register by themselves. To prevent just about anyone from signing up it is limited to a given list of domains (step 3 above).
In the domain field, please note that there can only be one domain per line. For example, 'domain1.com, domain2.com' (with commas) won't be accepted.
Once you're done, you can click the 'Save changes' button (4) and you'll be good to go!
Please note that before your agents can access their newly created account, they will first have to verify their email address via the link they will receive in their mailbox.
Another important thing to remember is that, if an agent already has a customer account set up with their email address, they won't be able to use that same email address to sign up. The Admin will then need to either delete the customer account or invite the agent manually.
Single Sign-on
Agents can now use Single Sign-On as well via Google (Gmail) or Office365! Please see below how to enable this option:
Please go to Settings → Access Management.
Under 'Single Sign-On', toggle on the options that you want to enable.
If you have both Single Sign-On and Self-Sign Up enabled, users will be able to create their accounts via SSO if their email domain matches one of the allowed ones.
If you enabled SSO, users that arrive on the login page will now be shown new buttons to access the help desk:
Clicking any of the buttons will redirect them to the SSO provider (for example Gmail):
Once the agent selects their account, they will successfully log into Gorgias.
Please just keep in mind that agents who sign up on their own will have the default Basic Agent role.
Two-Factor Authentication (2FA)
You can activate Two-Factor authentication by following these steps:
Go to Settings → Password & 2FA and then click on the Enable 2FA button.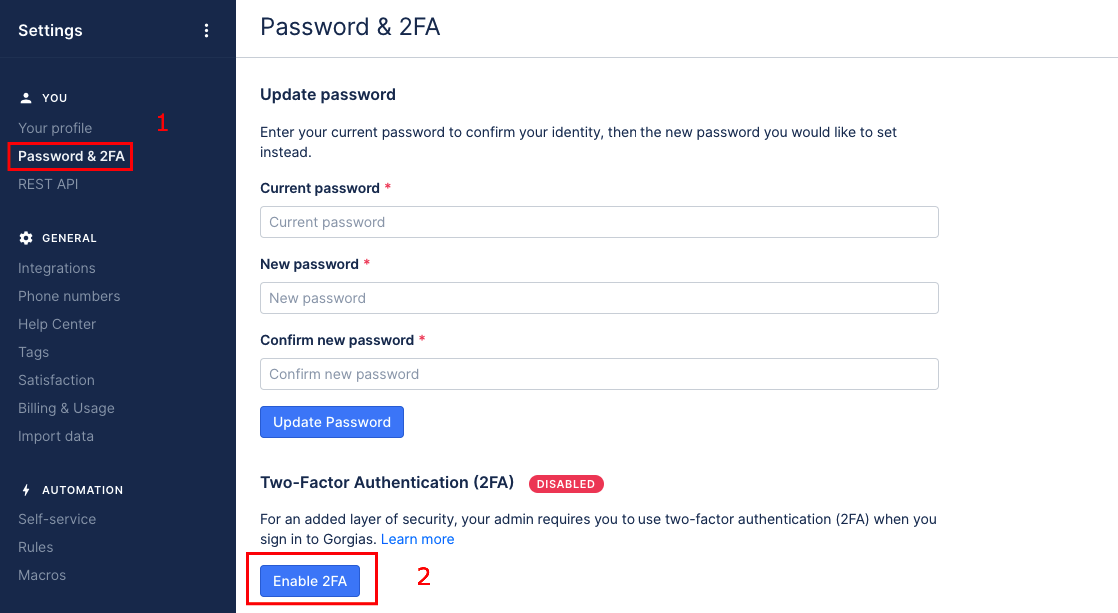 You will be prompted with a wizard to add your authenticator app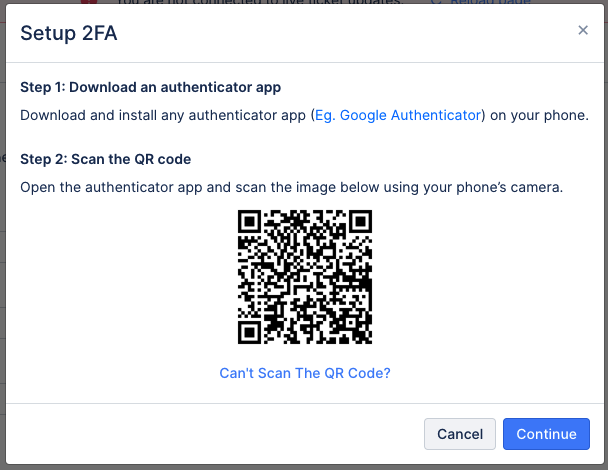 On the last step of the wizard, you will see a list of recovery codes. Please safely save these codes. The recovery codes are there in case you lose access to the authenticator app.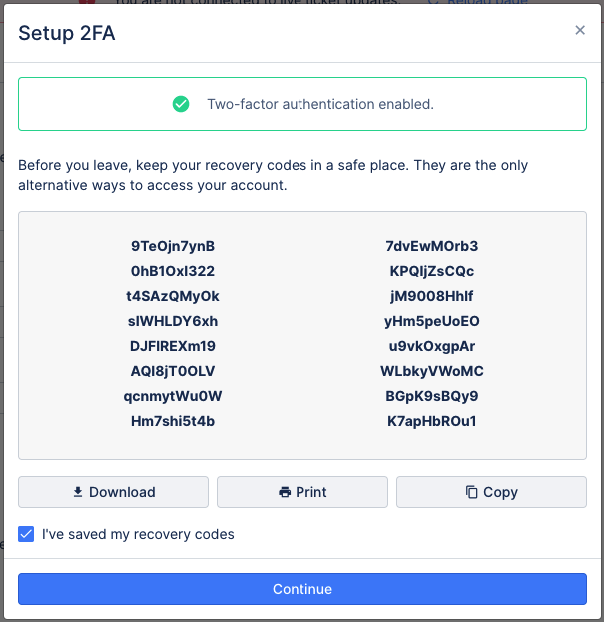 Once 2FA is enabled, you will be prompted to enter a 6-digit code from the authenticator app every time you want to login to Gorgias.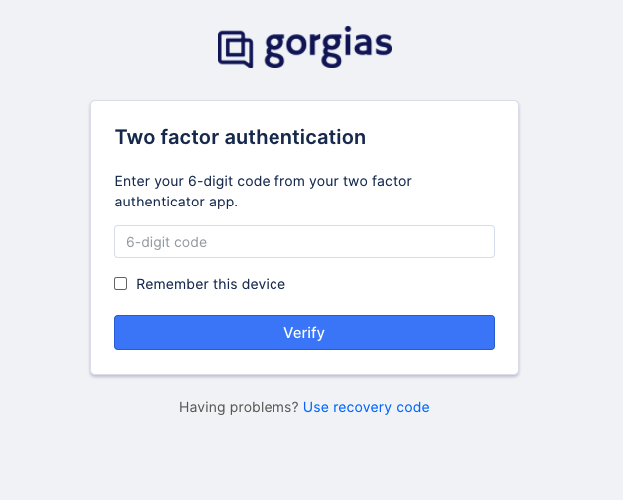 Once you've completed all these steps, you can use 2FA to access Gorgias. 😊
Please bear in mind that 2FA isn't enabled on the mobile app.
Having trouble logging in? We're here for you! Please feel free to reach out to our Support Team anytime via live chat or email at support@gorgias.com.
---
What do you think? Yay or Nay?
---