Manually set the customer of a ticket in Gorgias - Deprecated
How to manually set the customer of a ticket?
Please have a look at the video tutorial below on how to connect the right customer to the ticket that you're working on:
Once you have the customer set up, the menu below their name in the upper right corner of the ticket will show you the customer notes, their email address and Twitter handle (if added), their location and the local time, as well as the last time that they were seen on your chat.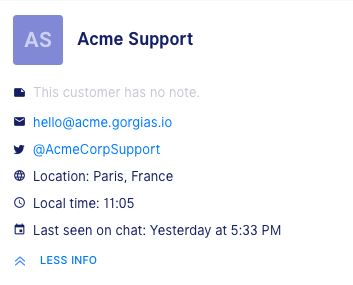 Please just keep in mind that, for now, we define the 'last seen on chat' based on:

- The last recorded customer's action on the chat (sent a message, browsed the self-serve porta etc..)
- The programmatic ping every 2 minutes to see if the tab with the chat window is still open in the customer's browser

If none of these conditions are met, the customer is considered inactive on chat.
You can edit the customer's note in this section too, more on that here.
---
What do you think? Yay or Nay?
---