View Sections
What are view sections?
A view section is a collapsable group that contains zero or more views. Views visibility settings can be changed to the following 3 options:
Private views are only visible to the agent who created the view
Shared views are shared to specific agents or teams
Public views are available to all agents
On top of the view sections, the navigation bar is also organized in 3 sections:
Chats section which includes all open chats assigned to you
Shared views section which includes all shared & public views
Private views section which includes all private views

Lead Agents
and
Admin
agent roles (see
User Permissions
) will have access to all
shared
views regardless or not if they were added to the visibility settings. This will enable them to keep oversight of shared views created to prevent clutter.
Anyone can use the search function, regardless of their role, and access all of the tickets within the search results. This is especially important if you have view sharing set up, because searching will not prevent any agents from finding tickets in private views.
Creating new view sections
As you use Gorgias, you'll probably want to create your own view sections either for yourself or for you team. That allows you for instance to set-up a default sidebar configuration for all agents. 
Only lead agents and admin can create view sections in the Shared views area. Individual agents can of course organize their Private views are as they see fit.
Here's how to create new view section and add views to it: 
In the left sidebar, hover over one of the section, click on the ➕and select Create a section
In the small pop-up window, set a name and choose an emoji (optional), click Create: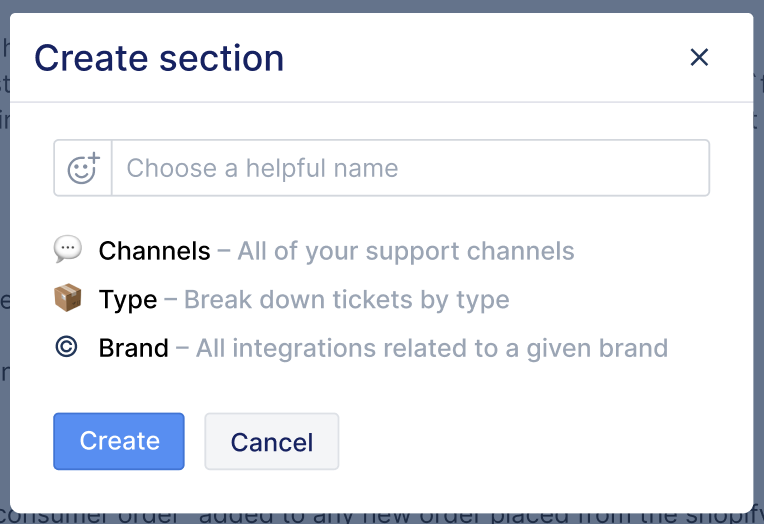 To add views to your section, simply drag & drop an existing view from outside the section to inside the section:

That's it! You're all set!
Note that default views such as Spam or Trash cannot be added to sections. If you trying adding them in a section you should see a warning sign.
Renaming or deleting sections
Hover over the view section you would like to edit and click on the ⠇icon: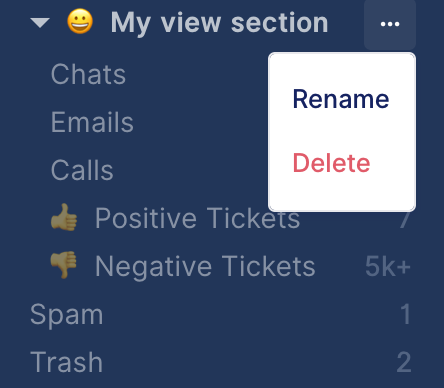 When you click on rename, you will be prompted to simply update the name and emoji of the view section: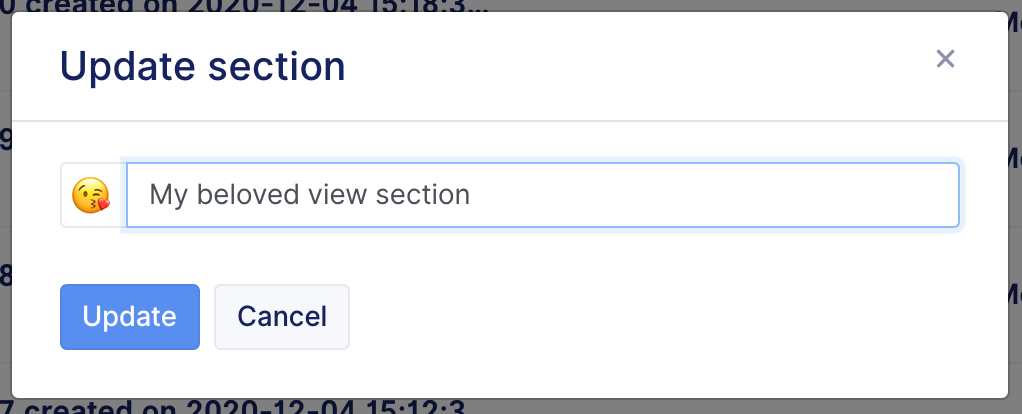 When you delete a view section that contains views, you will be notified that by doing so all the contained views will be moved back under the containing section:

Organizing view sections
Similar to views, you can simply reorganize the list of views and section by drag & dropping them. A slight blue line will appear to display the target location of where the item will be dropped.
Lead agents and admins can drag & drop shared, private views and view sections to re-order them. Changes in the order of views and view sections are visible to all.
Private views and view section cannot be dragged into the Share view area, and vice versa.
Agents can drag & drop private views and section to re-order them.
All sections can also be expanded or collapsed. Note that as opposed to the order, only the current user sees which sections are expanded or collapsed.
Note that re-ordering views & sections by drag & dropping them is sensitive to internet connection speed. If you are making changing rapidly, you might experience a slight delay. Wait a few seconds to see if the changes were captured and if not, retry.
View sections are now available on the
mobile app
too!
Migration from the legacy sidebar (Q1 2021)
The view section feature has been released on Dec 9th 2020 which means all legacy customers will have migrate from the old view management navigation bar to the new.
Continue reading to see what you need to know to make the transition as smooth as possible!
Previously all views were created by default as Public, visible to all, and Lead agents or Admins had to update the privacy settings of the view to make it Private. That means that all hidden views whether yours or the ones of other agents that have not been made Private will now be visible in the Shared Views area.
Lead agents and Admins will therefore need to reorganize your view lists by updating the privacy settings or your legacy views. Note that they are the only ones that have the permissions to do this.
Tips & tricks to facilitate the migration
Make sure that the lead agent or admins are ready to update the view sections. Don't hesitate to temporarily change the role of agents to lead to help with the migration
Making a view private will make it private to yourself. To create private views for agents they either have to do it themselves.
We recommend to keep the Shared Views area a place for all common views that will be accessible to all or several agents. For instance if one agent is responsible for all billing question, we recommend creating a Private view for the agent so that it doesn't clutter the rest.
Example Scenario
Let's assume your helpdesk as the following view configuration:
We are logged in as the admin as the account.
Most views are Public (from Open Tickets to My Chat).
The admin has created 3 Shared views: Teo's Chat, Gleb's Chat and Phil's Chat. These views are Shared between the individual agents and the admin.
The admin created his own Private view to keep track of tickets that they have found particularly funny or random. In this case, other admins or lead agents can actually see these views even if they are private.
There are 2 hidden views Positive Tickets and Negative Tickets that were hidden by the admin, maybe because they were duplicated.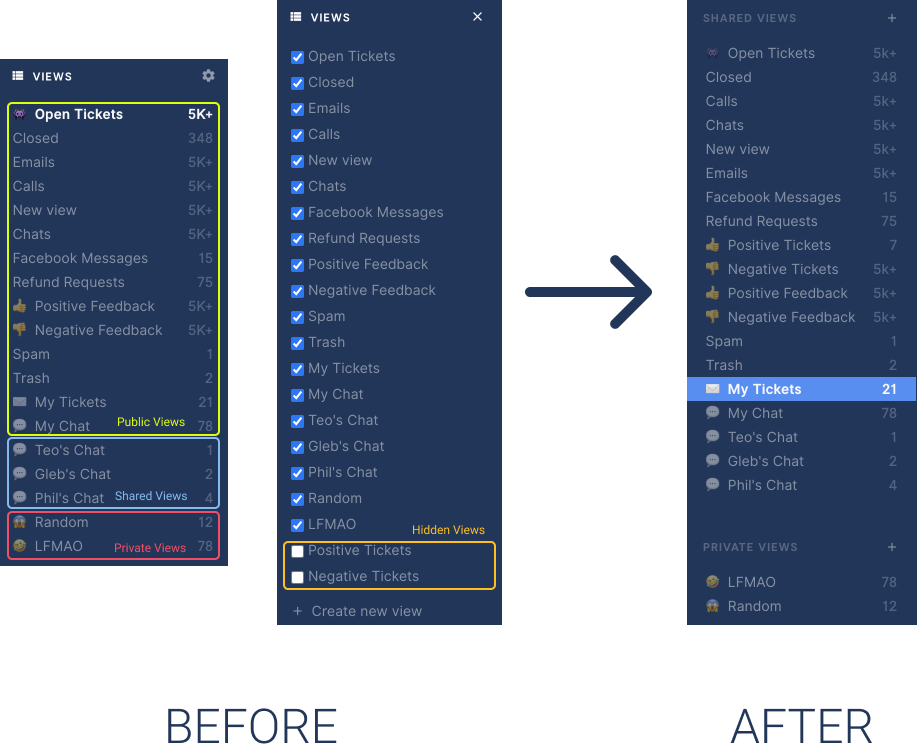 In this example, we can highlight a couple of behaviors:
All the Public & Shared views were moved to the Shared Views area.
All the Private views were moved to the Private Views area. In this case, these 2 views are no longer visible by other admins or lead agents.
All the 2 hidden views are no longer hidden and are now visible in the Shared Views area.
To clean-up the admin would want to take the following steps:
Remove the duplicate views Positive Tickets and Negative Tickets by either updating their visibility settings or deleting them.
Remove all Shared views which are no longer useful. Give lead agent rights to Teo, Gleb or Phil so they can migrate their own Chat views to the Private view area. Alternatively they can also recreate new views with the same filters.
Note that you might be tempted to move the My Tickets and My Chat views in the Private views area but actually these are already filtered to the active agent signed-in to the helpdesk. It is useful to keep those in the Shared Views as it creates a default set-up for all agents. What you might want to do is on the contrary create a new view section called "My Views" will all views filtered on the active agents as follow: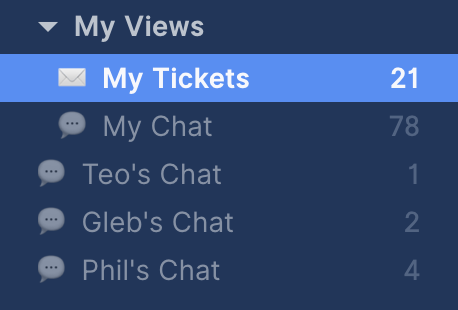 ---
---