Gorgias Voice FAQs
Here you will find answers to some of the most common questions regarding our native Voice Integration.
General
I have a Basic Gorgias account and can't see Voice as an integration. How can I get access to this integration?
The Phone integration is only available on non-legacy subscription plans at the moment.
To upgrade your account simply follow these steps:
Navigate to Settings → Billing and Usage.
Click 'Update plan' and follow the steps from there by choosing the plan that you want to update to.
Your account should update immediately showing your new ticket allocation and plan details. Remember that on our Pro plan you now have access to these additional features:
If you still can't see Voice as an integration on your Integrations page, please reach out to our support team at support@gorgias.com.
I have a Pro Gorgias account and can't see Voice as an integration. How can I get access this integration?
Please reach out to our Support Team at support@gorgias.com, we'll be happy to look into this for you.
How long will the Gorgias phone ring for until the call is timed out?
If all agents are busy/unavailable or if it's outside business hours, calls will ring for approximately 30 seconds before being redirected to voicemail or canceled.
If agents are available and or the call is received during business hours, calls will ring for 60 seconds until an agent answers. If the call is not answered after 60 seconds, it will time out.
How many phone numbers can an account have?
The limit depends on your subscription plan:
Basic - 1 phone number
Pro - up to 3 phone numbers
Adv - up to 10 phone numbers
Enterprise - up to 20 (if more are needed, please let your CSM know)
When you delete and add a phone number in Gorgias, the phone number will be deleted in 10 days if you don't re-add it.
Where are voicemails stored?
Voicemails are available within the ticket, they can be found as voicemail left events. They will be available to listen for up to 6 months from the day recorded, after this, they are deleted.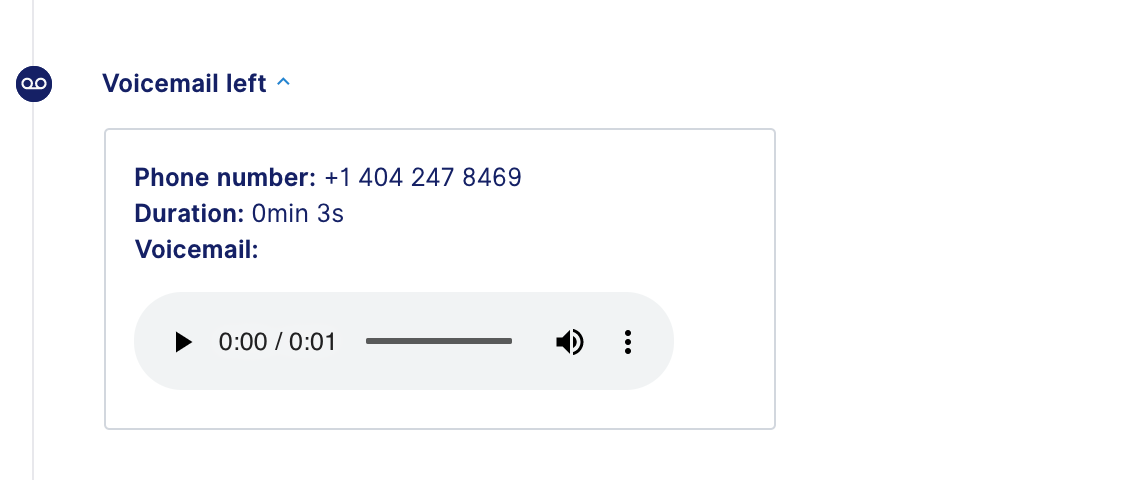 For how long are recordings stored?
Call recordings will be stored for up to 6 months. After that call recordings will be automatically deleted. Once recordings are deleted, the Call ended event will appear with the following message:

Can I call Shopify customers directly from our Voice integration?
Yes! We pull in phone numbers for customers so we can easily link Voice (Gorgias Phone) tickets with customers.
What is the minimum bandwidth needed to support calls?
Bandwidth (Uplink/Downlink)

Opus*: 40kbps / 40kbps

PCMU: 100kbps / 100kbps

Latency (RTT)

< 200ms

Jitter

< 30ms

Packet Loss

< 3%
Do my customers receive any costs from calls?
No, your customers won't be charged outside of the standard calling rates that they already receive from their own phone provider. Toll-free phone numbers incur no charges at all for the customers.
Can I create a premium phone number in Gorgias?
Unfortunately no for now, but premium/novelty numbers are offered through specific services like Number Barn, which can be ported into Gorgias via a porting request.
Forwarding
What is the difference between native, forwarding, and porting calls?
Native is when Gorgias is your service provider and you are answering calls in Gorgias.
Forwarding is when you have an external service provider and these calls are redirected (forwarded) to Gorgias through them.
Porting is when you migrate your service from an external provider to Gorgias. This process is a one-time step that occurs during setup. After this, Gorgias becomes your service provider.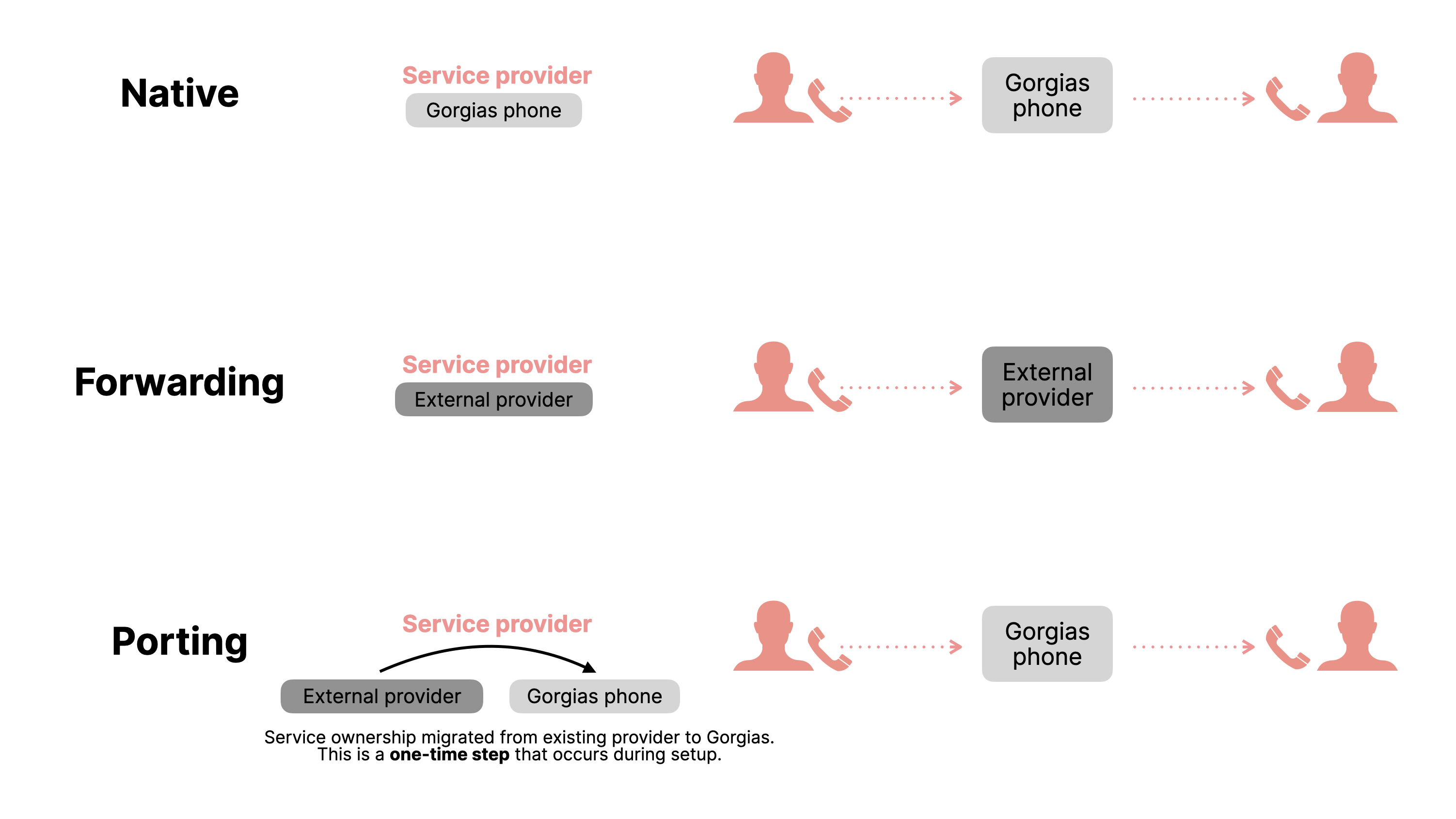 We wish to keep our existing phone number. Can we still do this?
Yes! If you have an existing phone number you wish to keep you will want to set up by call forwarding or porting (Pro+ plans only).
Call Forwarding: Simply create a new phone number in Gorgias and forward any calls from your existing number to your new one in Gorgias. This means your customers can continue to contact you via the same number without experiencing any disruption.
This requires you to create a phone number in Gorgias and forward calls to this number. You can currently only create US, Canadian, UK, France, and Australian phone numbers in Gorgias so you would need to use one of those numbers for forwarding. To set this up please contact your current service providerand forward calls to this number. To set this up please contact your service provider.
Please note that forwarding and/or international call charges may apply. Feel free to contact your provider for more information.
Call porting: Please reach out to support@gorgias.com or your account's CSM for Adv+ customers and request to port a number. They will provide you with a Typeform for you to submit a porting request. After submitting the porting request, you will hear back from our porting team regarding next steps.
How can I check if I can forward calls from my current provider?
To check if your current provider will allow call forwarding, you'll have to search your current provider's documentation for a feature like "Forward to device" or "Call forwarding" and follow their instructions.
To make it easier for you, we have compiled instructions to forward calls from our customer's most common providers:
For Zendesk Talk, you don't need to forward calls on an agent level. You can do it through IVR and it works! Just follow
these IVR instructions
And have it set to 'press 1 to talk to a customer support agent' (you will need to add a greeting message as well). Then it will forward to the Gorgias number. You can select a number in the dropdown and paste the Gorgias number.
This list is not cumulative, so if your provider is not on this list, please don't hesitate to search their documentation or contact them directly to help you forward calls to Gorgias.
If I am forwarding calls to Gorgias, what number will my customers see when I'm making outbound calls from the helpdesk?
Making outbound calls from the helpdesk will show the Gorgias number as the caller ID. To make outbound calls with your existing number's caller ID, you will need to call from your current provider's platform or a physical phone.
If I am forwarding calls, does Gorgias pick up the forwarding number or the customer number for new inbound calls?
You should see the customers' phone numbers, but it depends on your phone provider. If the provider blocks that info, then customers' phone numbers won't be pulled into Gorgias.
We have set up a US/Canadian phone number in Gorgias, however, our agents are located in other countries. Will I be charged additional fees if they answer this from an IP address outside of the US/Canada?
No. Gorgias operates through a browser, so you will not incur any international call charges by answering from an IP address overseas.
Please note that this is different from call forwarding. Continue reading for more information on that below.
Is it possible to forward from Gorgias to another provider?
Yes! You can use the call forwarding settings within the agent profile to forward calls directly out of Gorgias. By setting the call forwarding number in your agents' profiles to your secondary phone number, incoming calls will be routed out of Gorgias and into your second provider.
Can I answer calls from the Gorgias mobile app?
While you cannot answer calls from the mobile app directly, you can set up call forwarding to ring your mobile device when an incoming call is assigned to you. When picking up the call, you will be notified that this call has been forwarded from Gorgias and prompted to press 1 to accept the call. If declined, calls assigned to teams will be routed back into Gorgias to try other agents.
Porting
What is porting?
Porting is a one-time process of transferring a number from one provider to another, allowing you to keep the same number while switching phone providers.
Please note that porting is 
only available on Pro
plans
and higher
and is limited to US and CA numbers only.
If you are interested in porting a phone number from a different country, please submit this as product feedback so our product team can determine our customers' level of interest.
What are the advantages of porting versus call forwarding?
Unlike call forwarding, you will not need to retain your existing provider after the porting process has been completed. Also, you will be able to make outbound calls
How can I submit a porting request?
To initiate a porting request for US and Canada phone numbers, please email support@gorgias.com or reach out to your account CSM if you are an adv+ customer.
You will be provided with a porting request form where you will be asked to submit the necessary information and documentation. Once submitted, our porting team will initiate the process and reach out with updates/next steps.
We don't create integrations anymore when a number is ported into Gorgias. Now, when you port the number it will create a phone number only that you can find on the path Settings -> General -> Phone Numbers.
This means that there is no limitation for IVR integrations anymore. You can port the number into Gorgias and then create whatever integration you need or delete it and reuse for another integration type.
How long does a porting request typically take?
Porting typically takes around 1-4 weeks to complete. That being said, it is an extremely manual process that involves a number of independent stakeholders. As such, times can vary significantly depending on your provider, the time of the year, etc.
Will I experience any phone downtimes during the porting process?
A short disruption may occur on the day when porting is scheduled during the time when the phone number is being ported into Gorgias. As soon as porting is finished, you should experience no issues.
When can I safely delete my account with my old provider once porting has started?
You must keep your existing account until porting has been completed. Deleting your old account before porting has been completed can cause you to lose the number altogether. Once the porting process has been completed, the porting team will let you know when it is safe to delete your existing provider.
Agent Assignment
How does routing work for agents?
It's based on the agent's personal availability. If an agent is available in Gorgias they will receive new call notifications. If an agent is set as unavailable, they won't get a call notification.
Agents can view and change their availability on the tickets page under their agent profile.
How does round-robin assignment work for agents?
If auto-assignment is enabled for phone tickets, and there is a team and an assignment rule for that voice integration, the call notification goes to the available agent whose last call was ended earlier than any other available agent's. In other words, round-robin assignment is ordered by the date-time from the earliest ended call to the most recently ended call.
For example, if Agent A ends a call at 10:00 am, and Agent B ends a call at 11:00 am, then the next call will notify Agent A first, provided Agent A is available in Gorgias. If Agent A doesn't accept the call, the call automatically notifies the next agent in line in the team.
Forwarding calls to agent phone numbers
What is the list of supported countries for forwarding?
At the moment, you can only forward calls to numbers with the following country codes: Australia, Canada, United States, France, Germany, India, Israel, Japan, United Kingdom.
Can I record my forwarded phone calls?
There is no functionality to start/stop phone recording on the fly when the call is forwarded, but you can enable call recordings for incoming calls in your voice integration configurations by selecting the 'Start recording automatically' setting.
Can calls ring both in Gorgias UI and my phone number?
No, when the forwarding is enabled, all calls will come to the configured phone number instead of the helpdesk UI.
Limitations
Is there a way to mute phone call notifications without declining the call?
Not just yet, but we're working on it!
How do I transfer a call from one agent to another?
This feature is currently not available, but will be coming soon. However, this can be done by changing the assigned agent in the ticket as a workaround.
How long can the greeting message be?
We have a limit of 20s per greeting message.
If you still have some follow-up questions that weren't answered by this doc, then please feel free to reach out to our Support Team anytime via live chat or email at support@gorgias.com. We'll be happy to advise!
---
What do you think? Yay or Nay?
---