Clyde
Updated 8 months ago
Clyde is an Ownership Enrichment platform offering Extended Warranty, Product Registration, and Claims Management
How it works
With Clyde and Gorgias working together, you can surface product protection plans for eligible products, view registration status and find up-to-the-minute claims information – all within Gorgias. Stay focused and close tickets faster by viewing order data associated with the customer including order details, product warranty eligibility, and any contract sales in the same window you use to talk to customers.
With Gorgias and Clyde you can:
Reduce the time it takes to close out warranty-related tickets
View extended warranty details without switching tools
Use product details to identify warranty eligibility
Setup instructions
Navigate to the integrations page in Clyde and click on "Connect Integration" on the Gorgias tile.

Click on "Connect Account", and on the resulting modal, input your Gorgias account subdomain*, and click "Connect Integration".
Account subdomain is everything between https:// and ".gorgias.com/"
In the following example "sfbicycle"
See the success message indicating Clyde and Gorgias has been connected!
Gorgias Set-Up & Viewing your Data
Navigate to a Ticket in Gorgias
Add a tag or otherwise update that ticket
Relevant Clyde data should show up in the widget area to the right of the ticket
FAQs
How frequently does my Clyde information update in Gorgias?
Gorgias makes a request to your Clyde account on every ticket update or creation. If you're not sure whether you are looking at the most up-to-date data, the simplest way to refresh is to add and remove a tag. That will trigger the request.
What data should show up inside Gorgias?
The integration makes a request to retrieve order information for the customer you are viewing inside Gorgias. Assuming your eCommerce store is connected to both your Clyde account and Gorgias, any orders associated with the customer will be retrieved from Clyde. This will include the Clyde Product eligibility evaluation, additional order details, and any contract sales.
How can I check, in Gorgias, that my integration was installed successfully?
Upon connection, Clyde will automatically create an "HTTP integration" inside your Gorgias account, with an associated widget from a template. Navigate to Settings > Integrations > HTTP and you should see Clyde listed along with any similar integrations installed on your account.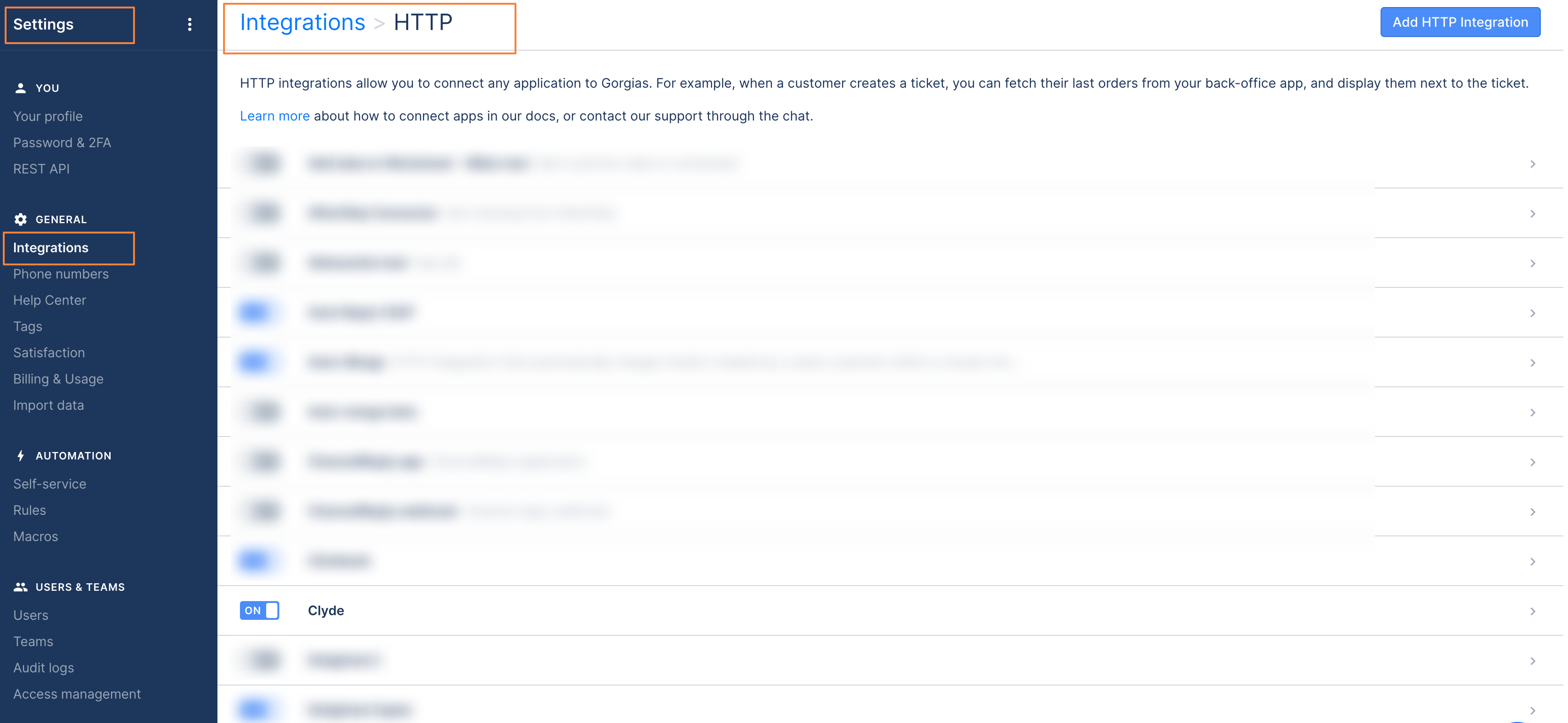 Was this article helpful?