Daasity
Updated a year ago
Daasity is the only data analytics solution built for non-technical users by leaders in the direct-to-consumer (DTC) space.
Their proprietary data model is designed to give merchants the answers they need to complex questions in minutes, not days, without the need to hire a data scientist. They integrate all of your data sources into a single data set and view so you can move beyond basic reporting to access powerful business insights that drive strategic growth.
Daasity is the only platform on the market that combines critical data from Shopify, Amazon, Retail POS, and other sales channels to deliver relevant and valuable insights on Customer Lifetime Value (LTV) by Marketing Channel, Initial SKU purchased, and more. Daasity is built for DTC, by DTC.
Integration benefits
With the integration with Gorgias, you'll be able to track your Customer Service Team's performance in Daasity via their metrics dashboard. You can check out this in-depth video breakdown for more detail:
Setup instructions
Navigate to the Daasity app at daasity.com
Under Data Sources, click on Integrations. On the integrations page, click on the New Integration button in the upper right-hand corner: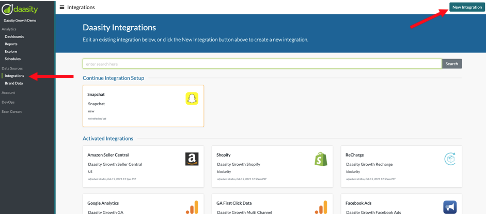 On the New Integrations page, click on the Customer Feedback section and then pick the Gorgias integration: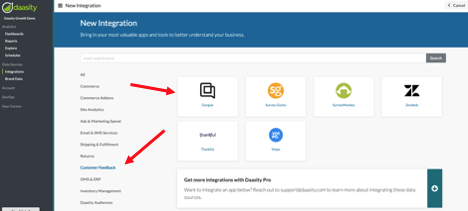 On the Gorgias Integration Setup screen, enter in a name for the integration ([Your Company Name] Gorgias is preferred), and the subdomain name (the name of your account that appears before "gorgias.com" in your URL):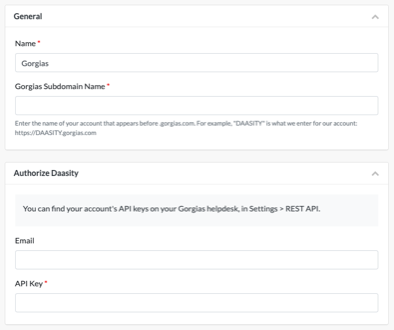 To authorize Daasity to pull data from your Gorgias account you must retrieve your account's API key from Gorgias and enter them in the Setup Screen. To get the API key, navigate to the Settings screen and click on the REST API link.  Enter the API Key in the appropriate box: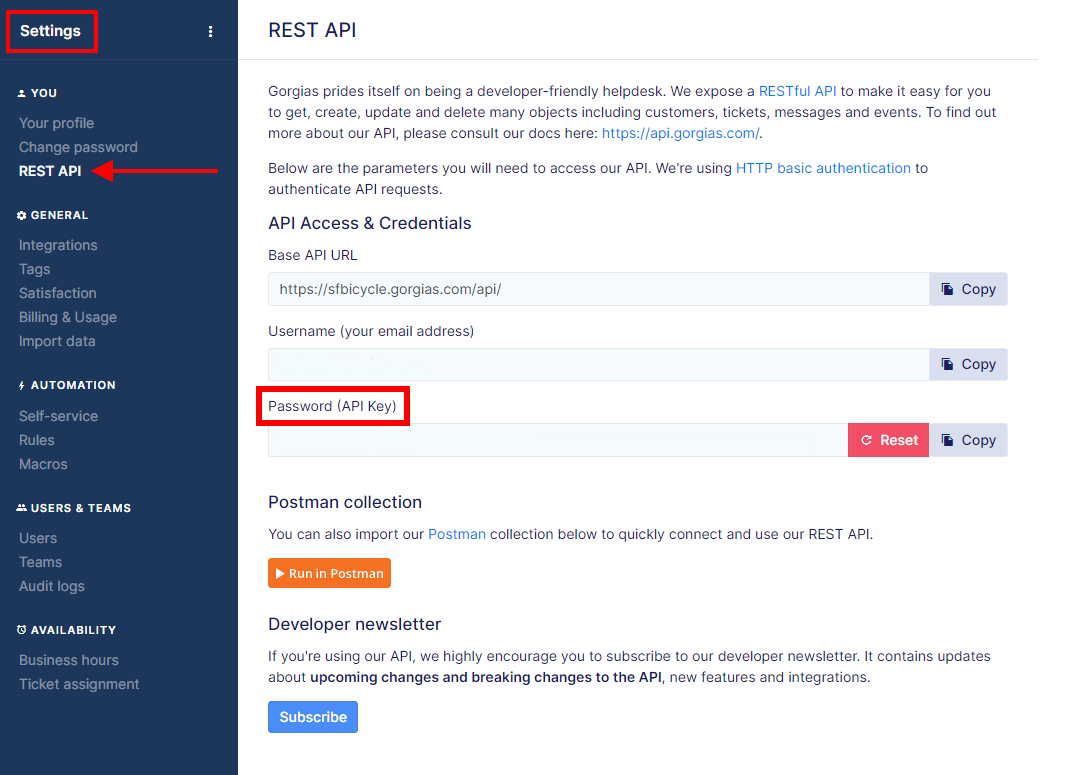 Click the Create button in the upper right-hand corner and your integration setup will be complete!
You can now load history for your Gorgias integration from the Integrations page on the Daasity App.
 Please note that this integration was built by our partners and while we do support it, in case any technical issue arises, the wait time might be a bit longer than for a regular support request. Thanks for your understanding!
Was this article helpful?