Postscript
Postscript is an SMS marketing platform for Shopify merchants.
How it works
Enabling the integration allows Postscript to create SMS tickets inside Gorgias. When support agents respond to the ticket in the Gorgias interface, the responses will be sent out via the same SMS number that the initial message came through.
When the ticket is closed in Gorgias, if the customer replies to a Postscript ticket within 24 hours, the old ticket will be reopened. If however, you receive a response from the customer after this time frame, a new ticket will be created!
Please bear in mind that replies sent directly from Postscript won't show up in Gorgias, and vice versa. This means that if you are to send a message from Gorgias, it won't appear in Postscript.
Setup instructions
This integration requires you to have a Postscript account
Copy credentials from Gorgias, from Settings > Rest API
On your Postscript account, go to Integrations > Gorgias and paste your credentials

Save
And that's all - your Postscript account is now integrated into Gorgias! You can review it under Settings > Integrations > HTTP.

Please bear in mind that, if the reply isn't older than 1 day, a new ticket for that reply will not be created.
Frequently asked questions
What does "Auto-Create Tickets" mean?
This option creates a new Gorgias ticket for every customer that replies to your Postscript number. Disabling this option allows you to manually choose which responses get created as Gorgias tickets via the Postscript responses interface.
Can I create SMS tickets from Gorgias?
Unfortunately, customers must first text your Postscript number to start an SMS Gorgias ticket. You cannot start an SMS conversation with a customer from Gorgias.
Can auto-reply rules be applied to Postscript tickets?
No, as of now. But rules with other actions as tag/assign etc. will work properly!
Can I create a view for Postscript messages?
First you would need to create a rule that would tag Postscript tickets: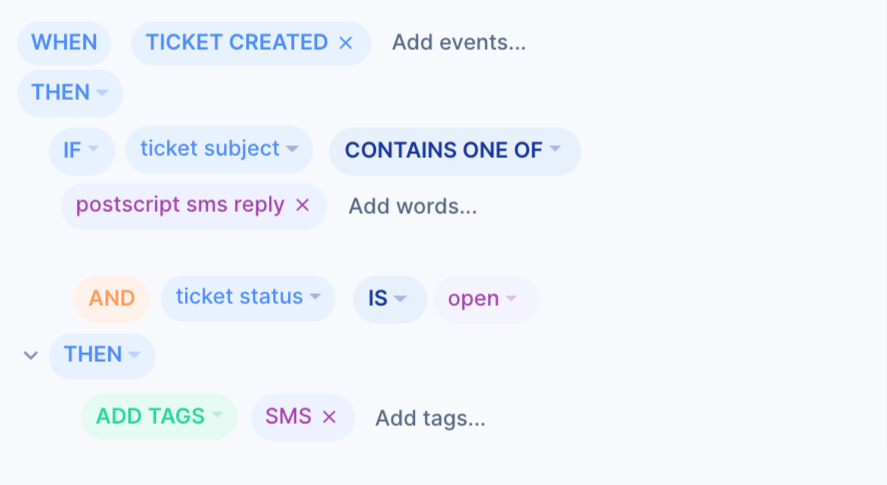 Once this is done, please create a view with the following settings: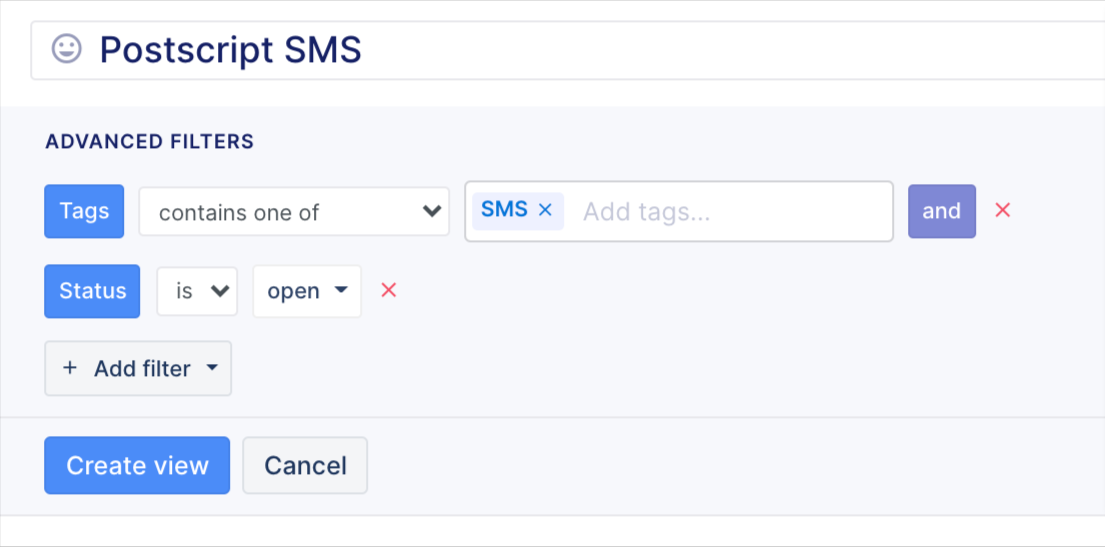 And you're all set!
Can GIFs and images be pulled in Postscript tickets?
Your customers are able to send images/gifs via SMS and those will be visible in Gorgias! Please note that images can be sent one way as of now, so you will receive images sent from customers, but cannot reply with an image just yet.

Is it possible integrating multiple Postscript accounts into a single Gorgias account?
Yes! Postscript now supports multiple accounts integrated into Gorgias. For differentiating tickets coming from a specific store, you can use rules that would tag tickets based on the subject line, as the store name will be pulled to the subject line of the ticket.
 Please note that this integration was built by our partners and while we do support it, in case any technical issue arises, the wait time might be a bit longer than for a regular support request. Thanks for your understanding!
Was this article helpful?