Wonderment
Where's My Order? app by Wonderment is a stalled and delay shipment communication platform for Shopify merchants. We proactively listen to your tracking numbers, identify the numbers not getting a regular update, and give you the rich data you need to proactively follow up with your customers before they write into support.
Integration benefits
Provide enhanced information in the Gorgias customer sidebar about shipping status!
Integration setup
In your Wonderment dashboard go to Settings > Integration settings > scroll down to Gorgias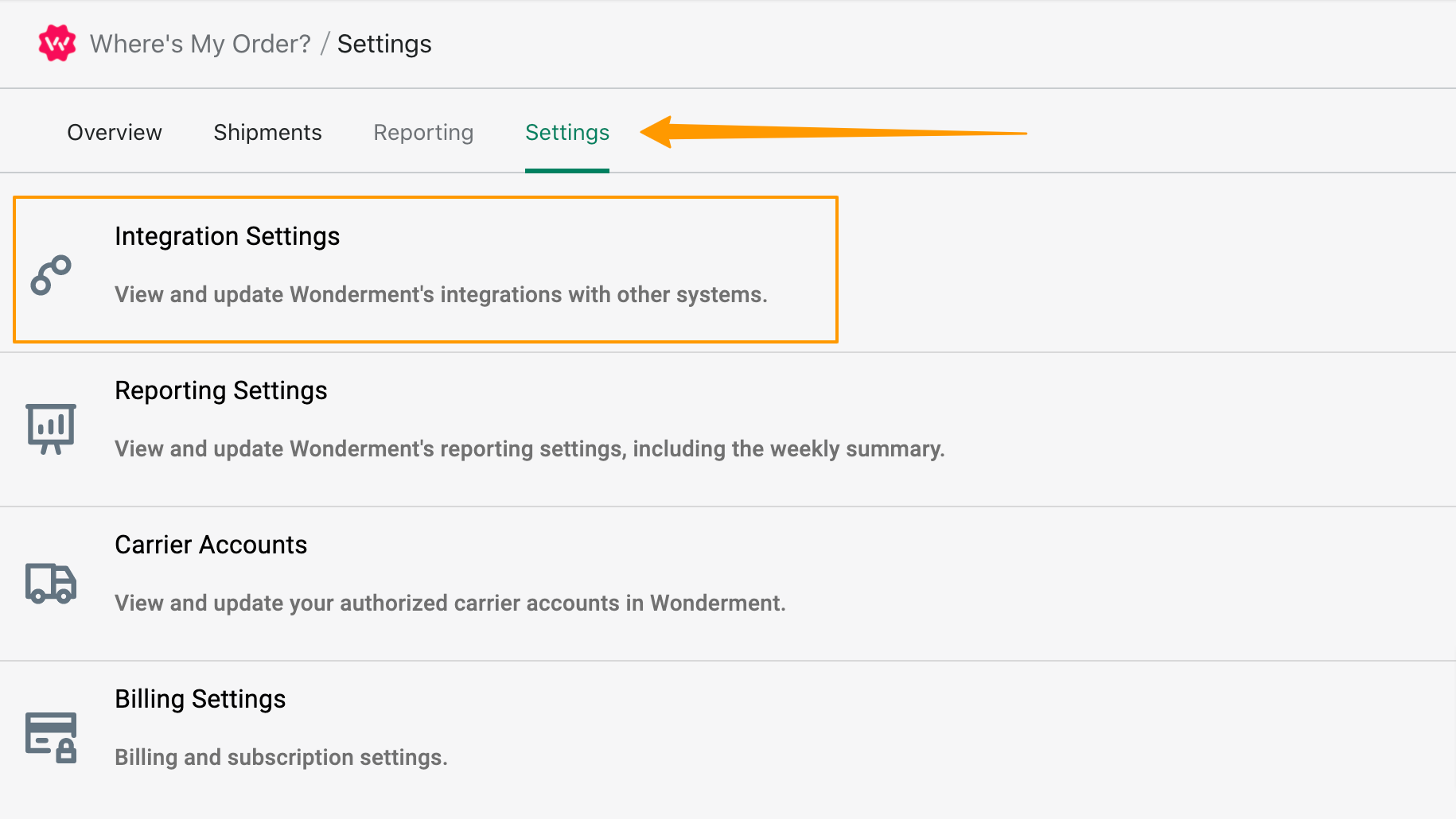 Get your personalized Gorgias Integration URL from Wonderment Settings:
In Gorgias, go to Settings > Integrations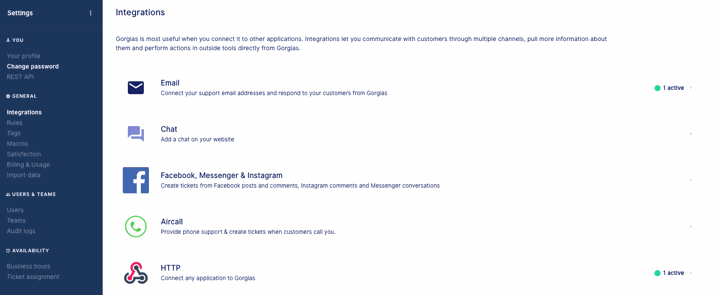 Select 'HTTP Integration', then click "Add HTTP Integration" in the top-right corner

Give the integration a name and short description in the first two fields, and then take the URL you get from Wonderment's Setup Screen, and paste it in the URL field. You don't need to edit any other fields. Click "Add Integration". Gorgias will begin retrieving your shipping data for each ticket as it is created or updated.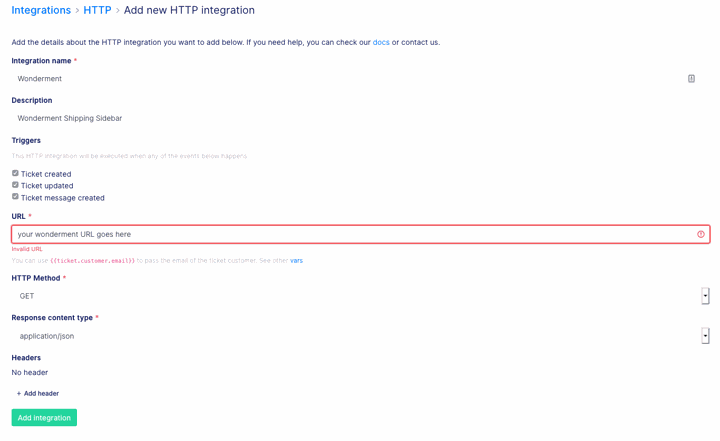 Adding The Widget To Your Sidebar
To make sure data is pulled to Gorgias, go to your Wonderment dashboard and find one delivered order with available tracking and copy customers' email address.

In Gorgias, search for that same customer on Settings > Customers and create a new ticket with just an internal note (you can simply type test inside internal note). This will ensure that the ticket is updated and all data pulled.
If you already have existing ticket with that customer, you can use that one as well!

Click on the Edit widgets button in the top right corner
You'll enter the Widget Editor interface, which looks something like this: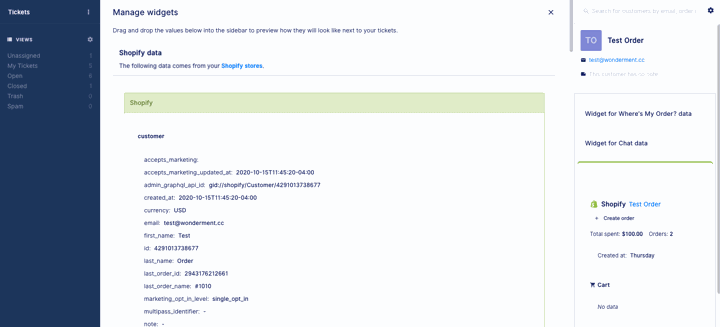 Scroll to the bottom of the page, and you'll see the Wonderment HTTP data block. Drag it by its title to the top-right corner of the widget bar. You'll see the bar highlight an area when it can be dropped.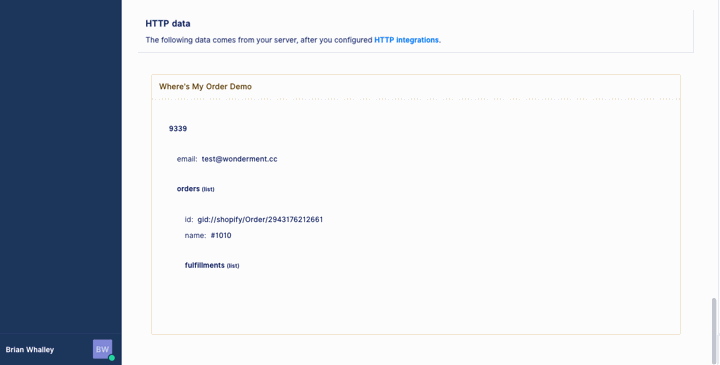 Hit the Save button in the corner and your new Widget bar will appear, and be populated with data as tickets are created or updated.Congrats! You've successfully added Wonderment widget to customer side-bar! This data will now automatically be shown for other customers that reach out to you and have Wonderment data available! :)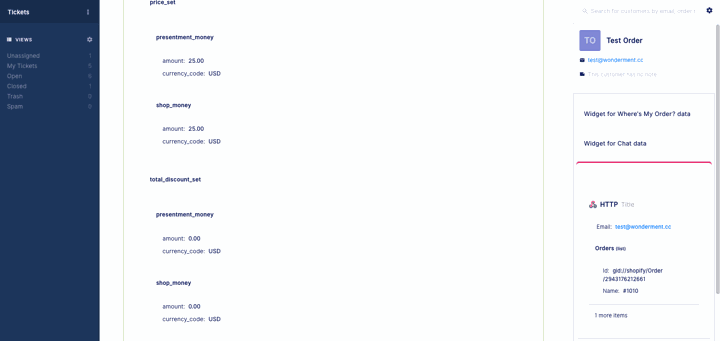 Congrats! 🤩 You've successfully added the Wonderment widget to customers' sidebar!
 Please note that this integration was built by our partners and while we do support it, in case any technical issue arises, the wait time might be a bit longer than for a regular support request. Thanks for your understanding!
Was this article helpful?