Okendo
What is Okendo?
Okendo is a customer marketing app that enables your customers to leave high-quality reviews on your website and build a strong community with them.
Benefits of Okendo?
By connecting Okendo to Gorgias:
Whenever a customer leaves a negative review on your website, a ticket is automatically created in Gorgias. You can add any other rule to trigger the ticket creation in Gorgias.
The ticket triggered by the negative comment(s), for instance, also displays the review, so that your support team has access to all the necessary information to deal with the issue.
The integration will also tag the tickets generated by Okendo with the tag 'okendo review' on its own, so you can easily file and review those tickets from there!
How to connect Okendo?
Login to Gorgias
Navigate to Settings

Navigate to You > REST API

Make a note of your Base API URL, Username and API Key
Navigate to the integrations page in Okendo (Settings > Integrations)
Open the Gorgias section and copy your Base API URL, Username and API Key from Gorgias into the corresponding fields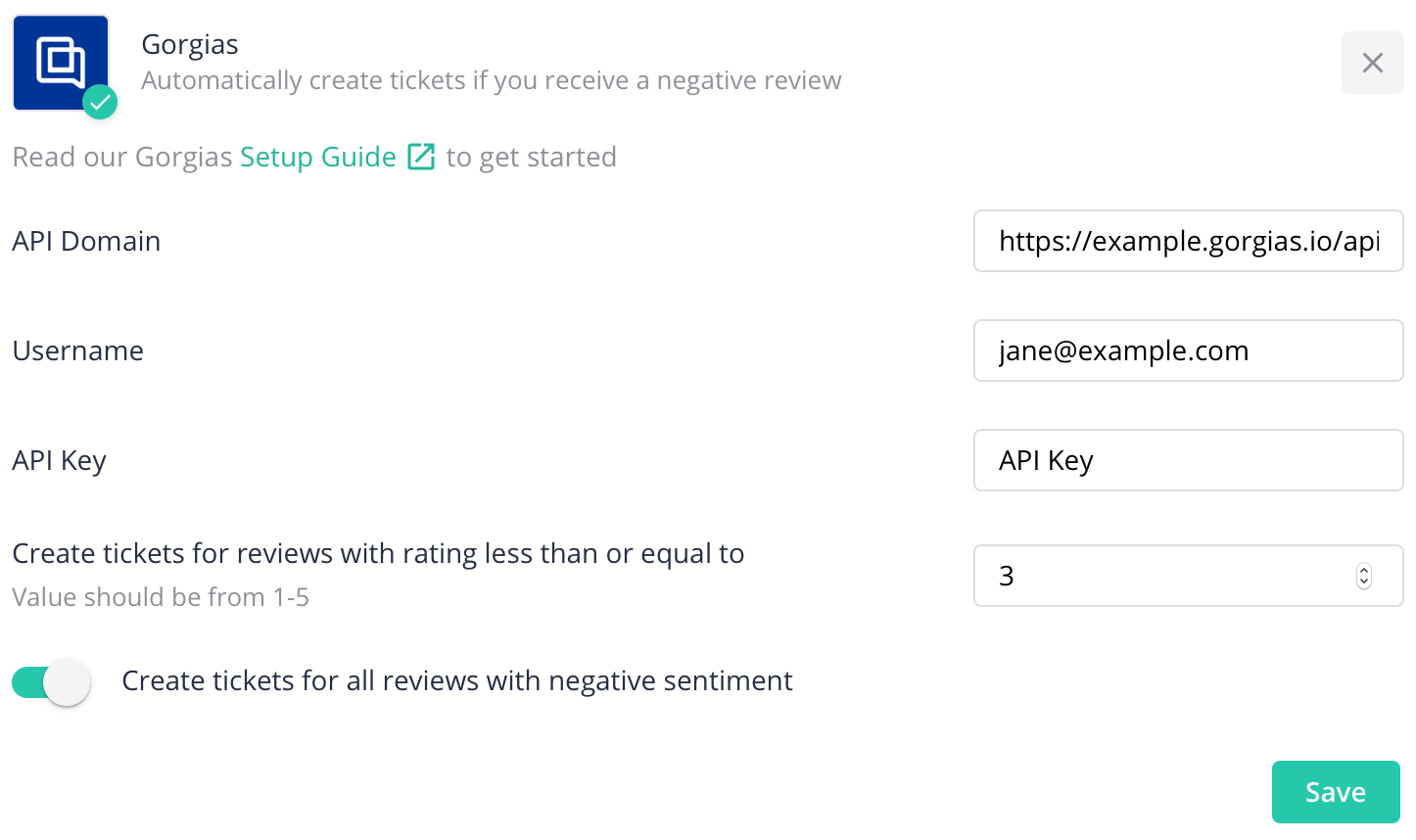 Configure the rules used to create tickets. Okendo supports creating tickets for reviews below a certain rating threshold and/or reviews with a negative sentiment score
Click Save
Well done! Now that you're all set, you can deal with your customer reviews directly in Gorgias.
**Please note, this integration is available to all customers but will only be supported for Advanced and Enterprise plan customers. While any plan can set up the integration following the instructions,  due to the manual work it requires on our end, if you are on the Basic or Pro plan we will not be able to provide support in setting it up or fixing any issues with it should they arise.
---