Trustpilot
Trustpilot is an open, online review platform where any consumer with a buying or service experience can review any company, and any company can invite and respond to reviews.

Benefits of the integration
Every new review left in Trustpilot will create a ticket in Gorgias (service and product)
See Trustpilot reviews data in customer side-bar
Reply to a review directly from Gorgias! (including anonymous reviews)
When replying to a review from Gorgias, an email will be sent to the customer, and the response will also show on Trustpilot under the review.
Connect multiple Trustpilot accounts to a single Gorgias account
Please bear in mind that the reply functionality of this integration is limited to Trustpilot users who have a paid subscription.
Every review ticket will automatically be tagged with 'trustpilot-review' tag so it's super easy to group them in a separate view or create rules!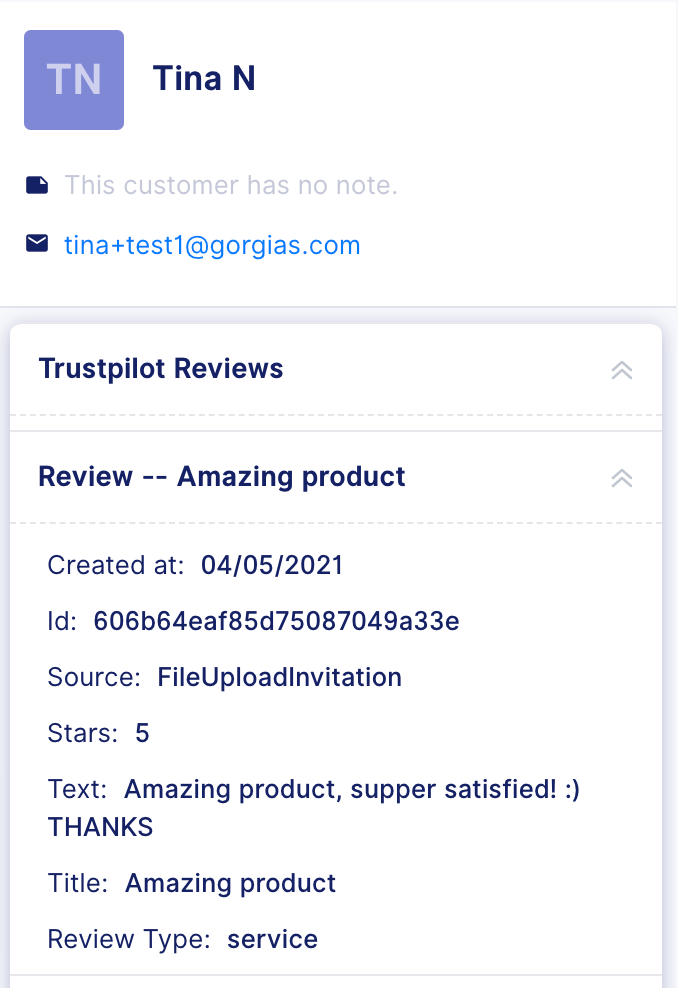 Setup instructions
To connect your Trustpilot account to Gorgias please reach out to the Gorgias support team via chat or email us at support@gorgias.com!
You will receive a link for activating your Gorgias + Trustpilot integration by logging into your TP account.
You can real quick group all of your Trustpilot tickets into a separate view, see the example below👇

Limitations
The data field limit for customer data is 250kB
Anonymous reviews with no email will generate tickets without the customer's information showing in the right-hand sidebar. In this case, a default customer is created and used for anonymous Trustpilot reviews.
Currently, we are only able to sync a certain number of historical reviews due to the speed/number of the API calls.  Attempts to sync a larger number of historical data will fail.
Trustpilots API only enables you to sync back one reply from Gorgias to Trustpilot
Trustpilot's API is such that whenever we retrieve product reviews, Gorgias is unable to filter by date, and will thus retrieve all existing product reviews on each sync
Only a business (company) needs to have a paid account with Trustpilot - not your customers (the reviewers)! 🙂
---
What do you think? Yay or Nay?