Agency partner program
Updated 5 months ago
Overview
Gorgias is the leading customer support platform for 11,000+ ecommerce brands. The Gorgias partner program was built for anyone whose goal is to help online businesses scale through exceptional CX and want to grow by including Gorgias services in their offering.
The program is designed to help new agencies receive support, reward our partners, and provide consistent resources to develop a mutually beneficial partnership.
Gorgias Agency Partner Program Benefits
To grow your agency revenue by adding more service offerings
Competitive revenue share model
Exclusive incentives for your clients
Dedicated Partner Manager and support
An event budget for sponsorships, client dinners, conferences, and more
Co-marketing initiatives to help build awareness for your agency
On-demand education
Training for your team
Dedicated teams that work to generate leads for you
Dedicated partner  resources
Who's a good fit?
Anyone who is in the business of helping eCommerce merchants grow. We work with Development agencies, Digital Marketing agencies, Customer outsourcing agencies, Implementation specialists, eCommerce consultants, Venture Capitalists, and Private Equity firms.
Requirements and Benefits Summary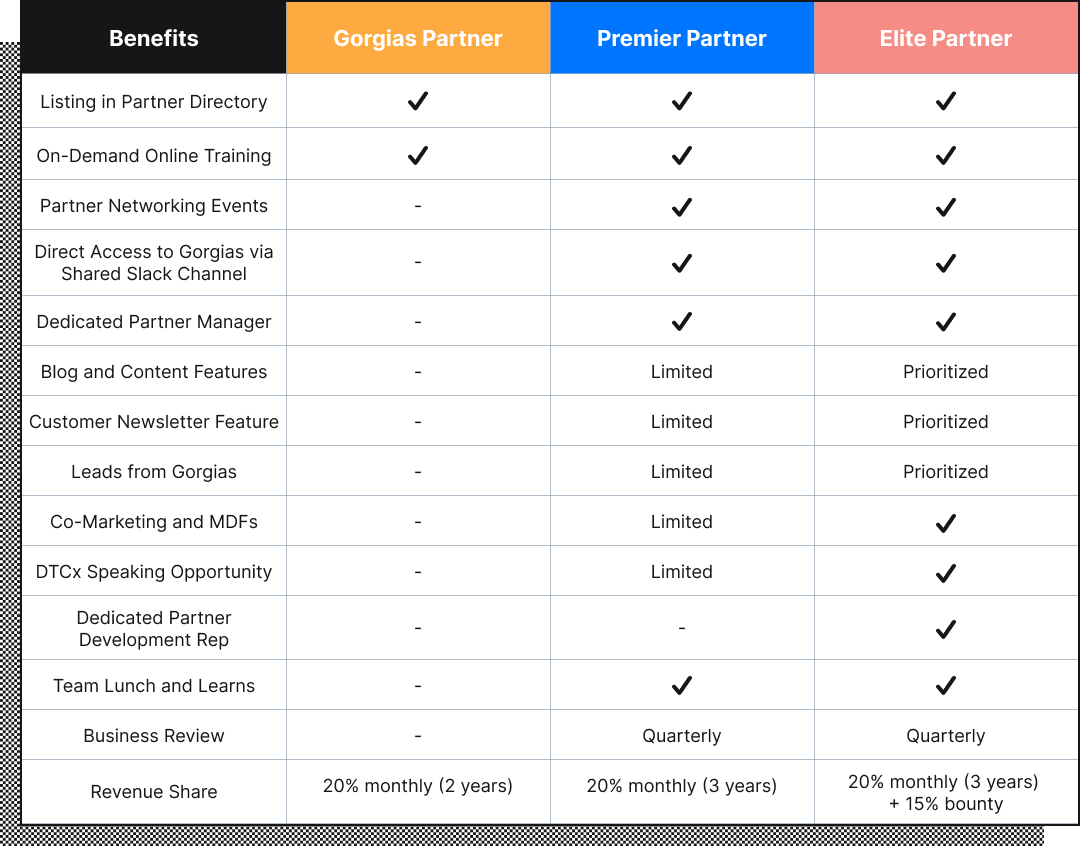 Deep Dive into Gorgias Partnership Types
Gorgias Partner
A Gorgias Partner is someone who wants to be rewarded for referring their clients to sign up with Gorgias.
Requirements
Benefits
Two years of 20% revenue share for all closed referrals*
Client incentives
Team training and educational resources
Gorgias Premier Partner
A Gorgias Premier tier is for someone who not only wants to refer their clients but also add to their service offering, build awareness for their agency, and showcase our partnership together. 
Requirements
Benefits
Three years of 20% revenue share for all closed referrals*
Client incentives
Team training and educational resources
Dedicated Partner Manager
Featured in the Gorgias partner directory
Access to event and sponsorship budget when available 
Access to DTCx speaking when available
Gorgias Elite Partner
The Gorgias Elite tier is dedicated to the top 10% of Gorgias partners who are most active with regard to closed business, Gorgias implementations, and co-marketing activity. This tier unlocks even more resources to help grow your agency through services and leads. 
Requirements
Schedule an onboarding call with a Partner Manager
Complete the Partner Foundations, Sales, and Product Training
$24 k in closed ARR per year
Benefits
Three years of 20% monthly revenue share + a one-time 15% bounty for all closed referrals*
Client incentives
Dedicated Partner Manager
Featured at the top of our partner directory
An event and sponsorship budget + priority co-marketing opportunities
Dedicated lead referral resources
Dedicated Partner Success resources
Gorgias Service Partner
A service partner is someone who wants to expand their service offering around Gorgias. These services can include implementations, strategy, account optimization, outsourcing, and more. Service partners are inclusive of the above tiers as long as they complete the additional requirements to become a certified services partner. You can learn more about the requirements and benefits of being a services partner here.
*To maintain the revenue share agreement partners must close one deal per year. After one year of inactivity, the revenue share will be frozen until the next deal is closed.
Was this article helpful?