Aircall
Updated 3 months ago
Aircall allows you to receive and place phone calls. You can connect it to Gorgias to sync phone calls as tickets, and see them in the customer timeline. 
How it works
When a customer calls your company in Aircall, it creates a ticket in Gorgias and automatically matches it with the corresponding Shopify customer. This way, your staff can edit orders while they are on the phone with the customer.
Your team sees all previous interactions they had with each customer, under their timeline.
Get omni-channel statistics. Gorgias stats include Aircall phone data. For instance, you can monitor if you're getting more return requests over the phone or through Facebook Messenger.
When it comes to merging Aircall tickets, you can merge two tickets from the same customer, also merge Aircall and email tickets from the same customer!
Setup instructions
Please follow these steps if you want to create tickets on your Gorgias account for every call answered or launched from your Aircall account.
On your Gorgias account, go to Settings → All Apps
Search for Aircall and click on it
Click 'Connect Aircall'
Copy the webhook URL from the page
Add a Webhook integration in your Aircall account. Go to Integrations & API, then Discover Integrations, and in there click on 'Webhook' and then install the integration.
Tada! Now, when there's a new call on Aircall, it will create a ticket in Gorgias. If you're using Shopify, we'll match people you call with Shopify customers. 
Please note, the integration will be created automatically in Gorgias as soon as you receive or make the first phone call. You will not see anything in the Aircall integrations section until the first call comes in.
FAQs
Are voicemails also pulled into Gorgias?
Yes! We are as well pulling the Aircall voicemails into Gorgias as tickets. For easier management, you can auto-tag voicemail tickets and place them in a separate view.

Did my Aircall integration disconnect?
You can enable an automatic notification in Aircall in order to always be notified when Webhooks get disabled. This setting is available in your Admin page: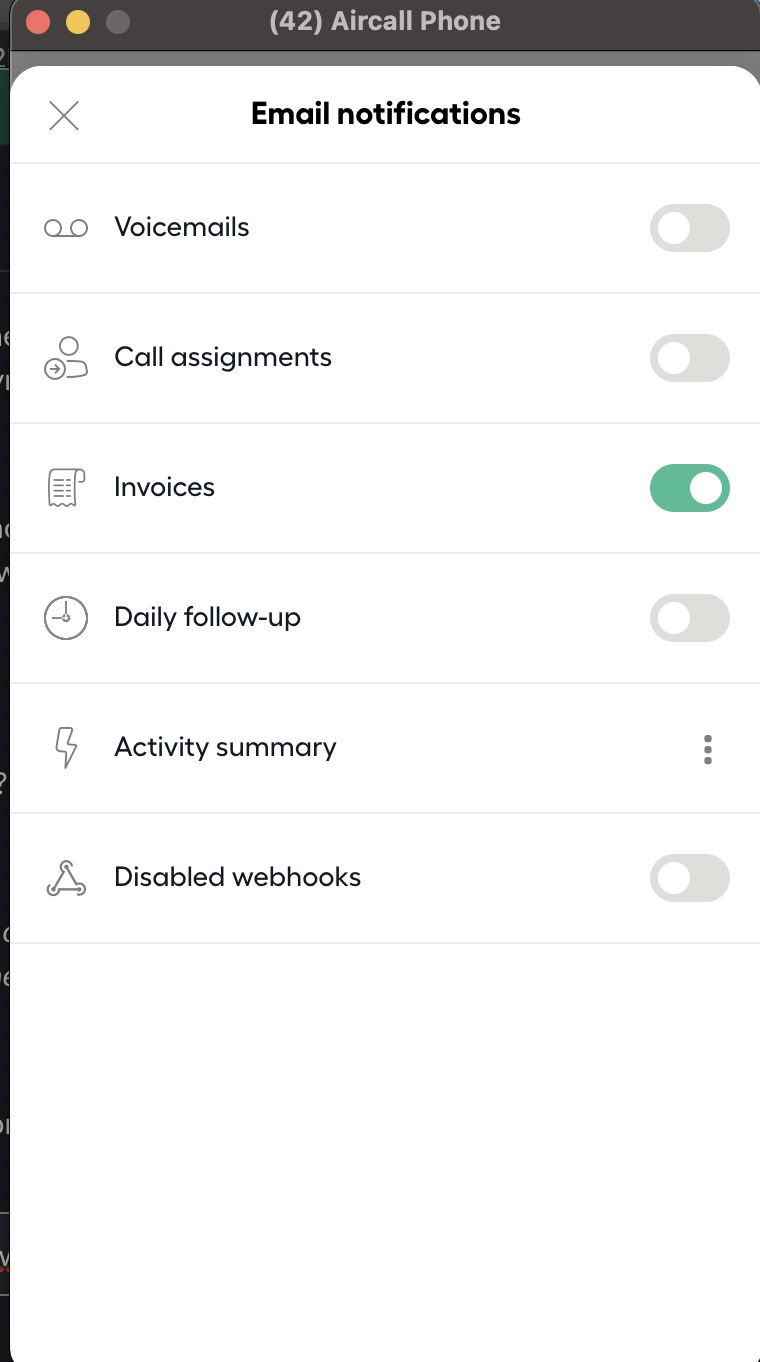 How do I update my Aircall webhook?
In Gorgias, navigate to the Aircall integration page.
If you have older integrations prior to this date, here you will see a warning banner with the text: Due to security reasons, we updated the webhook URL for Aircall. Please update your integration by clicking "Connect Aircall".
Click on the 'Connect Aircall' button.
Here you will see 2 webhook URLs.
Copy the one marked as 'Updated'.
Navigate to the Integrations page in Aircall https://dashboard-v2.aircall.io/integrations
Search for the Gorgias webhook.
Press 'Configure'.
Replace the current URL with the new URL copied above, the one marked as 'Updated' in Gorgias.
Are Aircall tickets going toward the billable ticket count?
No :) Aircall tickets are not considered billable unless you continue the thread via email.
How can we integrate multiple Aircall numbers?
The integration should be created automatically in Gorgias as soon as you receive or make the first phone call!
Please note that this integration was built by our partners and while we do support it, in case any technical issue arises, the wait time might be a bit longer than for a regular support request. Thanks for your understanding!
Was this article helpful?