Facebook comments and ad comments
Updated 7 months ago
Once you integrate your Facebook business page with Gorgias, you will be able to manage and reply to your customers' FB comments from inside your Gorgias dashboard! To integrate Facebook with Gorgias please refer to this guide here.
How it works
If you activate Facebook comments on the Facebook integration page, it will create a ticket in Gorgias every time a user comments on a post. Responses to comments sent from Gorgias will appear as a reply. Comments on "dark posts" are supported as well as FB recommendations!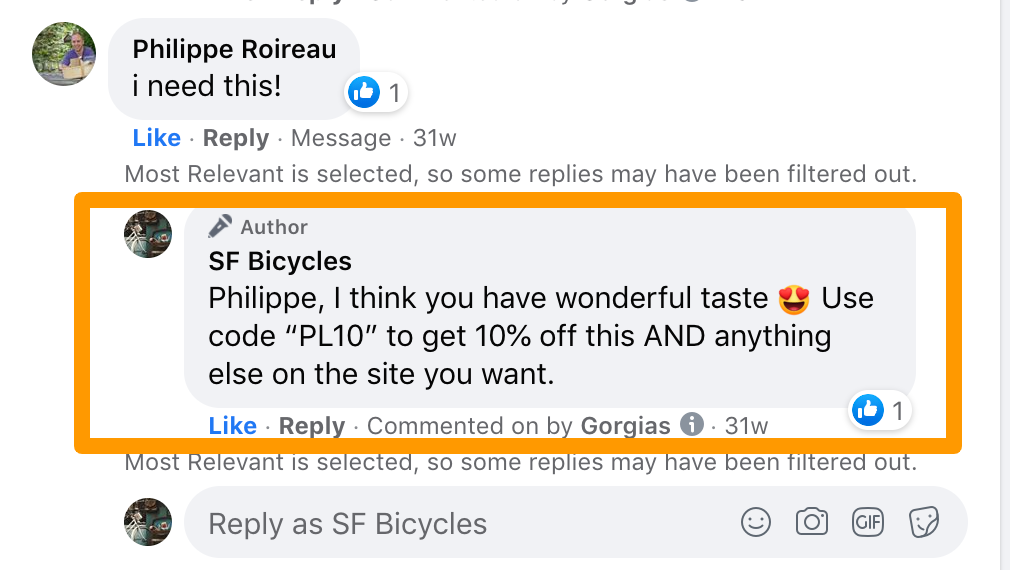 How the ticket will look like in Gorgias

From the ticket, you will have the option to hide, like/unlike and reply to the comment. You are also able to use macros (canned replies) when you are responding to your customers.
Additionally, you can also build rules that will automatically like specific Facebook comments (for example, all positive comments) and also hide certain comments (for example, negative ones).
If you hide a comment in Gorgias and then log into your Facebook account, you will see the comment after it's hidden from Gorgias, but others won't be able to see it.
If you only like a Facebook comment, ticket won't be billable.
As for comment replies, for example, in case that Customer 1 replies to the comment of Customer 2 (e.g. comment on the comment) we will update the existing ticket as well.
If the post is from your user it will create a new ticket as well, and each comment/reply will create a new 'message' in the ticket. Just please keep in mind that, should you agent use Facebook instead of Gorgias to post their comment, the author of the comment will appear as Gorgias Bot in the Gorgias ticket.
We now support carousel posts and comments on carousel posts too!
Replies to hidden comments will appear in your tickets, even though they will be hidden on Facebook.
If you reply to a comment directly on Facebook, it will show up in the Gorgias ticket but it will not count as a billable


Additional features
Recommendations
You can now get your Facebook page customer's recommendations in Gorgias! To activate this feature, simply go to the settings page of your FB integration and check the box that says 'Enable Facebook recommendations' as shown on the screenshot below.
Gorgias will then create a ticket for every new review on your page and will update the review ticket with each new comment on an existing review, just like with FB comments in general.
Facebook Ad comments
To have your Gorgias dashboard start pulling in comments from your Facebook ads as well, please follow the setup instructions below:
Go to the "Overview" page of your Facebook integration
Check the box "Enable Facebook posts, comments and ads comments"
Click on "Save changes"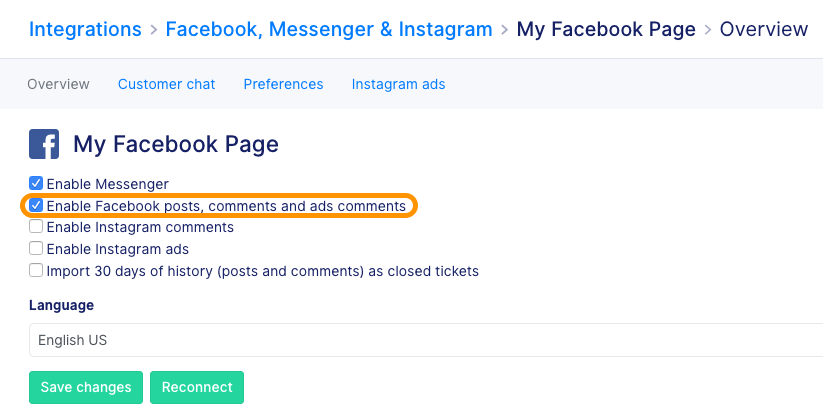 Now the tickets created for Facebook ad comments will be under the 'facebook' channel.
We are receiving notifications (webhooks) for Facebook ads so we are able to process them in real time.


Private replies via Messenger
Private Replies is a Facebook feature which allows you to reply to a Facebook comment with a single message on Facebook Messenger.
Using the same feature in Gorgias, your customer will get a reference with a link to the comment that is getting the reply in the new Messenger message.
Private replies are allowed within 7 days of the creation date of the comment. Passed that date, you cannot respond privately to the comment anymore.
And if a comment is deleted, it cannot be replied to via Messenger, like you can reply with another comment, which will show even though the comment you replied to was deleted. If this happens, you will receive this error:

Here's how to respond privately using Gorgias:
Open a Facebook comment ticket
Hover over the comment message that you would like to respond to, if you are eligible to respond to the comment privately, a Message button will appear next to the comment.

Click on the button, it will open a popup allowing you to edit the response.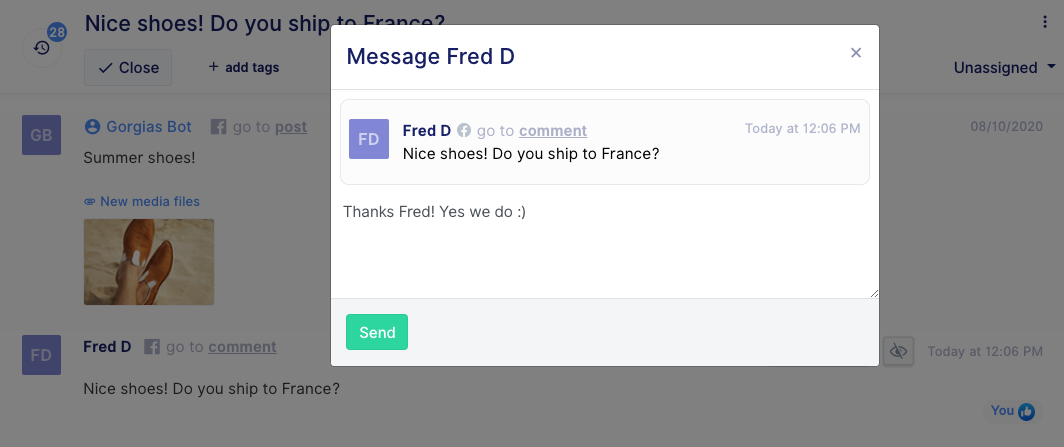 Click send. Once the reply is sent, an event will be displayed in the comment ticket along with links to the Messenger ticket where the reply is.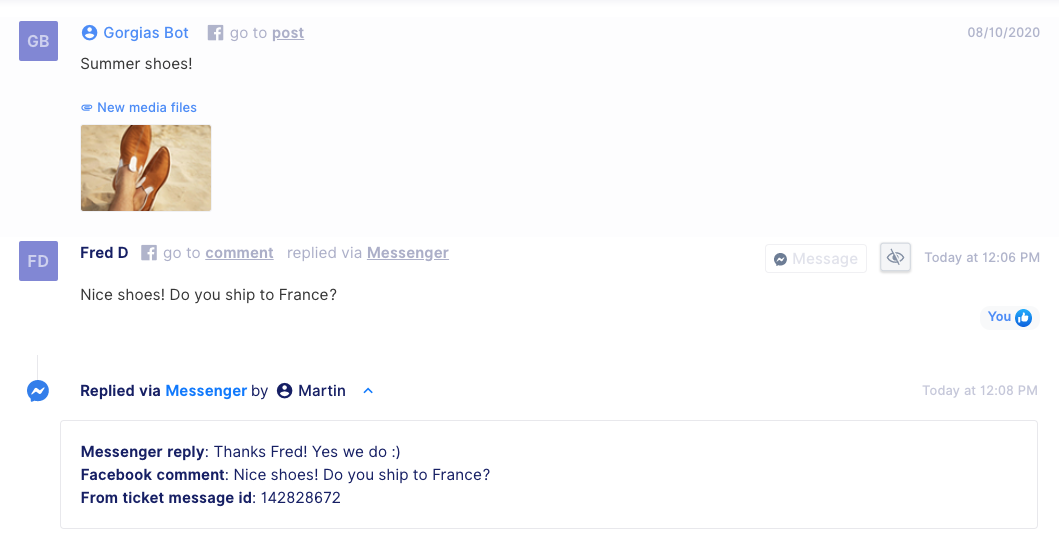 How to keep track of the original comment:
Note that once the reply is sent, there are 2 scenarios:
If no recent Messenger conversation with the customer is found (or the last message was sent more than 3 days ago), a new closed Messenger ticket will be created.
If a recent Messenger conversation with the customer if found (the conversation must have been active less than 3 days ago), the response will be added as a new message to the conversation.
On the Messenger ticket, the comment will also be shown above the private reply for context:

Comment reactions

You don't need to open Facebook anymore to see if your customer reacted to your comment. Indeed, next to the message, we now display your reaction, your customer's reaction, and the total number of the other reactions made. By hovering on the total number of other reactions, you will be able to see the kind of reactions the Facebook community has made. That way you'll have an idea of the popularity of your comment without leaving Gorgias.


Mentions
Facebook mentions support will be available for all integrations. When a User or Page mentions and integrated Facebook Page in a post or comment, a ticket will be created. Agents will be allowed to reply to comments, like them, but not hide or reply on Messenger.
Limitations
Facebook doesn't yet allow the creation of a reaction other than 'like' using its API. So, from Gorgias, it is only possible to like or unlike a comment for now.
In order to protect our infrastructure, we are limiting the rate of Facebook reactions coming into our system. This may lead to some inaccuracies between what we are displaying and the reactions on Facebook at the moment.
Facebook dynamic ads' comments cannot be pulled into Gorgias.
We can pull all comments, including thread replies, into Gorgias but for now, we can only reply to top comments on posts only, but not comments on comments left by other customers. This is another current API limitation.
If you wish to download a file from a Facebook ticket the file can only be downloaded as a .web file, even though it might be a different format on Facebook directly. There is a workaround, however! Simply try the following:
Find the video/image file downloaded on your computer
Start renaming the file, at some point in the name there will be a ".mp4" for video or ".jpg" for images
Erase everything after the name of the file
You should now be able to open the file!
We can't create tickets from FB and IG dynamic ads unfortunately at the moment.


Troubleshooting
Having some trouble with your Facebook comments? We have an article that can help :) Please take a look at Troubleshooting Issues with your Facebook Integration.
Was this article helpful?