Instagram Direct Messages
Updated 6 months ago
The Instagram Direct Message channel lets you receive and reply to Instagram direct messages and story mentions from within Gorgias.
Please bear in mind Instagram direct messaging is only available on non-legacy plans. If you have a legacy plan, you can upgrade to a non-legacy plan in order to access this feature.


How it works
When a customer mentions you in an Instagram story or sends you a Direct Message via Instagram, we will create a ticket in Gorgias. This ticket will not only contain the latest message that the customer sent you, but it'll also contain the DM history that you have with the user as well of up to 50 DMs.
You can respond to this message the same way you respond to chat or Facebook Messenger tickets. For example: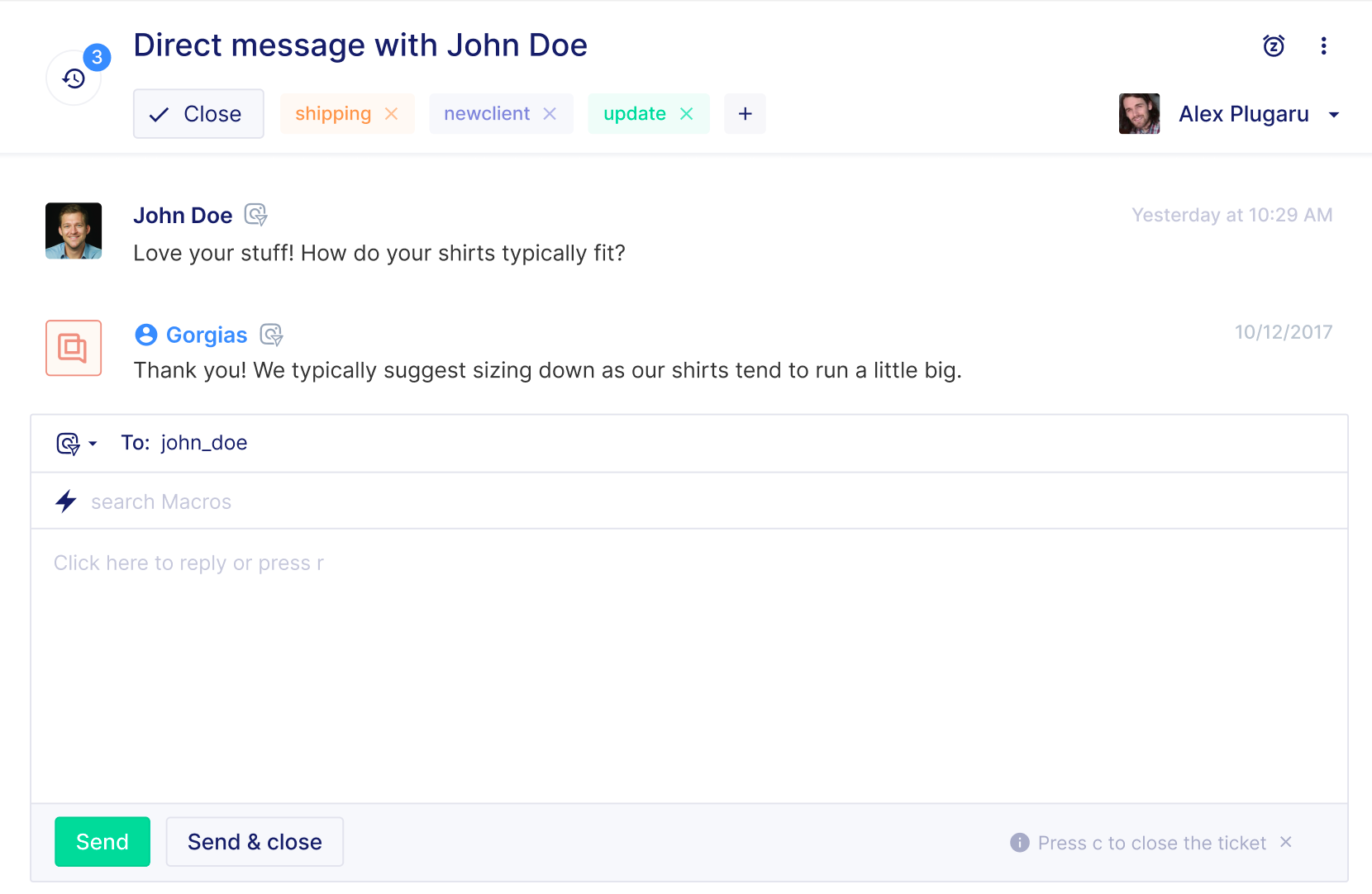 Please note that we can not pull story content into Gorgias. Instead, we provide a hyperlink to the story. Responding to story-mention tickets will open a direct message that references that story mention in the first response.
Setup instructions
As of August 16th, all Instagram business accounts, regardless of follower count, can have access to Instagram Direct Messages.
Note that your Facebook business page needs to be associated with your Instagram business account.

Here's how to make sure that your account is a business page:
You can add an Instagram Direct Message integration through your Facebook integration. Just follow the instructions below:
In Instagram Business messenger, go to Settings → Privacy → Messages and make sure your Allow Access to Messages setting is set to Active if it is not, then toggle it to active.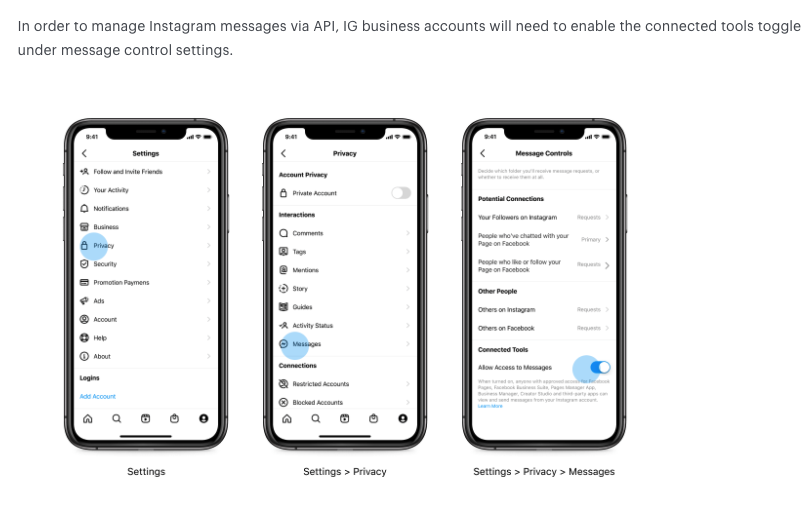 In Gorgias, go to Settings → Integrations → Facebook, Messenger & Instagram and click on desired Facebook page
Click the green Reconnect button. This will take you to a Facebook page and ask you to reconnect the account again, so an admin of the Facebook page must do this step.
Check the Enable Instagram direct message checkbox and click Save changes.
Once you save the integration updates, you should start receiving Instagram Direct Message tickets immediately.
After following these instructions, you should see one of two options on your Enable Instagram direct message settings page.
If you see a different option than the ones shown below, you have likely missed a step in the activation instructions.


If you've tried all these steps and your Instagram page is still not connected, please try reviewing the connection between your Facebook page and Instagram account as per here.
Additional features
Responding to Instagram Comments via Direct Message
You can also privately respond to an Instagram comment, which will create a new Instagram Direct message ticket in Gorgias.
To do so, open an Instagram comment ticket, hover over the customer's message, and select the Direct message button, which is pictured below.

Selecting this button will open a pop-up text editor, which you must use to write out your first response and initiate the Instagram Direct message conversation.


Only the first Direct message response you send will be sent from the original Instagram comment ticket. After sending this first Instagram Direct message, you will be taken to a new Instagram direct message ticket in Gorgias, where you will continue the rest of the conversation.
You can send only one DM message in that thread until the customer replies to you. This is one of Meta API limitations - in DM tickets that you have initiated, the customer needs to respond first so your messages are not perceived as spam.  If you do need to follow up with the customer with the second message, the only way would be directly from Instagram. When the customer replies, you will be able to continue the correspondence via Gorgias, even by sending multiple subsequent messages.
The new ticket will be populated with a "Respond to an Instagram Comment" event, which will include the comment you were responding and a link to the Instagram comment ticket where you initiated the conversation. It will also include the Instagram Direct message response from the previous step.

The rest of the conversation will take place on the new Instagram Direct message ticket and will function the same as any other Instagram Direct message ticket.
If the ticket gets pulled in Gorgias as undefined, this is most likely because reason it was marked as spam in Instagram.
History imports
The first time a customer reaches out to you via Instagram messaging in Gorgias, the ticket will be pre-populated with their latest message and a historical import of the latest 50 messages sent. This means if the customer and the company have had conversations on Instagram direct messaging before the account was integrated into Gorgias, the ticket will include the last 50 messages.


We support GIF and audio DMs only when these are received via Webhooks. If it's a real-time message, you will be able to see the GIF/ audio DM in Gorgias. However, if the GIF is a history import the following error will appear "Media not yet supported by the Instagram Messaging API".
Limitations
Replies are allowed within 7 days of the creation date of the message. Passed that date, you cannot respond to the direct message anymore.
Direct messages from one person go into the same thread. After setting a customer on one ticket their next DM will open a brand new ticket with the same IG username and without the customer data. You would have to merge the customer instead of setting them and only after that will the DMs all go into one thread.
If your Instagram direct message has more than 1000 characters it will not be sent as this is a current Instagram limitation.
It is not possible to repost Instagram posts or stories from Gorgias.
It is not possible to send a macro or a message containing media + text via IG DMs. You can pick to either send media (images), or text, but not both. 
We do not yet support the following types of DM content:
Real-time DMs
History import DMs
GIF
Audio
Reels
IGTV
Guides
Products
FAQs
Click here to view our Instagram Direct Messages FAQs.
Was this article helpful?