Magento 2
The Gorgias plugin for Magento is currently compatible with Magento 2.2 and 2.3, for all Magento versions: Open Source (CE), Commerce using on prem (EE), Commerce on Cloud (ECE)
Benefits of Magento 2
You can:
Display customer profiles next to tickets
Display orders, shipments and credit memos
Insert Magento 2 variables in macros
You will soon be able to:
Use Magento 2 variables as filters in rules
Perform actions (cancel orders, refund payments, etc.)
How to connect Magento 2?
To connect your Magento 2 store to your Gorgias account, you first need to install the Gorgias plugin on your store.
To do so:
Buy the "Gorgias" plugin from the Magento Marketplace: https://marketplace.magento.com/gorgias-module-magento-connect.html (don't worry, it's free!)
Then, please ask your developer to:
Connect to your Magento store's server with SSH
Run those commands:
composer require gorgias/module-magento-connect
bin/magento se:up
bin/magento se:di:co
Once this is done, go to your Gorgias account:
Click on "Settings" > "Integrations" > "Magento 2"
Click on "Add Magento 2 store"

Enter the URL of the Admin panel of your Magento 2 store, then click on "Add integration"

You will be redirected to your Magento 2 store: there, click on "Create"

You will then be redirected back to your Gorgias account

🎉 your Magento 2 store is now connected to your Gorgias account! From this point, we will do an initial import of all your customers into Gorgias. Any new order / customer will also be synchronized, and data about orders will be updated when there are new shipments or credit memos related to them.
Below is a screenshot of how customer & order info will appear: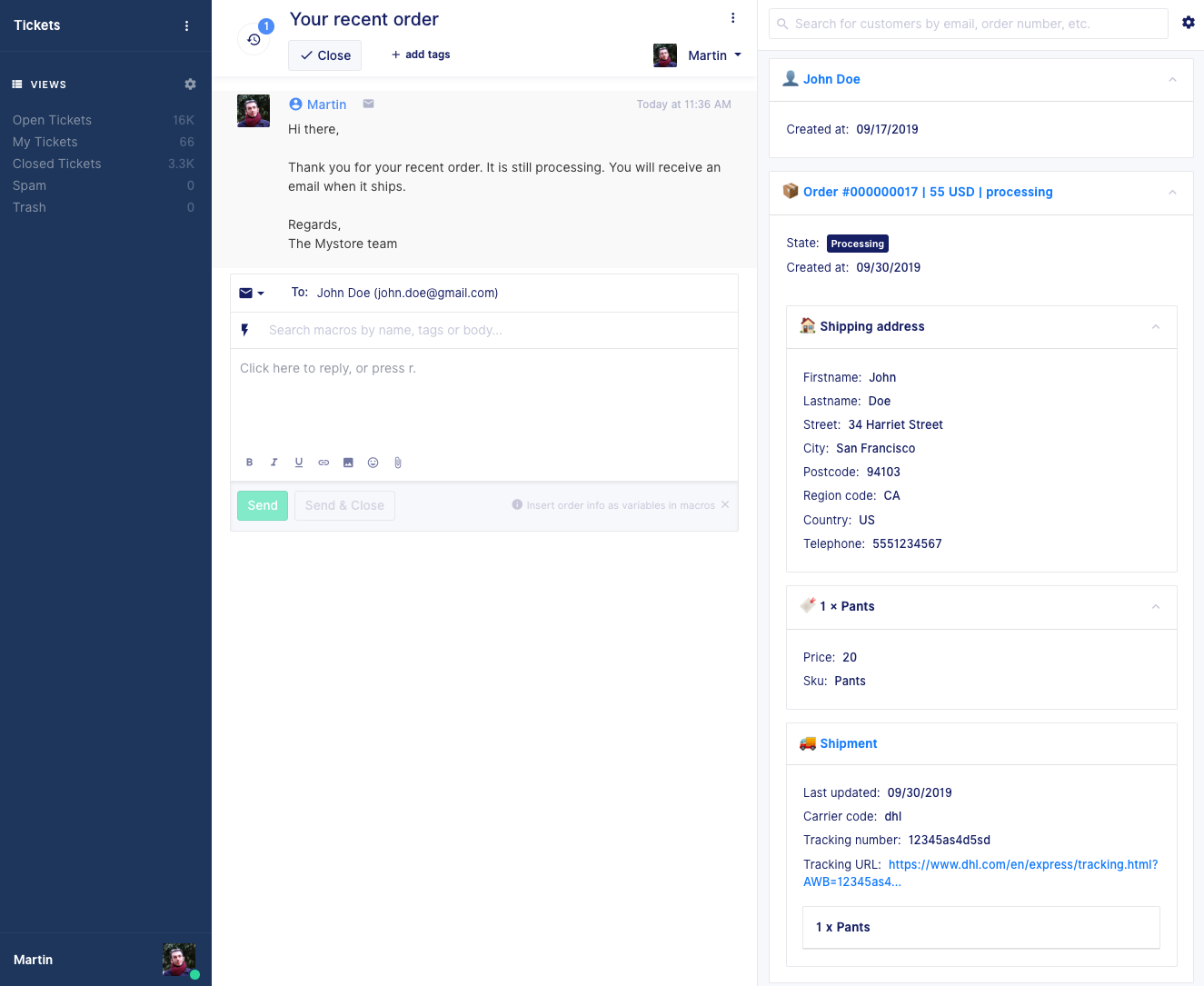 ---
---