Creating and managing tickets
Updated 3 months ago
Creating and managing tickets is a vital part of Gorgias and is what helps you handle your customers' queries. The video below will walk you through some of the basics when it comes to creating and managing tickets using the helpdesk.
Familiarize yourself further with other helpdesk features with these tutorial videos on our YouTube channel!
Now, there's a number of other features mentioned in this tutorial. You can learn more about them through the guides listed below:
How it works
A ticket is a customer's request raised to seek help in resolving issues concerning services, products, quotes etc. The ticket could be raised via any of your support channels (email, chat, social media, SMS, etc) or opened by the agent on behalf of the customer.
If you need to reach out directly to your customers, you can email them directly from Gorgias by creating a ticket from scratch.
Setup instructions
To create a ticket, please follow the steps bellow:
Click on 'Create ticket' at the top-right corner of your dashboard:

Set the ticket subject: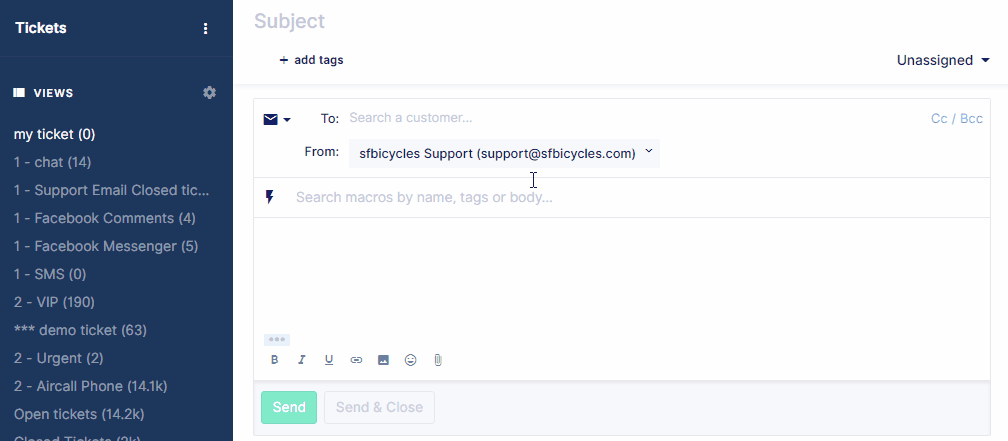 Enter the email address(s) of the recipient: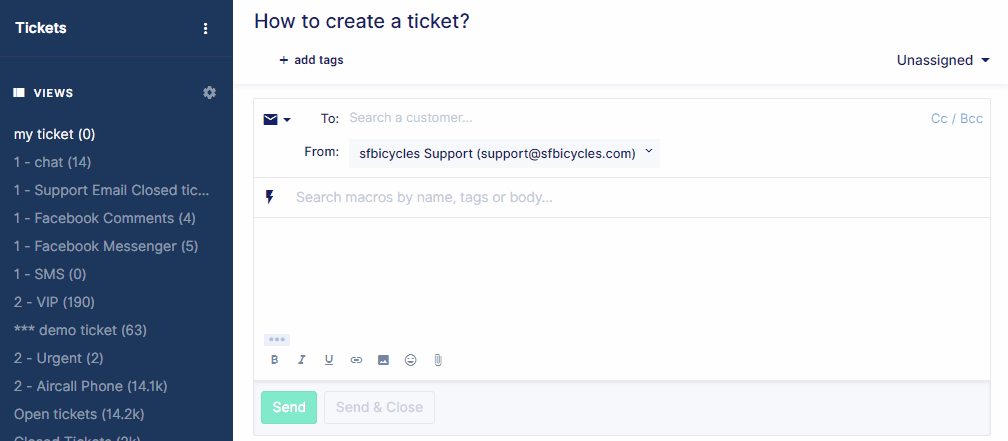 Select the email address you want to send your email from: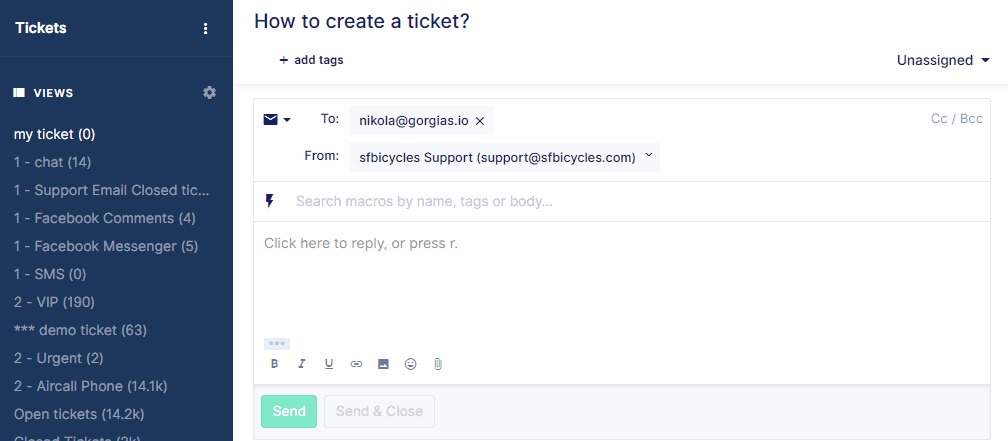 Type your message or apply a macro: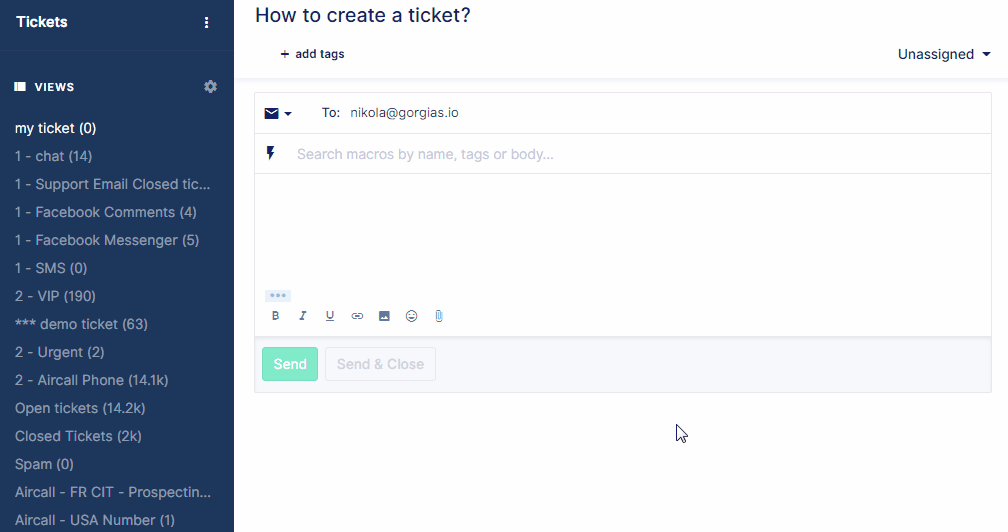 Click on 'Send' or 'Send & Close' if you wish to close the ticket right after your message has been sent: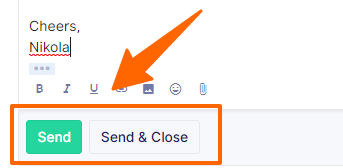 Well done! Your customer will receive an email from you as if you had sent it from your inbox.
*Note: When you create a new email ticket, Gorgias will automatically select the last email integration you used to place it into the TO: field. In an existing ticket, Gorgias will always default to the last integration used, inbound or outbound.
Please just keep in mind that if you delete a ticket it will be moved to the Trash view and will remain there even if the customer responds. If you permanently delete the ticket from the Trash view and the customer responds it will create a new ticket that will not contain the previous conversation thread.
Tickets in Spam are moved to trash after 30 days and tickets in Trash view are deleted after 30 days.
Exiting a ticket without sending a message - Ticket Draft
If you exit a ticket accidentally or close it out before sending your reply, no need to worry! With our new Ticket Draft update, your message will be saved once you access the ticket again.  
When you wish to continue your Draft, simply click on the "Create Ticket" button, and you will be able to choose whether you wish to continue your draft, or create a brand new ticket:
Undo sending a message
When responding to our customers we may send something we would like to revert, which is why our helpdesk offers the ability to undo sent messages! Here's how:
When sending an email, you will be able to undo the sent message by clicking on the 'Undo' button on the message sent pop-up message: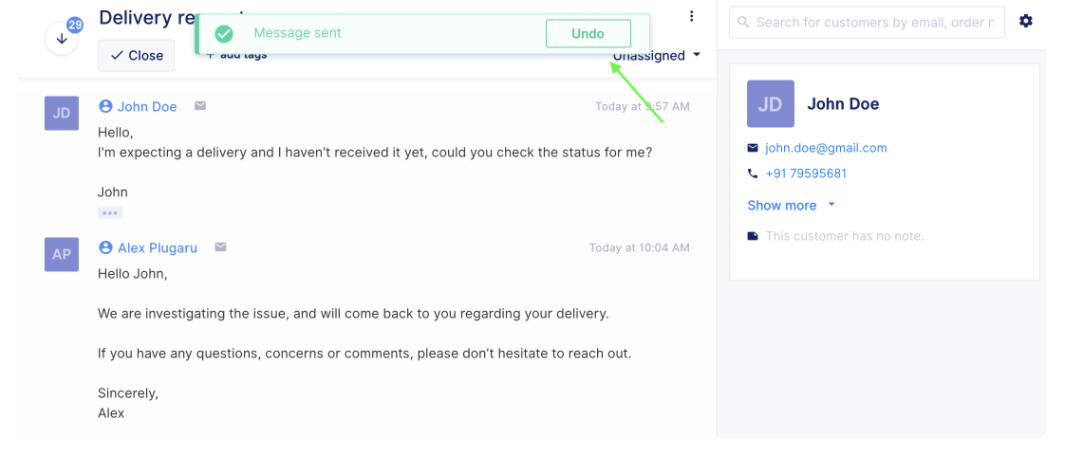 Keep in mind that once the message is sent, you should not close the tab until the undo message pop-up is gone, since the email might not be sent. You will receive a notification that the tab should not be closed.
Also, the undo message sent will not be possible while creating a ticket, so just the messages under the existing tickets can be undone.
Note: you have 5 seconds to undo the message. After that, the message will be sent. 
Ticket channels
You can identify which channel the message is coming from at a glance by simply looking at the icon next to the customer's name. Below we will explain which icon corresponds to which channel:
Chat

Email

SMS

Voice

Messenger

Instagram DM




Facebook comment

Instagram comment

API

Yotpo
Was this article helpful?