Instagram Direct Messages FAQs
Updated 2 months ago
I still can't turn on Instagram Direct Messages. What should I do?
There are a number of reasons you may not have access to Instagram direct messages, despite meeting the follower count requirements.
Issue #1: Error messages falsely states that the account doesn't meet follower requirements

If you have the right number of followers but see the message above, there are two reasons this may occur.
1. You haven't changed your Instagram settings to give us access to DMs. To fix this, you need to repeat step one in the installation guide, changing your privacy settings in Instagram. Once changed, you must then click the reconnect button in the bottom right of the screen, which should remove the error.
2. You are not using an Instagram Business account. Unfortunately, Instagram does not currently allow you to connect Instagram accounts that are not Instagram Business accounts. If this is the case, then you will need to create an Instagram Business account to use the integration.
Issue #2: Error messages say you do not have the necesary permissions to access Instagram direct messages

If you see two warnings, one on top of the settings and one beside the Instagram Direct Message settings page, then you need to update your permissions to use this feature. To do so, visit this url, delete the Gorgias app on that page, and then click the green Reconnect button.


Issue #3: Error message says you need to reconnect your integration to check for eligibility

If you only see one warning with the text "Reconnect your integration to check your eligibility for the Instagram Messaging API", then you need to click the green button titled Reconnect below the Facebook channel settings options.
Issue #4: Instagram feature is blocked by a paywall

If you see an orange paywall button, titled Upgrade, to the right of the Instagram direct message setting, then you are currently on an outdated plan and will not gain access to new features.
To access Instagram direct messages, as well as upcoming features like the help center, voice, SMS, and more then you must upgrade from your deprecated plan to the current version of that plan.
Why do some of my messages contain the following message: "Media not available due to new privacy rules in Europe"?
Due to new privacy regulations, Instagram limits the ability to send media to and from EU countries. If either the Gorgias user or the customer is located in an EU country and they send a message containing a photo or video, the following error message may be displayed. This is a temporary policy by Facebook and full media capabilities will be accessible to EU users once this policy is revoked.

Why do some of my customer's replies open a brand new ticket in Gorgias instead of going under the same existing thread?
This happens when the customer gets back to you after more than 3 days. We do historical sync though, the first time the customer reaches out via DMs into Gorgias, and sync all their past conversations that happened on the IG App into the first ticket.
DMs from one person go into the same thread. After setting a customer on one ticket their next DM will open a brand new ticket with the same IG username and without the customer data. You would have to merge the customer instead of setting them and only after that will the DMs all go into one thread.
When I open a DM in Gorgias, will the customer see a read receipt on their end that we have opened it?
No, opening an Instagram Direct Message ticket in Gorgias will not trigger a read receipt for the customer.
Can I like story mentions or Instagram DMs?
This feature will be arriving in the V2 of the Instagram Direct Message integration, which is coming soon.
Will Instagram DMs be shown on the top left of the navigation bar like chat and Facebook Messenger tickets?
Yes, Instagram Direct Message ticket notifications will show up on the navigation bar, similar to chats and Facebook Messenger tickets. You can distinguish between them and chat or messenger tickets by the channel icon, which appears as an Instagram logo with a small badge indicating direct messages.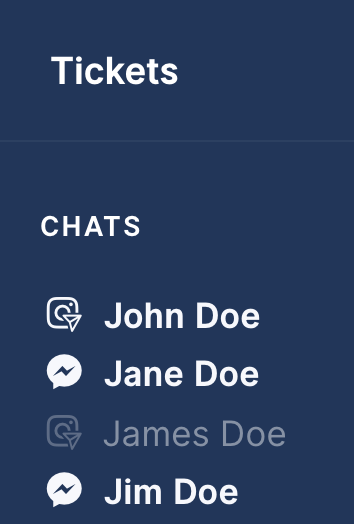 Can story mentions be shown in Gorgias instead of having to click a link and view them in a separate tab?
Unfortunately not. Instagram API specifically prohibits us from rendering the story inside the application. Once they open up the ability to render the story in-app, then we will absolutely consider building out this feature, based on interest.
Will Instagram DM tickets be separated into Primary and General like they are in the Instagram app?
Not at the moment due to limitations in the Instagram Direct Message API but it is something we are very interested in pursuing. Our engineers are currently researching more creative ways to find that information but it is not specifically offered in the documentation.
Can I initiate an Instagram DM conversation?
Right now, you can only initiate an Instagram Direct message conversation in response to a specific Instagram comment. If this is a feature that you would like, please submit the request to our public product roadmap and we can start looking into the feasibility of this feature.
You can send only one DM message in that thread until the customer replies to you. This is one of Meta API limitations - in DM tickets that you have initiated, the customer needs to respond first so your messages are not perceived as spam.  If you do need to follow up with the customer with the second message, the only way would be directly from Instagram. When the customer replies, you will be able to continue the correspondence via Gorgias, even by sending multiple subsequent messages.
How do I check if I have enabled the Allow Access to Messages setting in Instagram?
In Instagram Business messenger, go to Settings → Privacy → Messages and make sure your Allow Access to Messages setting is set to Active if it is not, then toggle it to active.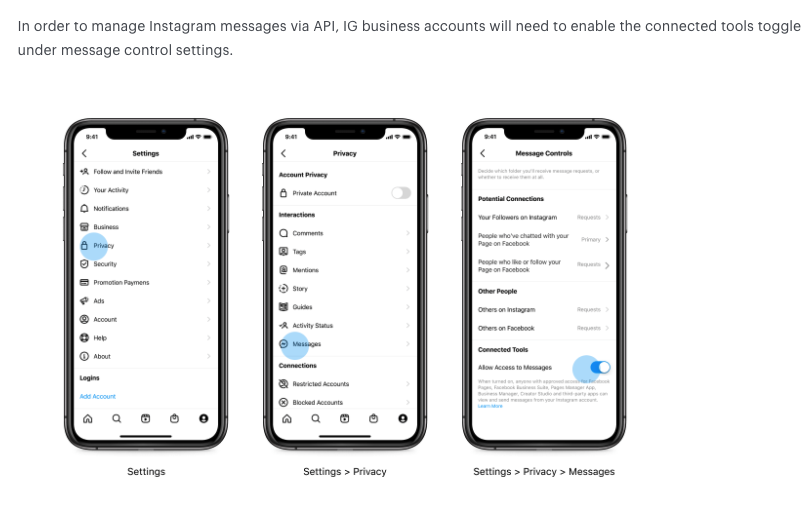 Why I am getting this error when I try to send an instagram direct message?


Instagram is detecting the macro as spam if you have a link in the macro. In this case, to fix this, you would need to turn the link into a hyperlinked word and try to send the message again.
This comes from Meta's regulations on what they consider spam, and sadly, we can only influence it/work around it so much.
Why am I getting blank DMs?
This means that the person who reached out deleted their messages after they sent it. If you still see those messages on Instagram, it means that you've seen them before they were deleted, which is why they are still visible there.
However, in Gorgias, they automatically get retracted, no matter if you've seen them or not. The only channel left to respond in writing, in that case, is email (providing that you have the customer's email address and that you're replying via Gorgias).
Example of such ticket:
Can I send attachments via IG DMs?
Yes! However, keep in mind, you can send an attachment only (without text), or text only (without the attachment), but not both. If you have a macro containing both an image and text, those will not be able to send via IG DMs.
Was this article helpful?