Customer satisfaction survey
What is customer satisfaction survey?
Customer satisfaction ratings are one of the best ways to determine how well your team is supporting your customers. Take a look at the video or at screenshots below to learn more about this feature in Gorgias and how to set it up.
How to activate the customer satisfaction survey in Gorgias:
Go to "Settings".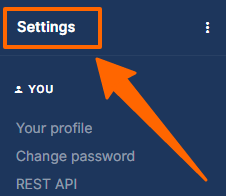 In the left panel select "Satisfaction".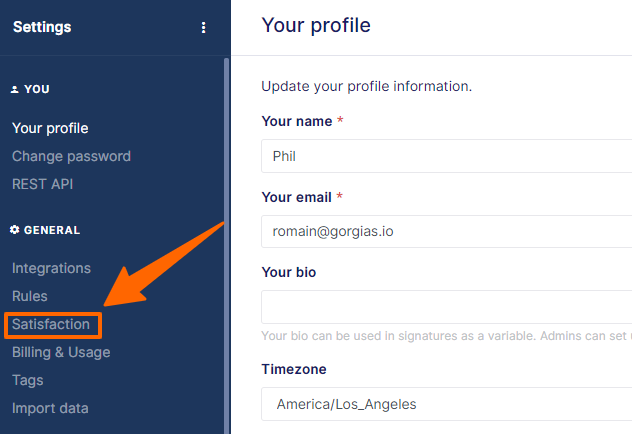 Select the channels you want to send the satisfaction survey through.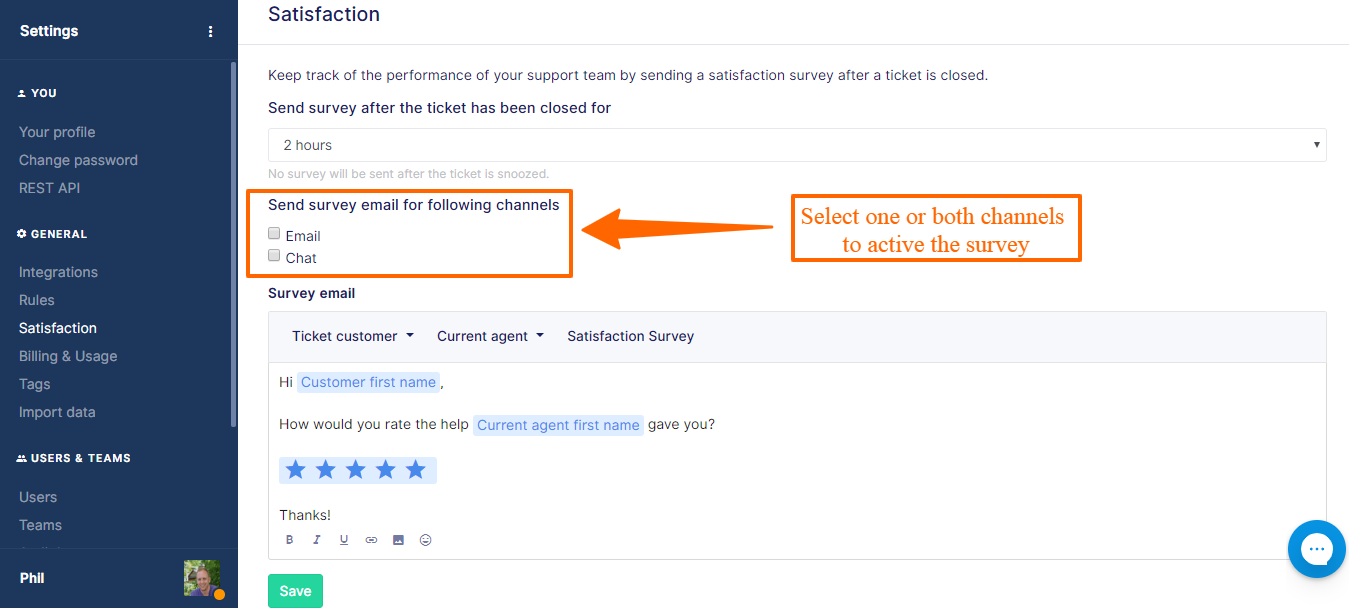 Customize the settings.
Set up when the survey will be sent after the ticket has been closed.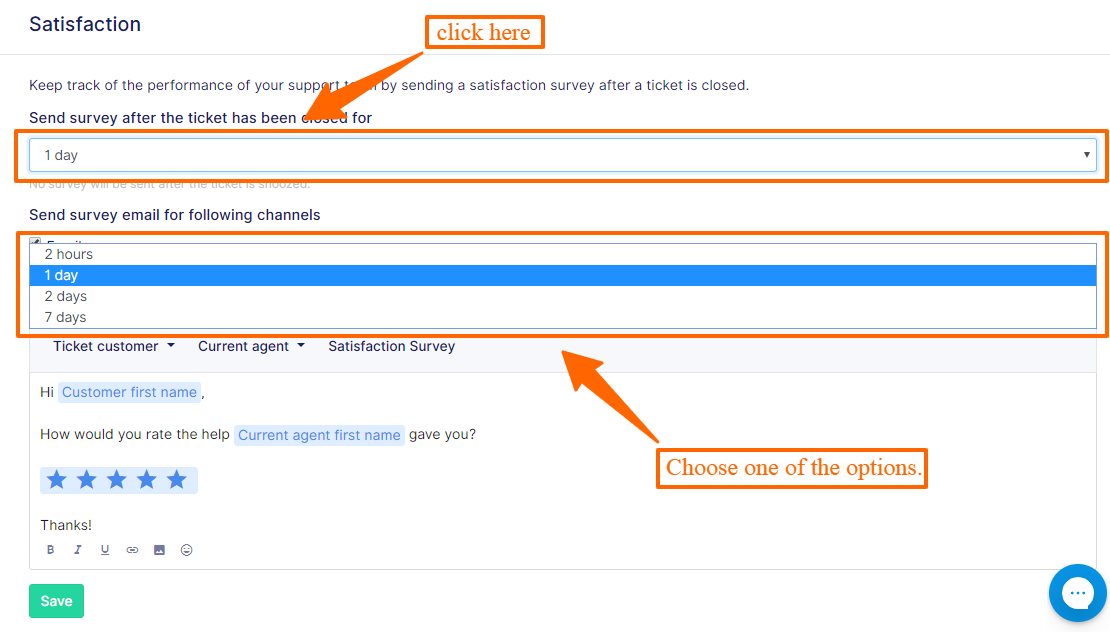 Click "Save" and you are done!
Here is what your customer will see when they receive a CSAT survey from you and select a star rating: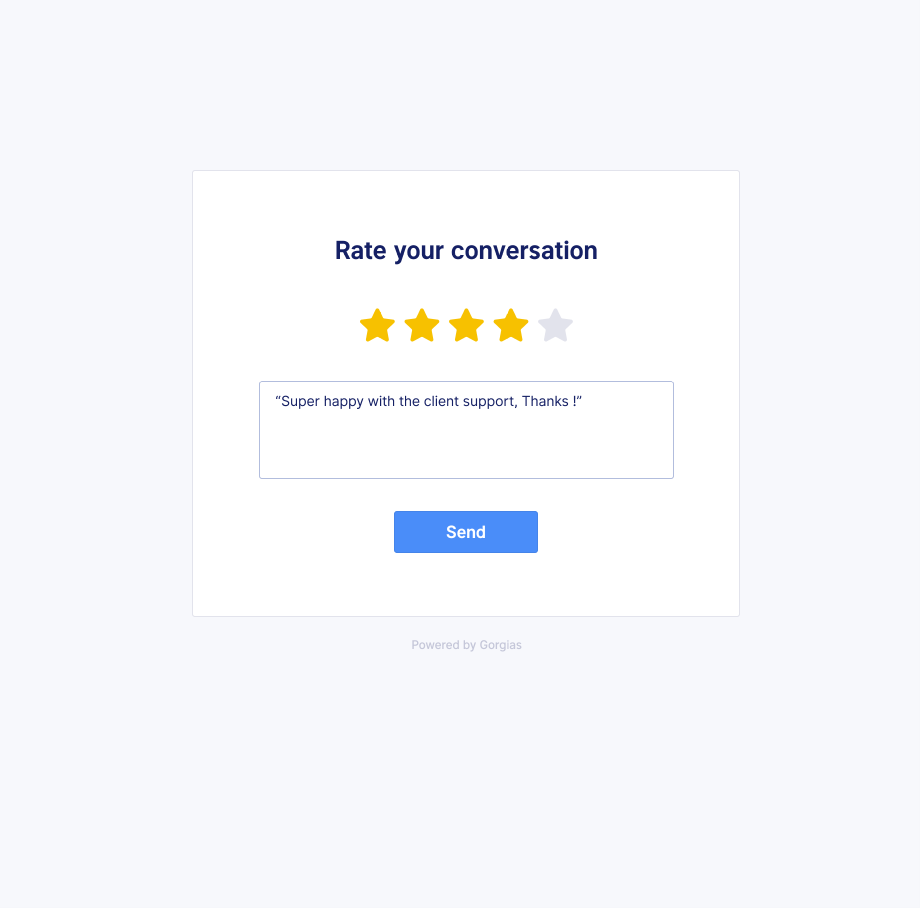 Viewing statistics for your CSAT surveys:
Here you will see the customer information, agent, rating, and if the customer left a comment that will be shown as a clickable link to the ticket under the "comment" column. Satisfaction survey statistics allow you to measure how good is the support your team is providing over time. How many surveys have been sent, response rate, average scores and more.
Go to "Statistics".
Click "Satisfaction" on the left navigation panel.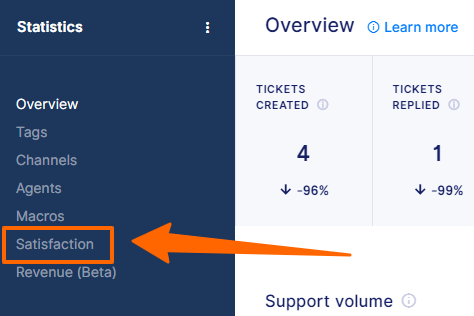 You can select the time period you want to view data for on the top right. IMPORTANT: This will show surveys that were sent to the customer within the selected date range, regardless when a customer might have filled out the survey.
E.g: If a survey was sent to the customer on 09/09 and the customer filled it out and submitted it on the 09/20, the survey will show under the 09/09 date, not the 09/20.

You can also select the tag you want to view data for.

The agent you want to view data for.

All scores from ratings that customers left.

And you can also select specific channel.

FAQ
Can I show statistics for period longer than 90 days?
For now, we do not have that option, but it is on our road map, and probably it will be in the future.
How to deactivate CSAT?
You need to uncheck Email and Chat boxes.
When does Gorgias send a satisfaction survey?
We'll only send the CSAT if:
- there's at least one message from a customer and one answer from an agent
- the total conversation (all messages together) is longer than 250 characters
- the last reply from an agent, at the moment when the ticket gets closed, is less than a week ago
If a business closes a ticket multiple times, will the CSAT survey be sent multiple times?
if the customer already received a survey for this ticket and the ticket reopens and re-closes, we do not send another survey for that ticket.
Can CSAT surveys be edited or deleted by an Admin in Gorgias?
No, it can't be edited or deleted by admin or account owner.
Do we bill for CSAT sent out? Does this count as billable ticket?
Since satisfaction survey is sent to a ticket that was marked as billable, there will be no extra charge for sending the survey.
Are CSAT sent if you snooze a ticket?
No, the CSAT will not be sent then.
If I accidentally close the ticket, can I reopen it before the set time has passed? Does that prevent the survey from being sent?
Yes. If you set your surveys to be sent after 2 hours, accidentally close the ticket, but reopen it before 2 hours have passed, we do not send the survey on it.
Do links for satisfaction surveys expire?
Yes, they expire after 6 months.
Can I create a macro for the survey by copying the variables from Settings > Satisfaction and send surveys to my customers manually that way?
No, the variable will not work as intended in these cases, so sending surveys this way is not possible.
CSAT is available on pro, advanced and enterprise plans.
---
---