Amazon, eBay, Back Market & Walmart by ChannelReply
ChannelReply allows you to respond to eBay, Amazon, Back Market and Walmart buyer messages from Gorgias.
How it works
Each marketplace inquiry will create a ticket in Gorgias, and display order information next to it, as you can see below: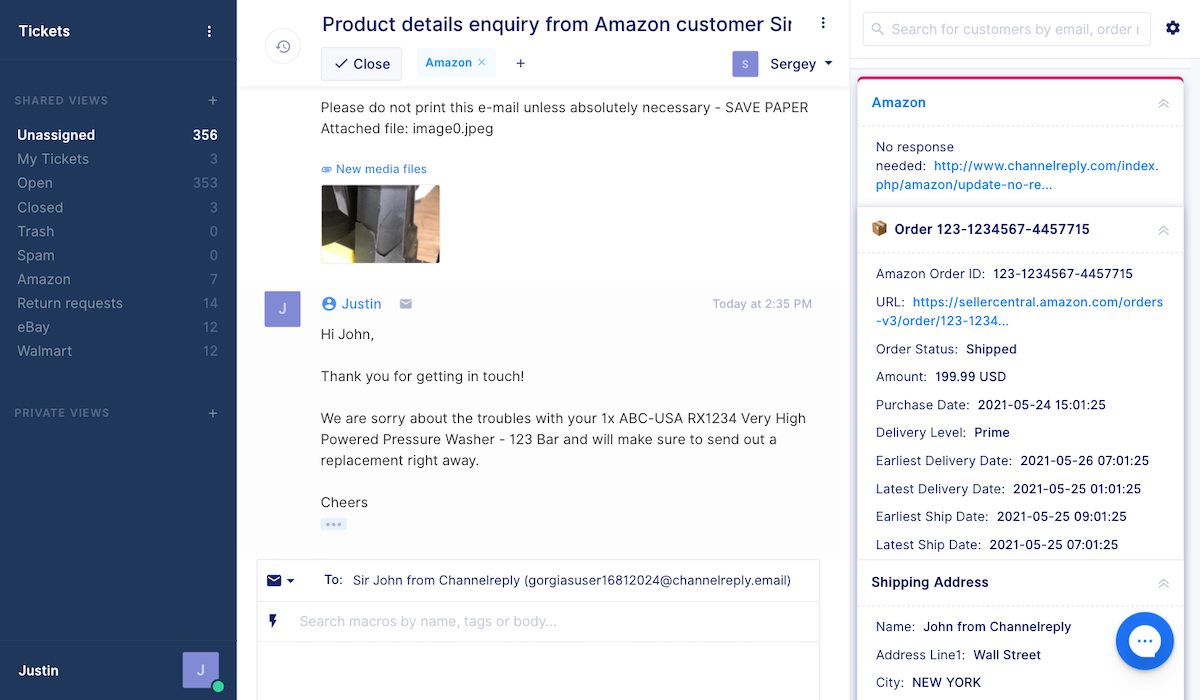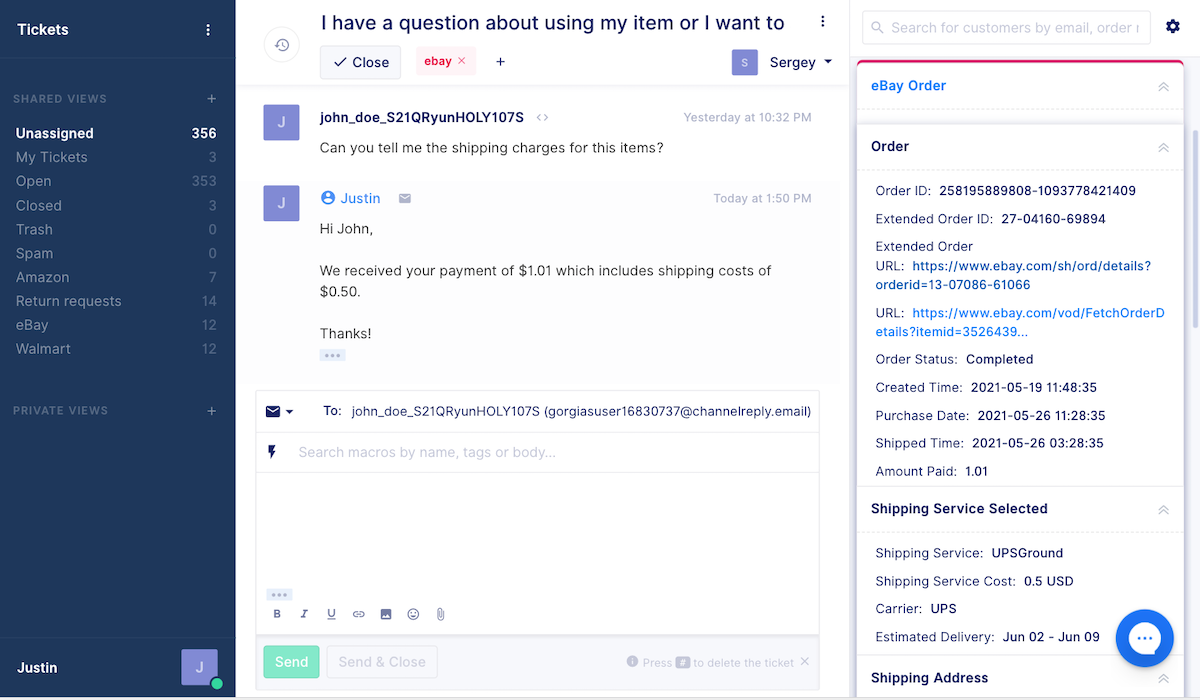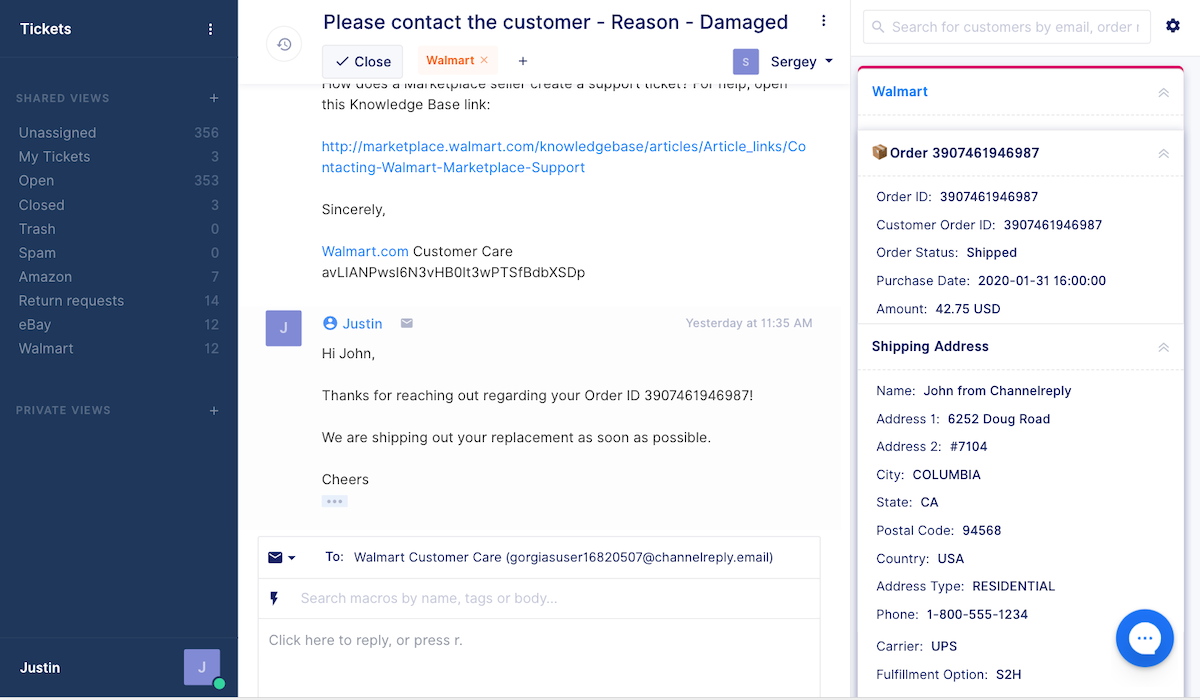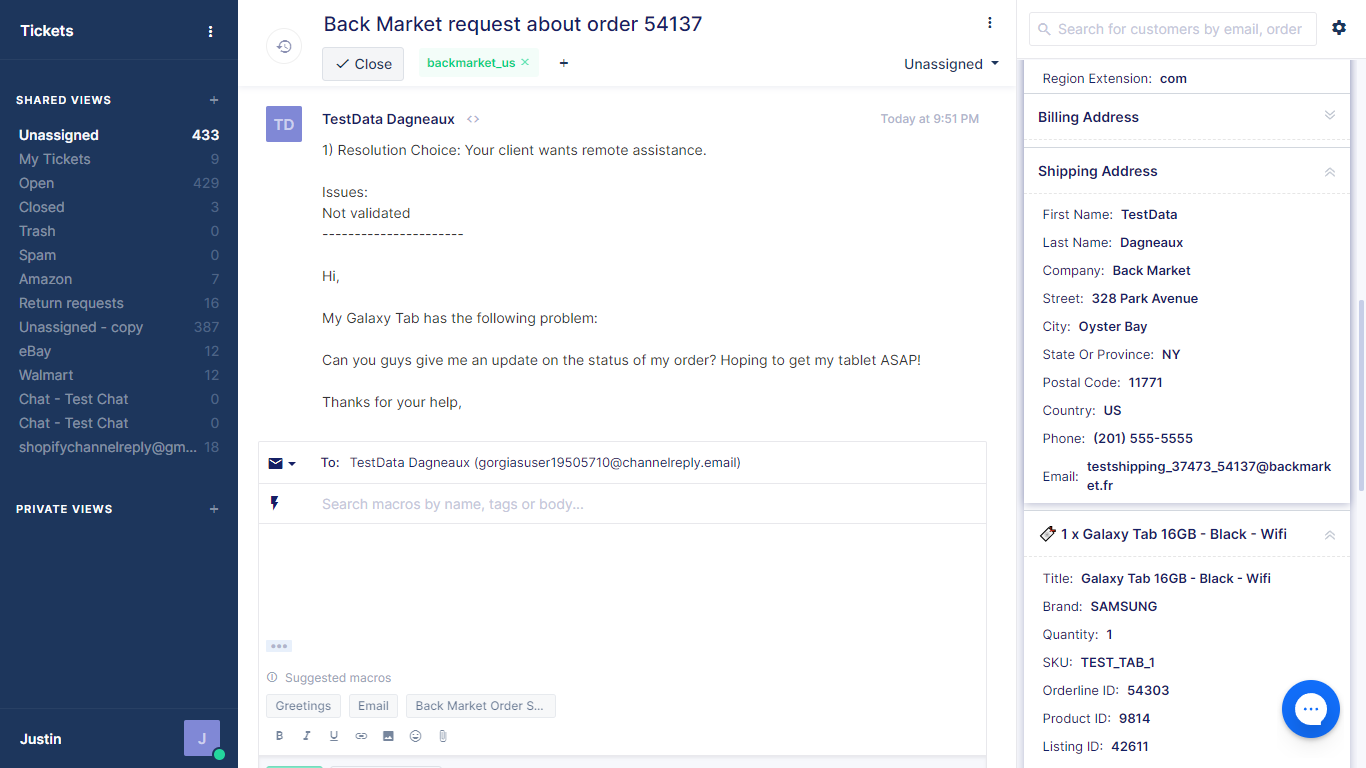 Here is the list of types of requests that are available:
Amazon
Any buyer message
Amazon Answers notifications (listing page Q&A)
All Amazon email notifications, including new orders, shipment confirmations, return requests, etc.
Negative Feedback notifications (for seller ratings of 3 stars or less)
eBay
Item inquiries
Order inquiries
Resolution Center inquiries, cases, and returns
New Order notifications
Cancellation notifications
Payment disputes
All other normal eBay email notifications (but without order data)
Back Market
Any buyer message
New Order notifications
Walmart
Any buyer message
Escalations
All normal Walmart email notifications
ChannelReply's pricing starts at $31 per month.
ChannelReply allows you to create custom tags
that will automatically be added to tickets
from your Amazon, eBay, Back Market and Walmart stores. This can be useful in creating separate views for your tickets. Learn more about creating ChannelReply tags
here
and using them in Gorgias views
here
.
Please bear in mind that the auto-reply rules cannot be applied to ChannelReply tickets.
Setup instructions
Create a ChannelReply account
Select Gorgias when prompted
Get your API credentials in Gorgias -> Settings -> REST API
Copy them and paste them into ChannelReply
Follow the prompts to connect your Amazon, eBay, Back Market and/or Walmart accounts
You're all set!
If you'd like to see even more details, check out this super helpful YouTube playlist with demo and setup videos.
Troubleshooting
Amazon messages stop flowing as tickets to my Gorgias account.
To resolve this please follow the steps below:
1) Visit Amazon Seller Central.
2) Check that the dropdown at the top of the page has the correct country selected.
3) Next, go to Settings > Notification Preferences.
4) Scroll down to Messaging.5) Make sure "Buyer Messages" is checked.
6) Confirm that the Buyer Messages email is set to 1234abcd@channelreply.email (this is just an example email) and that you have no other emails there that might be forwarded to your Gorgias account.
FAQs
Can I pull Amazon emails through ChannelReply?
Absolutely! ChannelReply is fully compatible with Amazon Buyer-Seller messaging. You can respond to any message an Amazon customer sends directly to you, the seller.
However, please note that ChannelReply cannot guarantee delivery of replies to Amazon Answers notifications (listing page questions). The Amazon API does not support replying to this kind of question from outside Amazon. It is better to reply to them from Seller Central.
Is it possible to mark an Amazon ticket as 'no reply needed' directly from Gorgias without sending a reply?
Indeed, in the customer sidebar for your Amazon integration, there will be a link for marking the conversation as no response needed. As soon as you click on that link, an internal note will show up inside the ticket confirming that the conversation is marked as 'no response needed'.

Why are my eBay tickets separating into new tickets every time the customer replies?
There might be some settings in your mailbox that you will need to adjust. Please check out the following tutorial:
When replying to Amazon tickets from Gorgias, signatures are not sent properly or totally missing, why?
This is actually intended behavior - Amazon often collapses or removes signatures to prevent the thread from becoming too cluttered. The signature may still appear properly in the email Amazon sends to the customer, but it won't be visible in Seller Central.
 Please note that this integration was built by our partners and while we do support it, in case any technical issue arises, the wait time might be a bit longer than for a regular support request. Thanks for your understanding!
---
What do you think? Yay or Nay?
---