Automatic Online/Offline Status
Updated 8 days ago
Another hands-free feature coming your way! After releasing the offline mode last summer, get ready to meet our automated offline mode for the chat integration. 🕹️
How it works
Offline mode is when live chat conversations are not available but your customers can still reach out through the chat by sending an offline capture and they can expect a reply by email. Up until now, you could choose to manually turn it on or off whenever you wanted.
Now, with the automatic version, during business hours when your agents are toggled off as unavailable (indicated by the orange dot in the bottom-left corner of the dashboard) your chat widget will automatically switch to offline mode too, thus setting more realistic expectations for your shoppers.
Setup Instructions
To find this setting, please follow this path: Settings → Chat  → Preferences tab.
Now, in the 'Preferences' tab, you will notice an updated block called 'Live chat' which replaces 'Chat Conversation'.
Here you can choose how your widget will behave during business hours: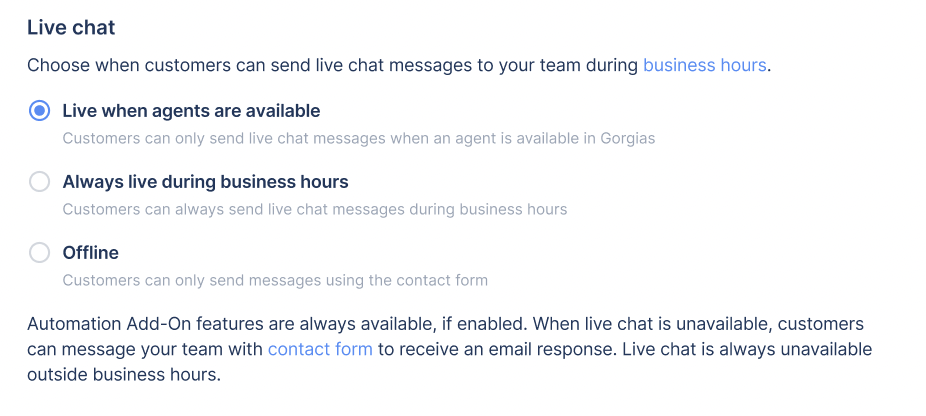 Live when agents are available  → Inside business hours live chat will be disabled if no agent is set as available.
Always live during business hours → Always live inside of business hours even if agents toggle are unavailable.
Offline → Always offline no matter the business hours & the agents' availability.
Note: If you are just getting started with chat or don't have around-the-clock staff, we recommend enabling chat with the offline mode selected. Shoppers get the convenience of easy communication without the expectation of an instant response!
Finally, please keep in mind that:
If the chat is offline, the offline capture will kick in automatically.
Outside of business hours the chat is always offline.
If enabled, Automation-add-on features are always available no matter if the chat is online or offline!
Was this article helpful?