SMSBump
SMSBump is an SMS marketing platform for Shopify merchants.
How it works
Enabling the integration allows SMSBump to create SMS tickets inside Gorgias. When support agents respond to SMSBump tickets in the Gorgias interface, the responses will be sent out via the same SMS number that the initial message came through.
Setup instructions
This integration requires you to have an active Shopify Store and an enabled SMSBump account.
To install the Gorgias app on SMSBump, go to https://smsbump.com/integrations and select Support Channels > Gorgias > Install for Free
Copy credentials from Gorgias, from Settings > Rest API

Paste your credentials from Gorgias into the SMSBump Integrations Page for Gorgias (SMSBump App > Dashboard > Integrations > Gorgias)
Complete the integration by clicking Submit once all of your details have been entered.
To confirm that your integration is connected, click the Create Test Ticket button on the SMSBump page.
You should recieve a ticket in Gorgias that looks something like this: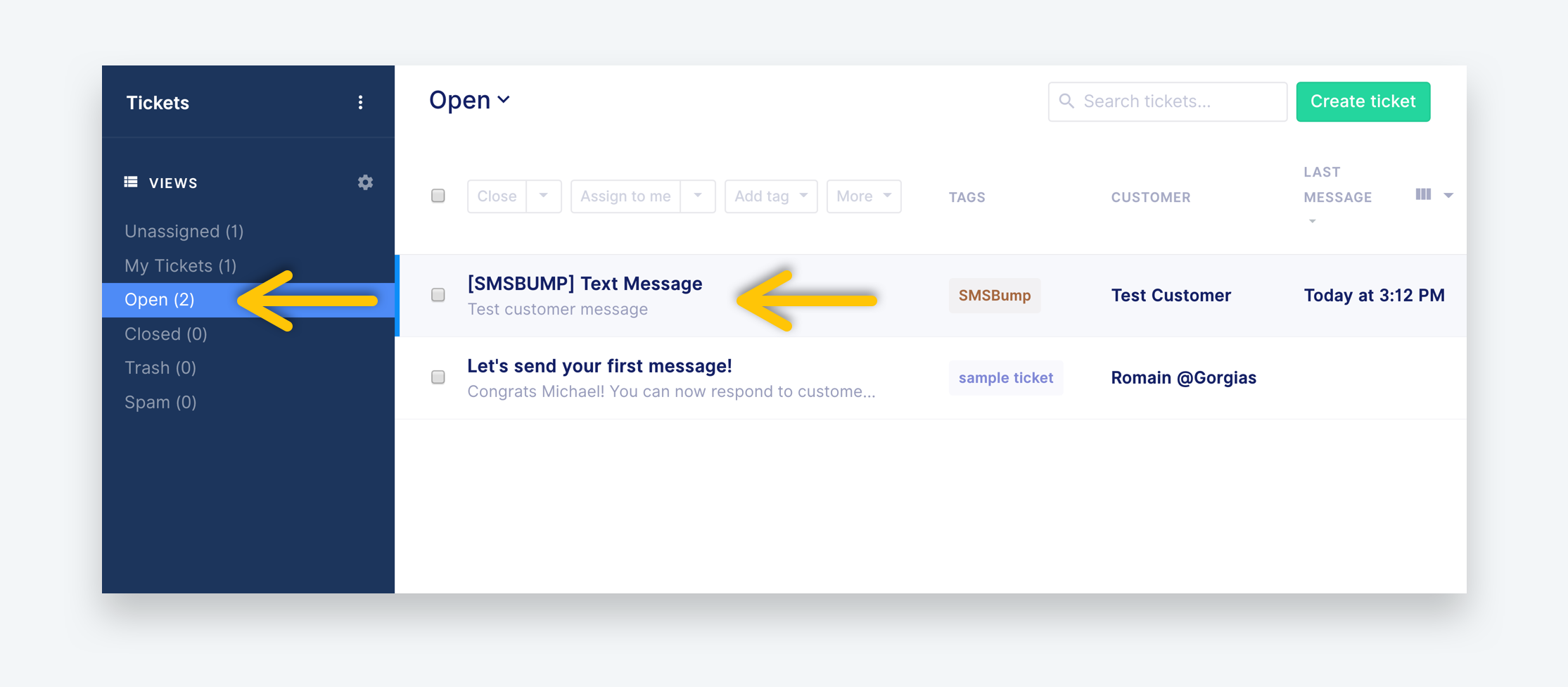 And that's all - your SMSBump account is now integrated in Gorgias! You will now recieve tickets when a customer sends a message to your SMSBump number.
Frequently asked questions
Can I create SMS tickets from Gorgias?
Unfortunately, customers must first text your SMSBump number to start an SMS Gorgias ticket. You cannot start an SMS conversation with a customer from Gorgias.
Can I send pictures via SMSBump through Gorgias?
SMSBump does support MMS now, so you will be able to send and receive images through SMSBump in Gorgias. Limitations are that images can be received just from US customers, while some images you send can go through to non-US customers as well.
Can I integrate SMSBump without a Shopify Store?
Unfortunately, we are unable to integrate SMSBump into Gorgias without having a Shopify Store integration.
**Please note, this integration is available to all customers but will only be supported for Advanced and Enterprise plan customers. While any plan can set up the integration following the instructions,  due to the manual work it requires on our end, if you are on the Basic or Pro plan we will not be able to provide support in setting it up or fixing any issues with it should they arise.
---