Klaviyo
Klaviyo is a marketing platform for creating, managing and measuring every customer interaction your business generates. 📈
We've just released a new and improved integration with Klaviyo, allowing you to segment customers and send targeted outbound SMS messaging campaigns based on Gorgias events, as well as include Gorgias events in your Klaviyo analytics dashboards.
The following documentation refers to the new Klaviyo integration, hosted in Klaviyo. The Gorgias-based Klaviyo integration will be depreciated by March 15, 2022.
How it works
When your customers send SMS messages to your Klaviyo phone number, an associated ticket is opened in Gorgias every time. Each subsequent message is then added to the Gorgias ticket thread, and any reply from an agent will send an SMS back to the customer.

The integration syncs ticket information from Gorgias to Klaviyo, including creation event data and when new messages are sent or received. The integration also syncs data from Klaviyo to Gorgias about SMS messages associated with the Gorgias ticket.
These events will sync with Klaviyo events:
Opened ticket
Resolved ticket
Satisfaction survey responded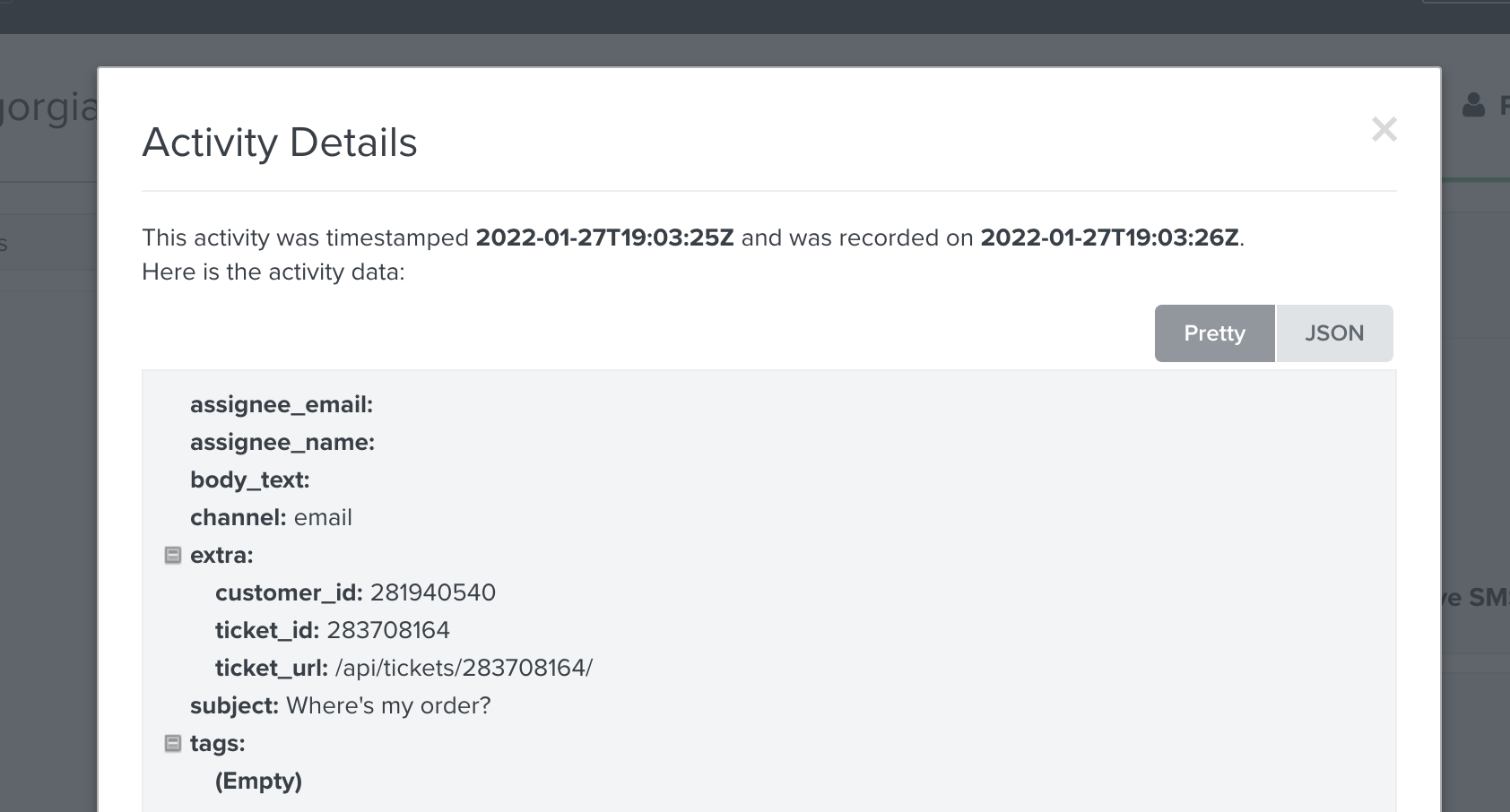 Using these events, you can target campaigns based on customer support interactions, including:
Promoting sales or new products to customers who had positive support experiences to drive upsell and revenue generation from support, by targeting customers who gave you a 5-star satisfaction rating, or by sending a campaign to customers who inquired about a product but haven't purchased within 5 days.
Excluding customers with open support tickets from promotional messaging campaigns.
Sending target coupons or discounts to win back customers who reported poor support experiences.
You can add customers to segments with a dynamic segment in Klaviyo for customers who opened a ticket in Gorgias.
Setup instructions
You can find the Klaviyo integration here, or by navigating to the Integrations tab, searching for 'Gorgias' on the All Integrations tab, and click 'Add Integration'.

Click 'Integrate with Gorgias' on the Klaviyo-Gorgias integration splash page to enable the integration. SMS must be set up before you can sync SMS conversations from Gorgias. See Klaviyo's article on how to set up SMS for more information.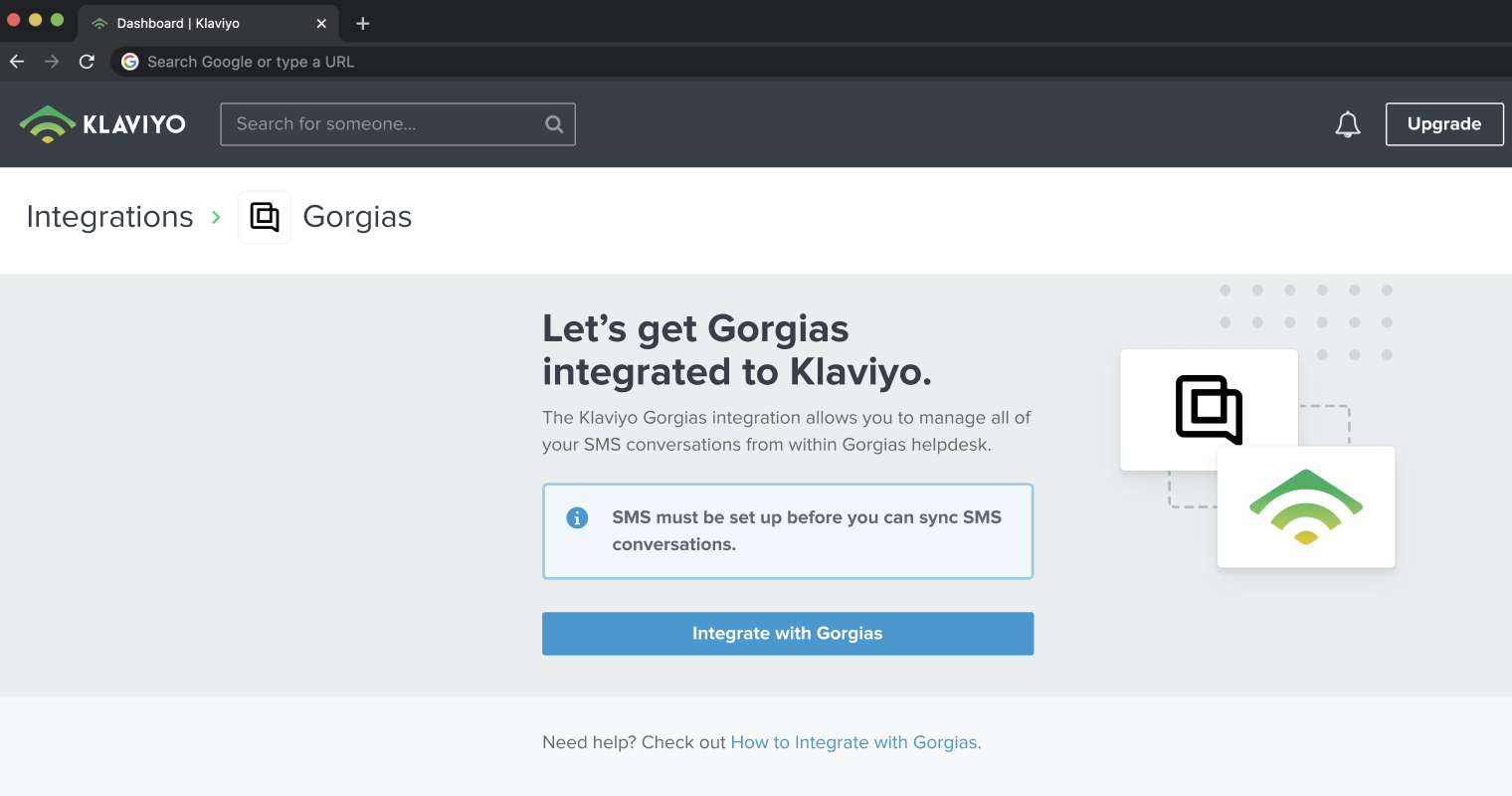 Enter your helpdesk URL into the 'Gorgias Helpdesk URL' field, then click 'Connect to Gorgias'. This will open a new browser tab.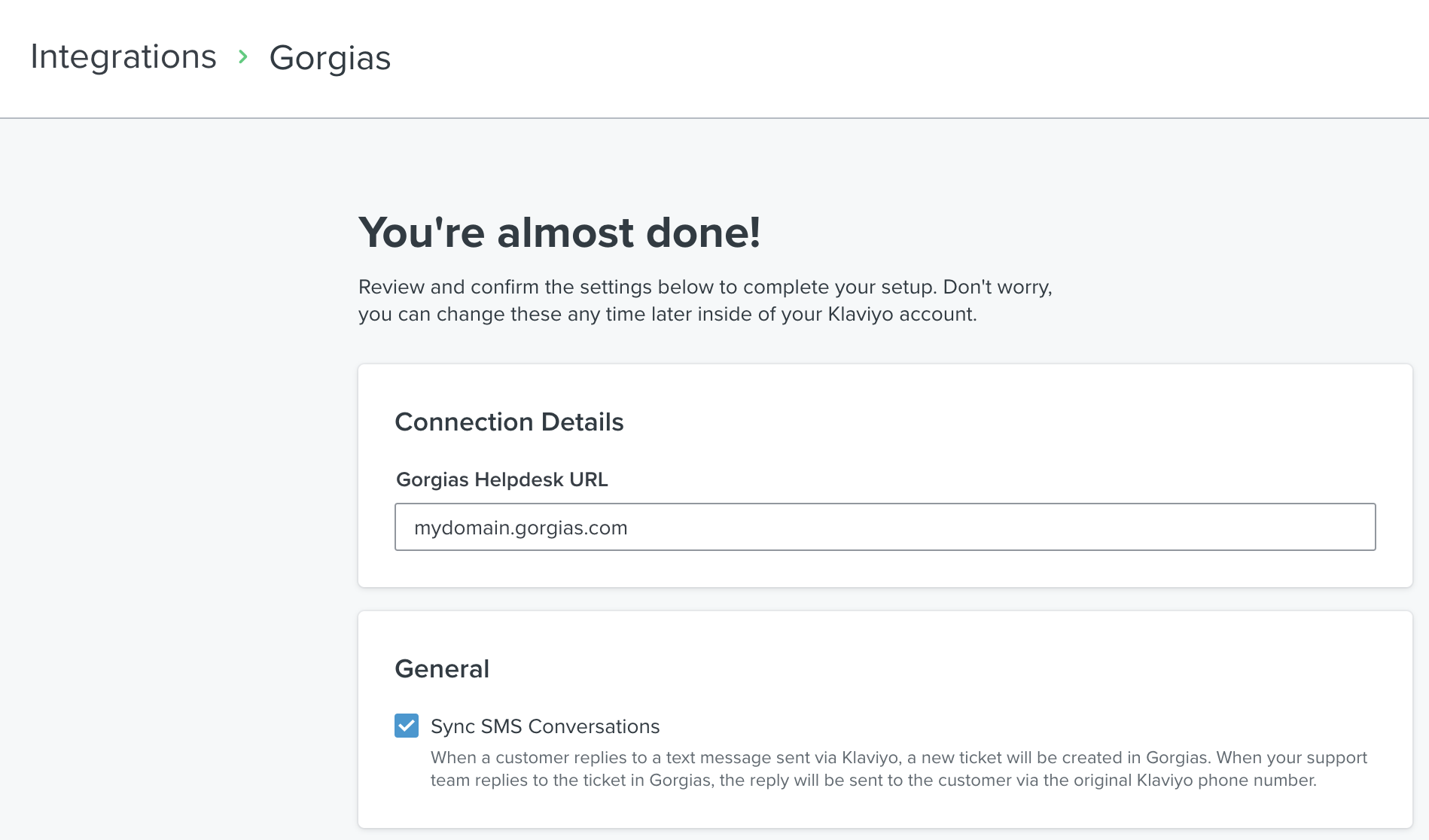 In the new browser tab, enter your Gorgias login credentials (username and password), then click 'Login'.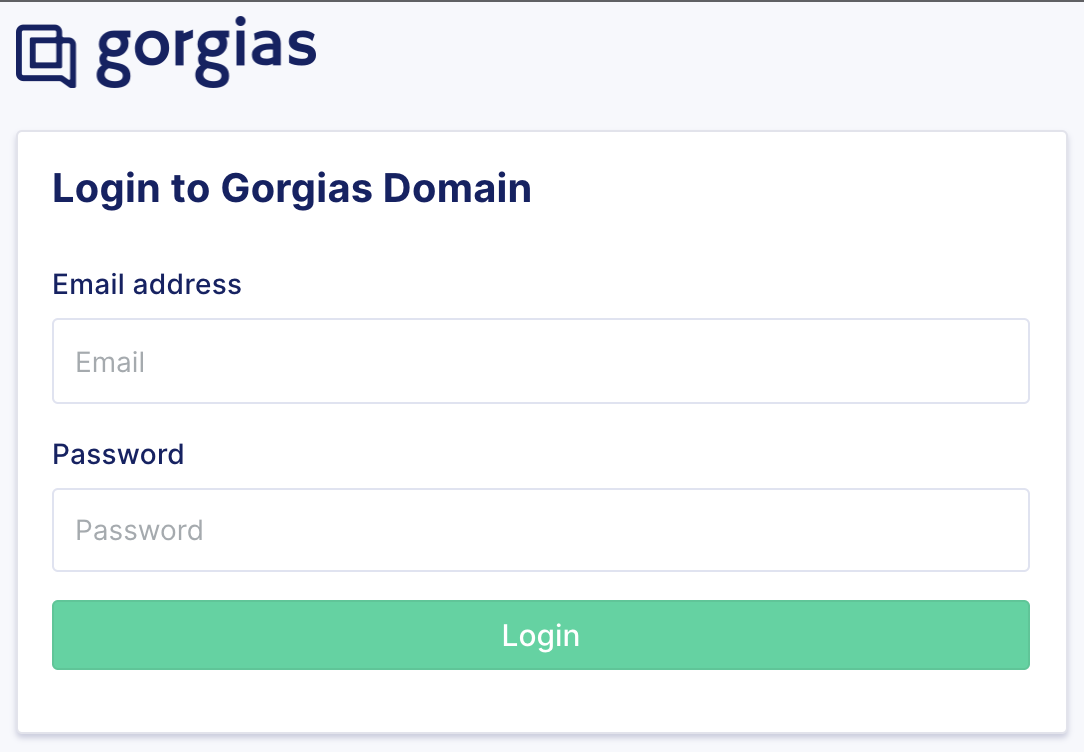 Select 'All resources' from the dropdown, then click 'Authorize'.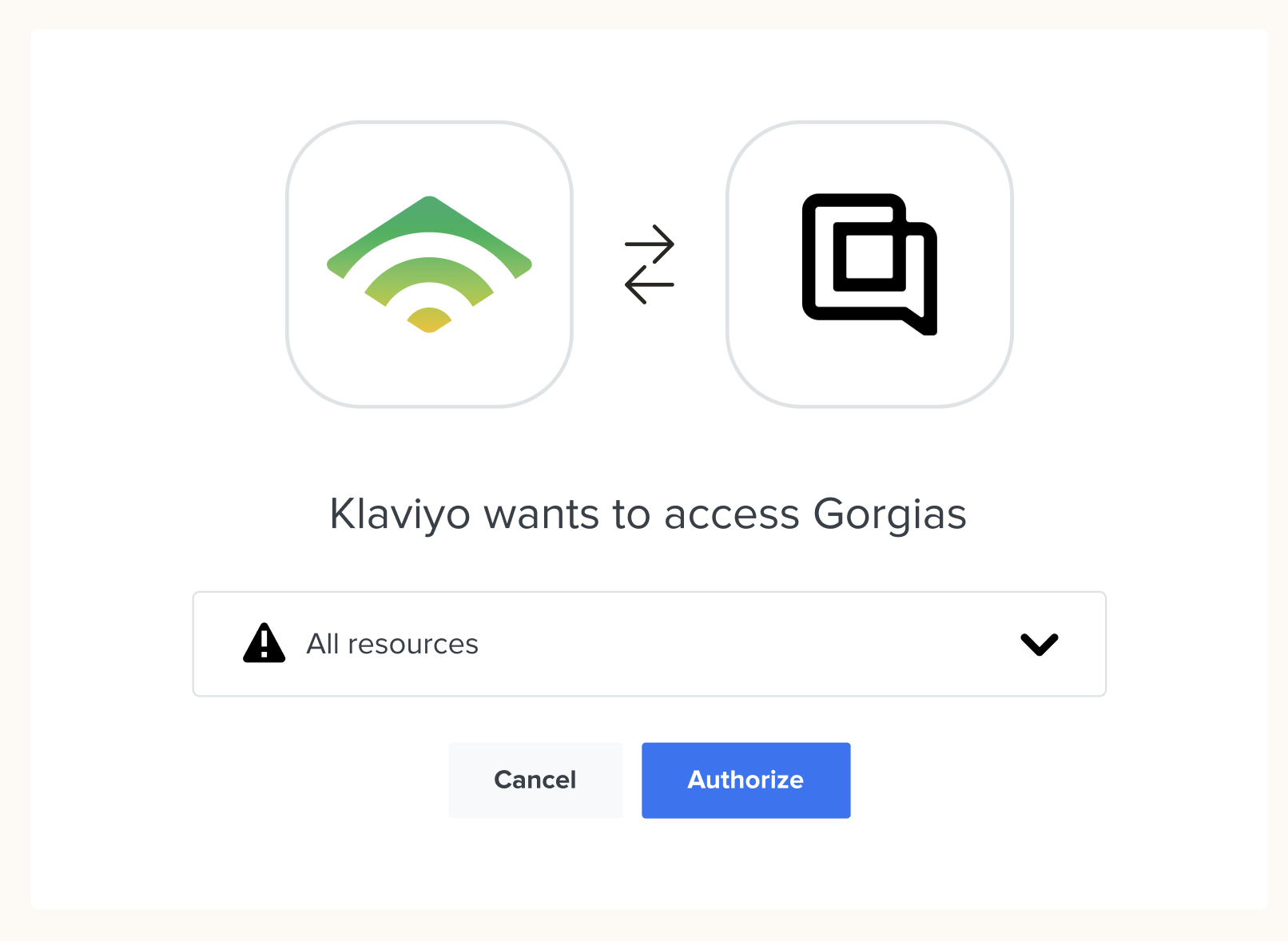 The 'Confirm Klaviyo for Gorgias' modal will then pop up, showing your Klaviyo account name and ID. Verify these values, then click 'Confirm'.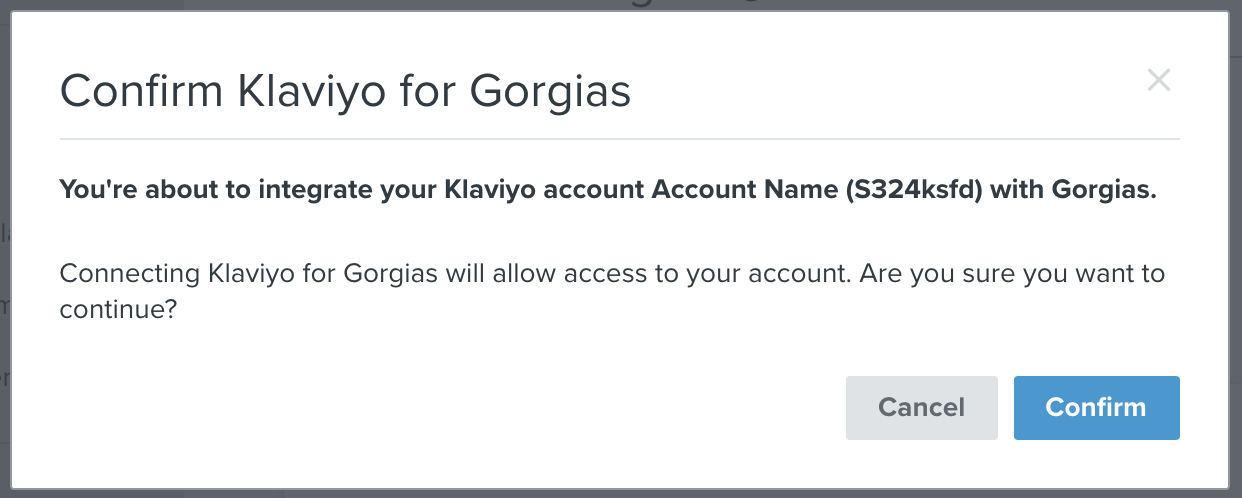 Your Klaviyo integrations page will refresh, bringing you to the final page of the integration setup. On this page, click 'Connect to Gorgias' to finish the Gorgias Klaviyo integration.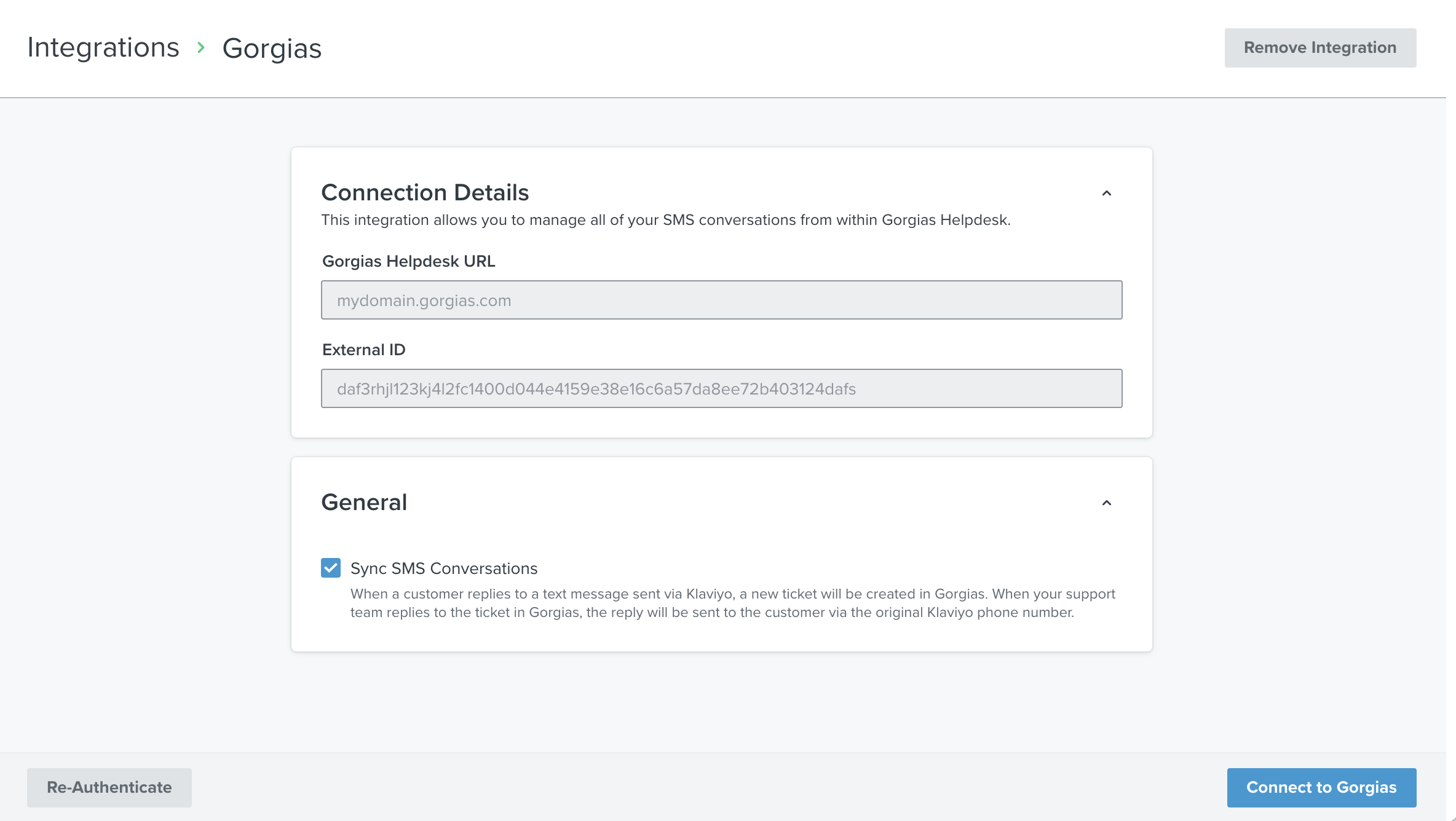 If the integration connection is successful, you will see a modal confirming that your Gorgias account is now connected to Klaviyo!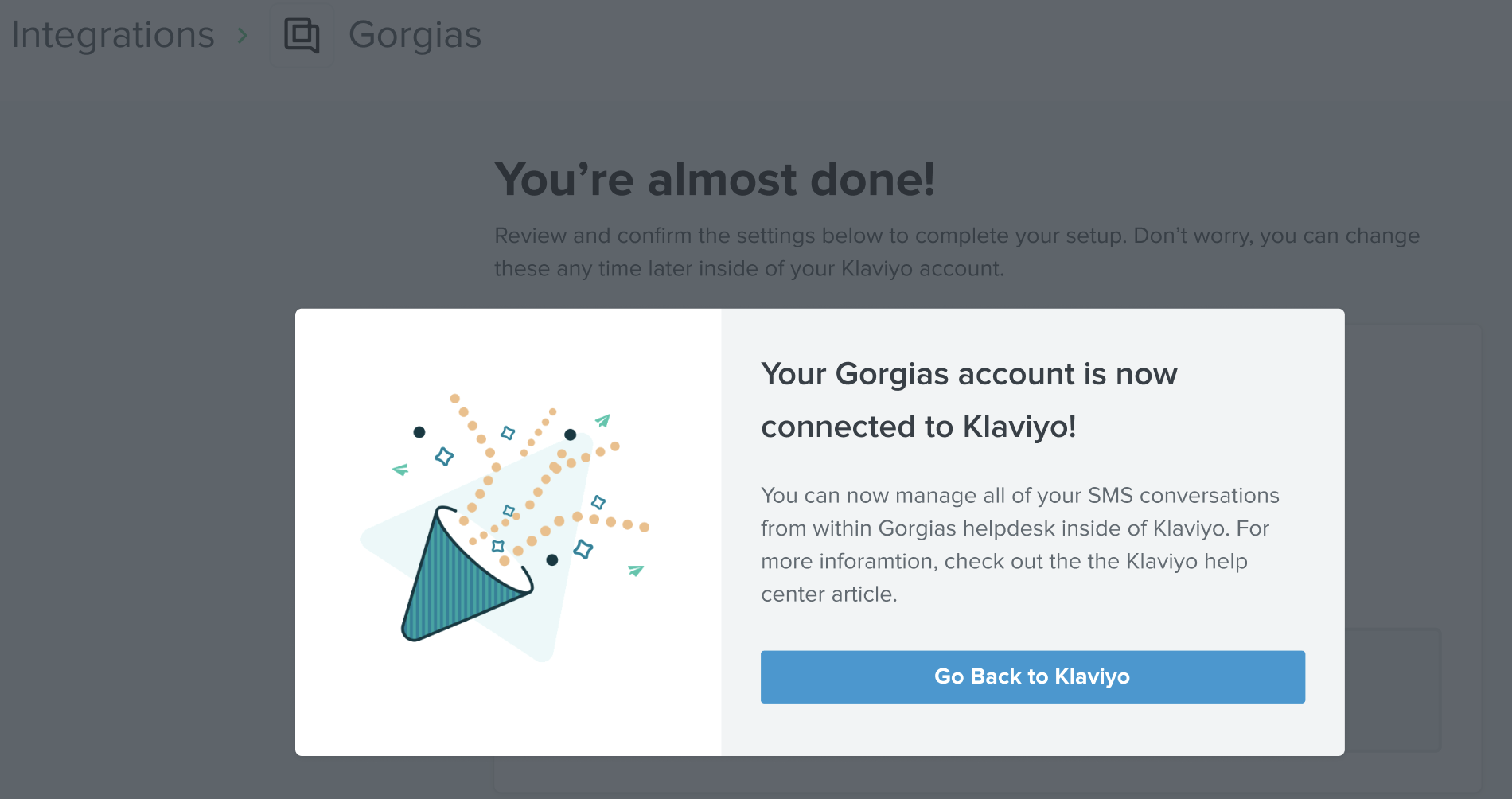 Click 'Go Back to Klaviyo'.
Now, in the Gorgias integration settings within Klaviyo, you'll be able to see the following:
Gorgias Helpdesk URL
External ID: this is set in and synced from Gorgias, and is used by support
Sync SMS conversations = True
More information on how to integrate with Gorgias from Klaviyo's end
here
and how Klaviyo SMS works in general
here
.
If an SMS conversation is in Gorgias and the agent replies, this response will get delivered to the customer but will not appear in Klaviyo (however any replies from the CUSTOMER will show). In Klaviyo, this will appear as a normal SMS conversation. The conversation will be marked as "synced to Gorgias" for clarity.
Please note, if you are using an auto-reply rule, those messages will not reach Klaviyo customers. Messages sent using Gorgias rules are not sent to Klaviyo nor the end customer, at the moment.
FAQs
How do I know if I am using the old Klaviyo integration?
Easy! If you installed your Klaviyo integration from within your Klaviyo settings, rather than from within Gorgias, then you are using the new Klaviyo integration.
If you installed your Klaviyo integration via Gorgias's integrations page, then you are currently using the old integration.
If you can't remember, visit your Gorgias integrations settings page and look for a widget titled Klaviyo - 🗄 DEPRECATED.

What are the differences between the new integration and the old integration?
The differences between the two integrations are as follows:
✅ The new integration allows you to send and receive Klaviyo SMS messages from within the helpdesk from US and Canada-based recipients.
✅ The new integration lives inside Klaviyo, rather than in Gorgias.
✅ The new integration still syncs new customers and the following events: Ticket opened, Ticket resolved, Satisfaction survey responded.
✅ Ticket attributes such as ticket ID, tags, CSAT score etc will now be included with the new integration as well.
❌ The new integration does not sync the 'Satisfaction survey sent' event.
❌ The new integration does not automatically add Gorgias customers to a list in Klaviyo. A workaround is to have a segment/list for all customers who have the 'Opened ticket' event in Klaviyo. You would need to make a segment for this use case. It is not possible to subscribe new customers from Gorgias.
❌ The new integration cannot send or receive SMS messages from non-US and Canada-based recipients.
If I have the Klaviyo integration in Gorgias still active, what should I do?
For customers who still have an old Klaviyo integration, we would strongly encourage you to delete it and connect the new integration, since the old one will be deprecated and no longer supported starting March 15, 2022.
---
What do you think? Yay or Nay?
---