Billing and subscription plans
How does Gorgias billing work?
Gorgias billing is based on either a monthly or annual subscription. The subscription plans are based on billable ticket count and integration count.
How to find Subscription package details in Gorgias?
Once you are a Gorgias customer you can manage your subscription on the path Settings -> Billing & Usage. Here you are able to see your payment history, billing cycle, billable usage, and you can also change your plan and update your payment information from this page.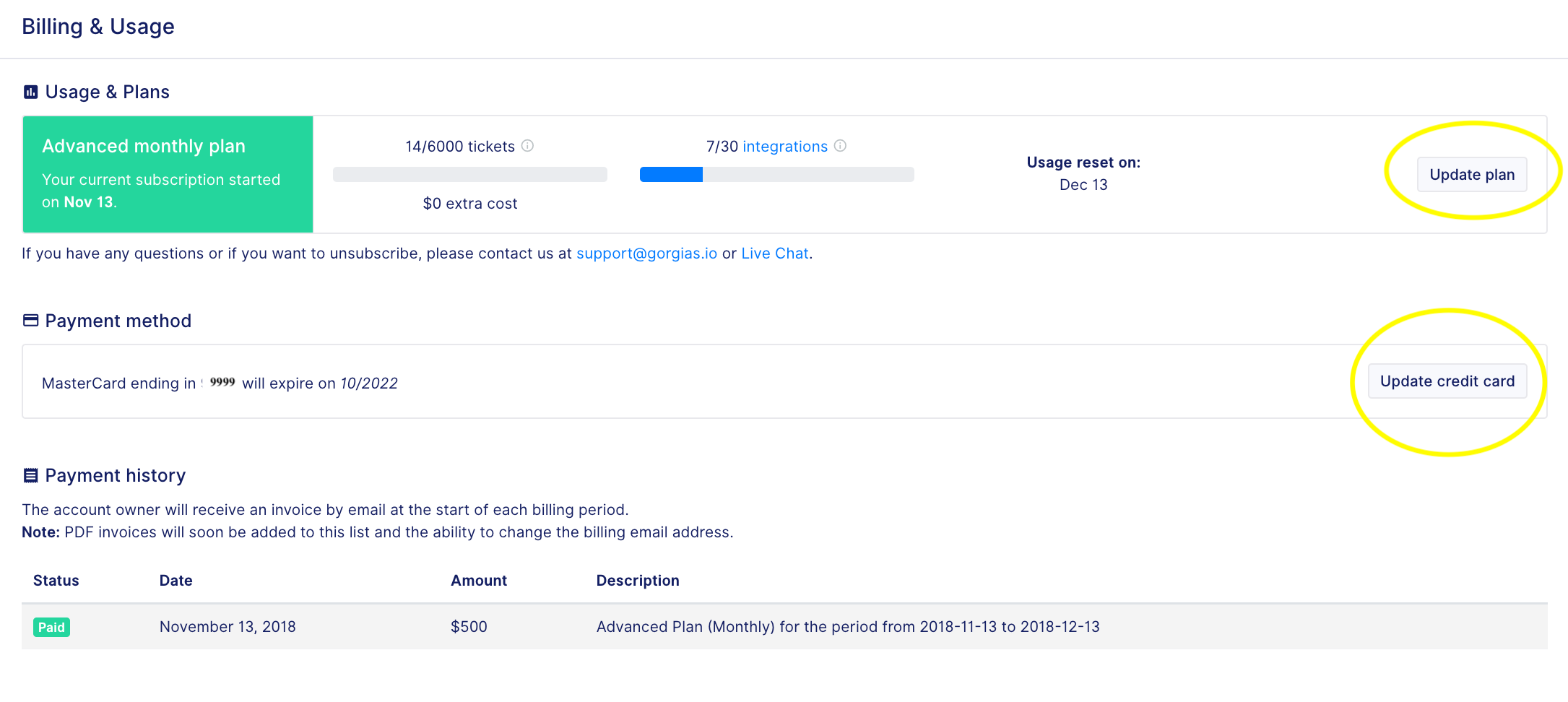 Billable tickets
A billable ticket is a ticket that received a response either from an agent or a rule. If a customer sends a message via one of the integrated channels and an agent/rule responds to them, then that ticket is counted as a billable ticket. Additional messages on this ticket are not considered as additional billable tickets. A ticket that receives a response by an agent or a rule will only be counted as one billable ticket regardless of how many messages are sent or received on the thread.
If an agent forwards a new email ticket out from Gorgias, that ticket becomes billable, like any other response.
Self-service portal tickets
If you're using our self-service chat feature, then the ticket billing goes something like this:
The ticket will count as billable only if the customer started a conversation with an agent and the agent replied.
If the customer simply used the 'Track an Order' option, the ticket won't be considered billable.
However, if you have some chat campaigns active:
If there's an active chat campaign and the customer used the self-service portal the ticket will be considered billable.
Phone tickets
A billable phone ticket includes any call where a conversation happened:
Outbound call to customer or message sent following a missed call (call back or email).
Inbound call that was picked up by an agent (call answered).
The ticket will not be billable if:
- the ticket has an internal note only, but no public reply to the customer
- only the ticket assignee was added or changed, but no one replied to the customer
Integration count
Integrations in Gorgias are the tools you use as an e-commerce store. For example, if you have 2 Shopify stores integrated in Gorgias and each store is utilizing chat, a support email address, and each has a social media account integrated, then this would mean you have 8 integrations: 2 Shopify integrations, 2 chat integrations, 2 email integrations, and 2 social media integrations.
Subscription plans
You can find the currently available subscription plans on our pricing page here.
Monthly
Annual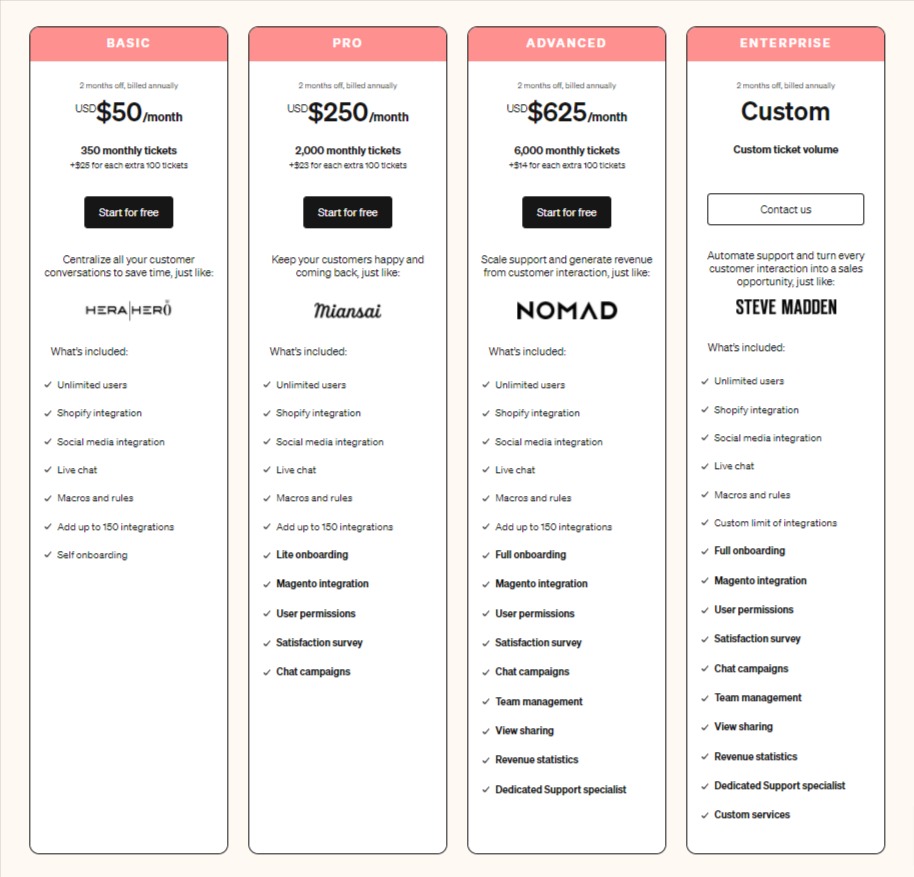 Get two months off by subscribing to our annual plan!
FAQs
I'm paying through Shopify. What is the $10,000 approved usage limit on my receipt?
This is a standard payment term for pay-per-use services through Shopify. It shows the cap on payments debited for this particular app through your Shopify account. The charges are specified by your plan + overages if applicable. You can also track your usage by going to Settings -> Billing and Usage.
What happens once the ticket is closed? Will the replies received under the closed ticket result in opening a new ticket?
This actually depends on the channel in question, let us explain this a bit further:
Email: If the customer continues the conversation under the same email thread, even if the ticket was closed, it will reopen on the customer's message and won't be considered as a new ticket. The billable ticket count is 1.
If they, however, send a brand new email, a new ticket will be opened. If you reply, the billable ticket count is 2.
Chat or Facebook Messenger: If you close out a chat ticket from a customer, and they reach out again after more than 3 days, a new ticket will be opened. If you reply, the billable ticket count is 2.
If a closed chat ticket receives a response within 3 days, the closed ticket will reopen. The billable ticket count is 1.
The same applies for Facebook Messenger.
Social Comments: Every comment pulled from your social channels is considered as a new ticket. But replies to that comment will populate under the same ticket. If you reply to the comment from Gorgias, the ticket is billable. If you only like a Facebook comment but do not respond, ticket won't be billable.
If you exceed your billable ticket count for your plan, you will not be automatically moved up to the next plan, nor will your account be suspended or disabled. Rather, you will be billed for each additional billable ticket. Each subscription level has a different cost for this which is broken down below.
With Gorgias, the ability to merge customer communication profiles together allows you to see customer ticket history across all communication channels. This means that duplicate tickets are not responded to and in turn, your support efficiency is increased and billable ticket count is decreased.
How to retry failed payments?
It might happen that the system cannot take the payment for one of your invoices automatically, for example because the card has expired. In this case, you will have to update your payment method in the "Payment method" section on the Billing & Usage setting page, and then please click on the "Retry payment" button of the invoice you want to pay.

If the payment succeeds, your subscription will be reactivated and you will be all set.
If the payment needs to be confirmed, you will be redirected to a secure page where you will have to enter a code sent by your bank on your phone to confirm this payment. Once the confirmation has been received by your bank, the payment will be authorized and your subscription will be reactivated.
If the payment fails, a notification including the reason why it failed will be displayed. According to the error message, you will be able to know what to change and try again.
How to confirm payments of unpaid invoices?
Since September 14th 2019, new requirements for authenticating online payments have been introduced in Europe as part of the second Payment Services Directive (PSD2) to reduce fraud and make online payments more secure.
When a payment needs to be confirmed, we will send you an email with instructions to proceed. Via this email you will be able to access a secure web page where you will have to enter a code that your bank sent you on your phone.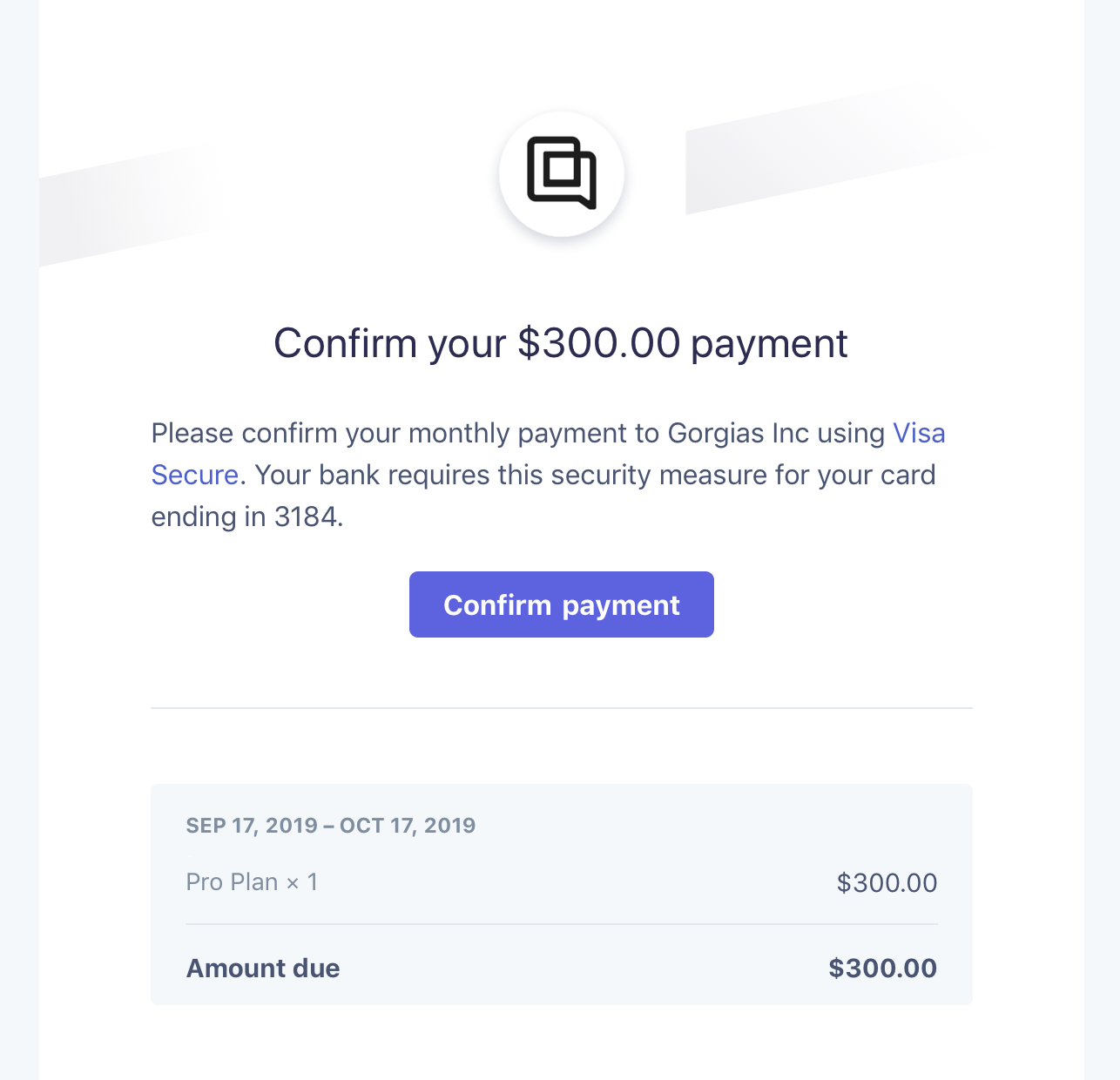 Reminders for payments requiring confirmation will be sent to the email set in the Billing & Usage -> Billing details section.
You can also confirm payments directly from the Payment history section on the Billing & Usage page by clicking on the "Confirm payment" button.

---
---