Self-Service Quick Response Flows
We are delighted to let you know that you can now create your own custom quick response flows for your self-service integration!
If you haven't already, please refer to 
this article
on the basics of our self-service feature first.
We also encourage you to check out our
quick replies feature here
as the principles are quite similar to self-service quick responses.
This feature is only available with the
Automation Add-on
.
Legacy
users who have access to the Self-service do not have access to this feature without the
Automation Add-on.
How it works
With these options you will be able to tailor your self-service flows to your business' needs. We realize that not every store gets the same types of shoppers with the same set of questions, so we now offer you customization tools to better serve your customers.
Setup instructions
Please follow these steps to create a self-service quick response:
Navigate to your Settings → Self-Service → Your store's self-service integration.
From here you can either edit an existing response or create a new one. Both will lead you to a similar pop-up window. Either click on the pen to edit the existing flow, or click on '+Add Flow'to add a new one.
A pop-up will appear where you can set the title of your new flow.
Please just keep in mind that we have a 20-character limit for flow titles at the moment.
Once you're happy with the title, hit 'Add Flow' and you will find it on the list. From there you drag and drop to change its position on the list and edit the flow again by clicking on the pen icon.

The response sent when your customer clicks a quick response button can be set up from your quick response setting screen.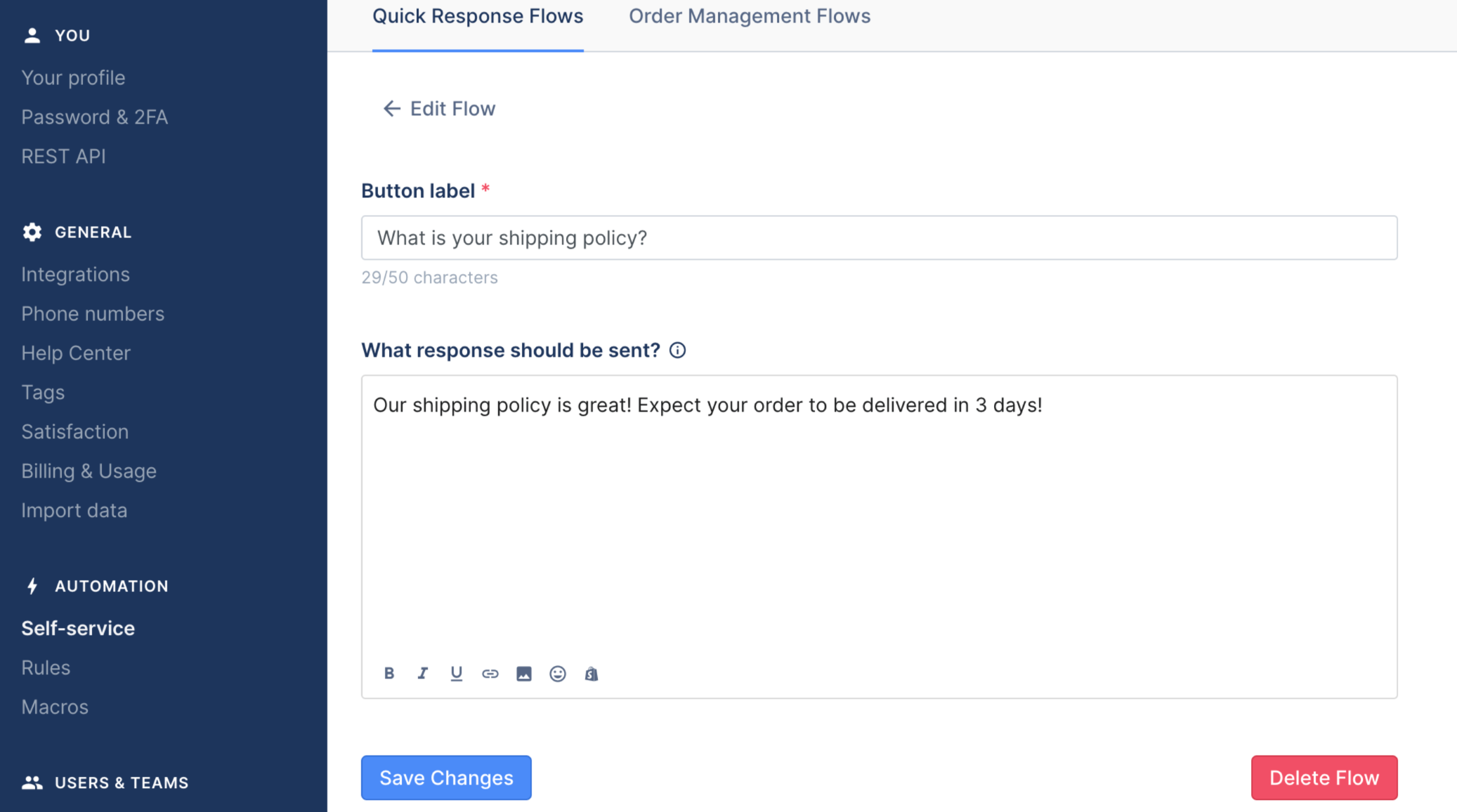 If your customer clicks on a button in a "Quick answers" section, it won't send a message to the chat right away. Instead, the chat will show an automated answer configured in the helpdesk previously and a "Was it helpful?" question.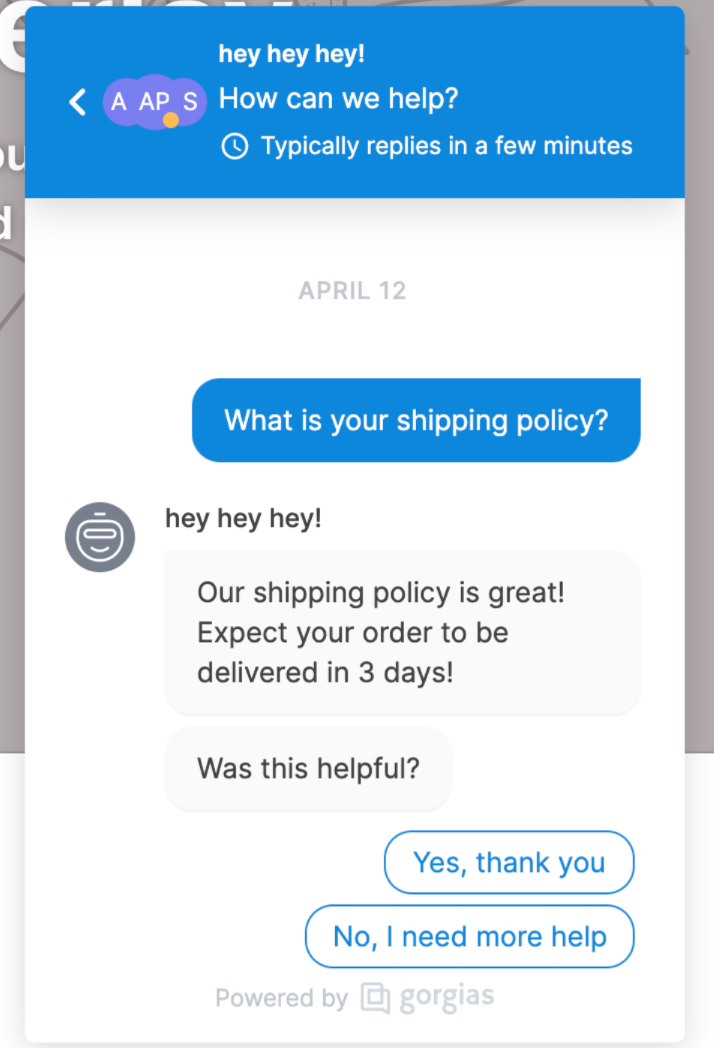 If a user clicks yes - the chat will show "Happy to help, have a great day" message. No new ticket in the helpdesk will be created as everything was handled by the self-service feature.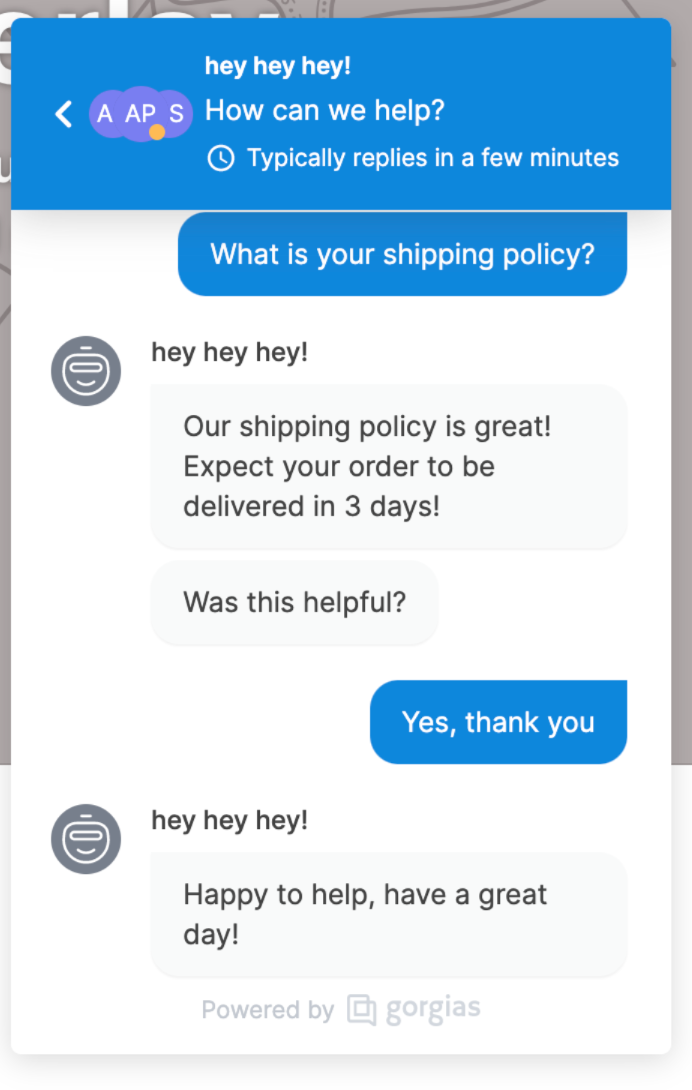 If the customer clicks "No, I need more help", a new ticket in the helpdesk will be created with the history of interaction, so an agent can take over the ticket and help the customer.

Tracking
You can also track in your Statistics how helpful your quick responses were to your customers! Please have a look at the screenshot below: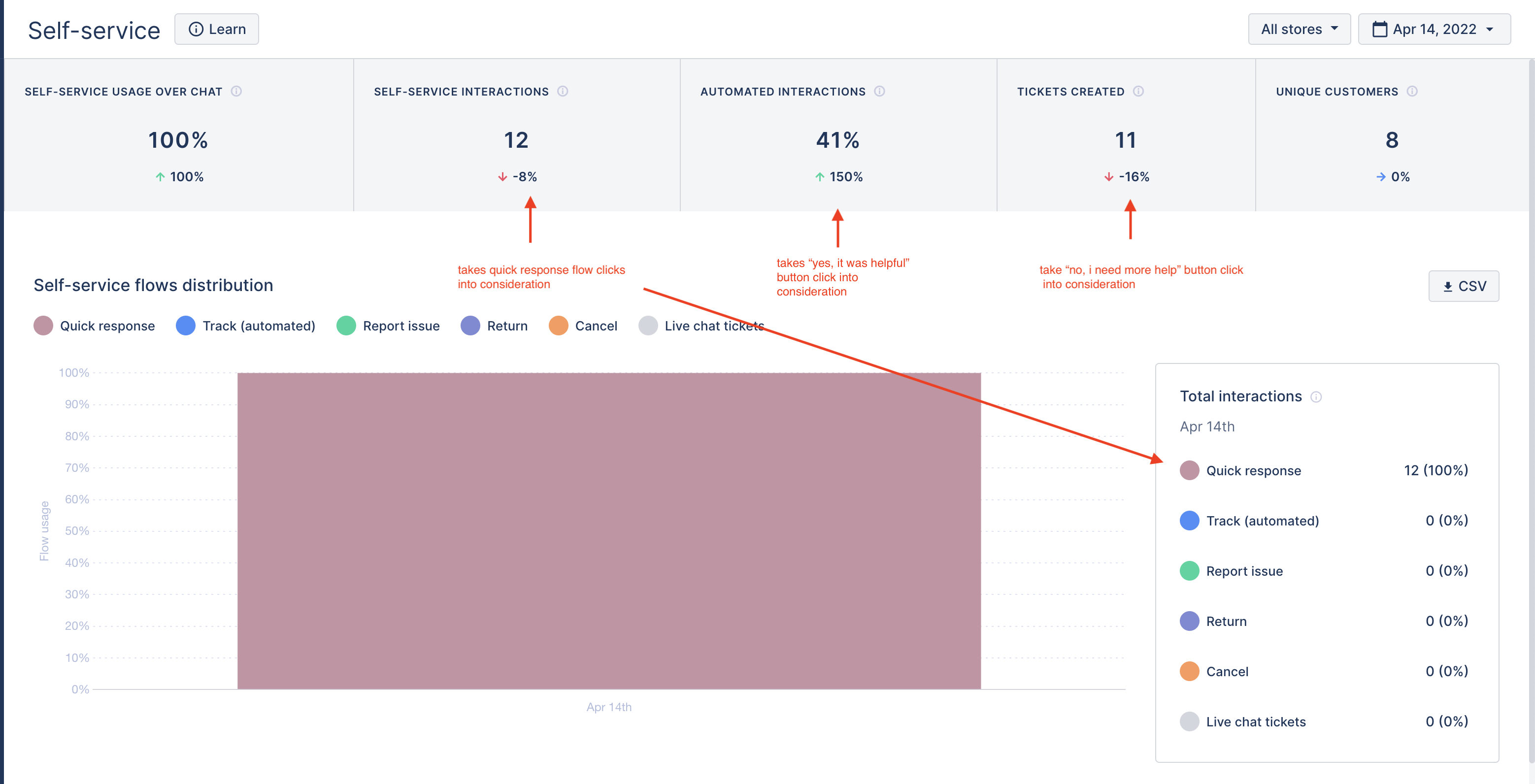 On the path Statistics → Self-Service you will find the following metrics:
Self-service interactions - takes into account how many self-service flows were used in general.

Automated interactions - displays how many flows left the customer satisfied with the answer that they got, meaning how many cases ended with the customer picking the 'Yes, it was helpful' option at the end.
Tickets created - this one takes into account how many times the customer picked 'No, I need more help' after getting a quick response, meaning that the interaction wasn't fully automated and instead resultet in new ticket creation for your agents to handle.
Was this article helpful?