Basic chat customization (UI settings)
In Gorgias, you can access the various chat settings seen below from Settings -> Integrations -> Chat -> The chat you'd like to edit.
Multi language Chat feature
In case you have your store available in languages other that English, we have the option to translate our chat widget text accordingly. This feature will allow you to select a language for your chat integration. Setting is located under your Settings > Integration > Chat > Appearance > Language.
List of available languages: English US, French, Spanish, Italian, Danish, Dutch, Swedish and German. In case that you need any language that is not on the list, please let us know by sending your request to our support team at support@gorgias.io
Once you select your desired language from the drop down - introduction text outside and during business hours will be automatically translated in the selected language of the chat. You are definitely free to change the default value in the language of the chat for fields that you can customize. You are, however, unable to customize the language for the email capture text.
Other appearance settings
In Settings > Integration > Chat > Appearance, you can also change the following:
Chat title
Introduction text during and after business hours
Main color and the conversation color of the chat
Email capture for Chat
Email required feature will allow you to prevent your customers from sending a message in your Chat if they haven't entered their email address! This should help reduce the number of tickets where customers left after leaving a message in the chat, thus becoming unreachable.
You can set this feature up from Settings -> Integrations -> Chat -> The chat you'd like to edit > Preferences > Email capture.
There are three options for the email capture:
Optional: the default option. Customers can send messages, but if they are not associated with an email address, they will be prompted to enter it. However, they can still engage in the conversation without leaving it.
Always required: customers can never send a message without entering their email address first (unless we already have their email address in the system).
Required outside business hours: outside of business hours behaves like always required; during business hours behaves like optional.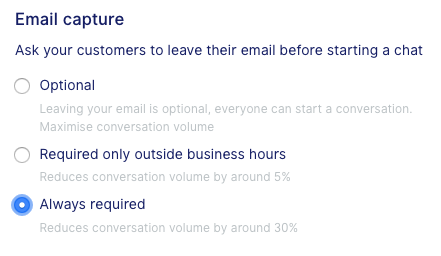 Auto responder for
Chat
You can set automatic responses that will be sent to your customers outside of your business hours. This is a great way to let your customers know when they can receive a response from your agents.
The auto-responder is not related to agents availability, but will instead behave differently depending on whether we're currently during your business hours or not.
During business hours auto response
 if a new ticket is created by a customer message and no one answers after 30 seconds, an automatic reply will be sent to the customer, reply which you can choose among 4 options: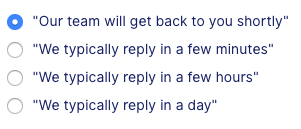 Outside business hours auto response
If a new ticket is created by a customer message, an automatic reply will be instantaneously sent indicating when is the soonest time when agents will be available (based on your business hours)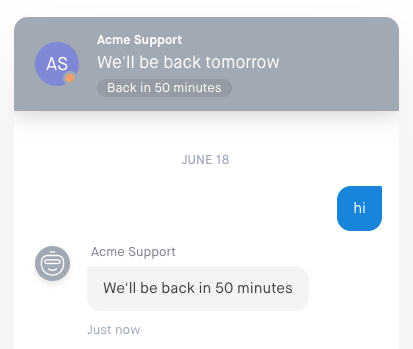 All those messages are translated into the language used by your integration, which you can now configure on the "Overview" or "Appearance" page of each of those integrations.
---
---