Managing User Roles
In Gorgias, you can add multiple users to your dashboard and assign them specific roles. User roles will allow the Account Owner to adjust access to some parts of your dashboard and actions that they can take within the dashboard.
How it works
Here's how to start managing your users' roles:
Navigate over to Settings and from the left-hand navigation panel select Users.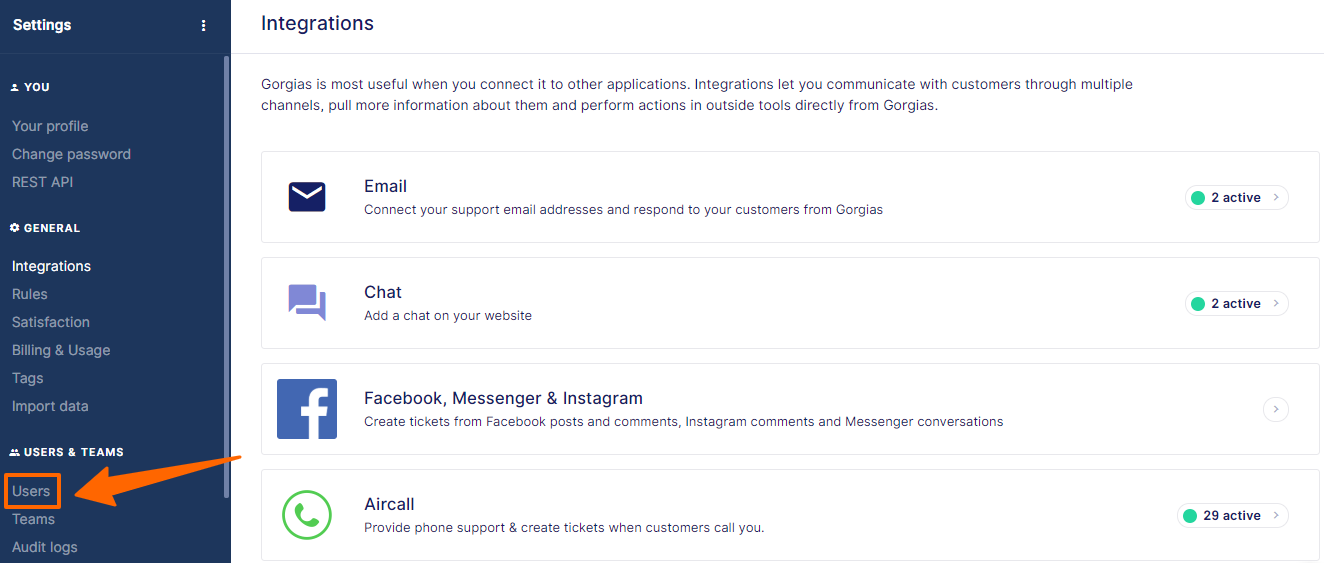 Click 'Add user' in the top right.

Insert your user's information and select their role. Once you have completed this click 'Add user'. Your new user will now receive an email with a link inviting them to set up their password and log into Gorgias. If you need to edit the user or resend their invitation email go back to step 1 and then click on their name. From here you will be able to make changes and resend the invite.
User Permissions
This feature is available on Pro and higher plans only.
There are 5 roles enabling you to precisely control users' permissions:
Observer agent: Able to view customers, tickets and send internal notes.
Lite agent: Able to modify customers, tickets, and send messages.
Basic agent: Able to modify customers, tickets, send messages and perform integrations-related actions.
Lead agent: Able to manage customers, tickets, tags, send messages and perform integrations-related actions.
Admin: Able to manage everything. (billing info, users, integrations, rules, tickets, customers, etc...)
Below is the complete user permissions table associated with each role. However, please keep in mind that this table applies only to the Web UI, not the API. For example, all users are allowed to list most resources including users, macros, rules with the API. Also, any agent has the ability to create private views. The feature to create shared & public views is only available to Lead agents and Admins.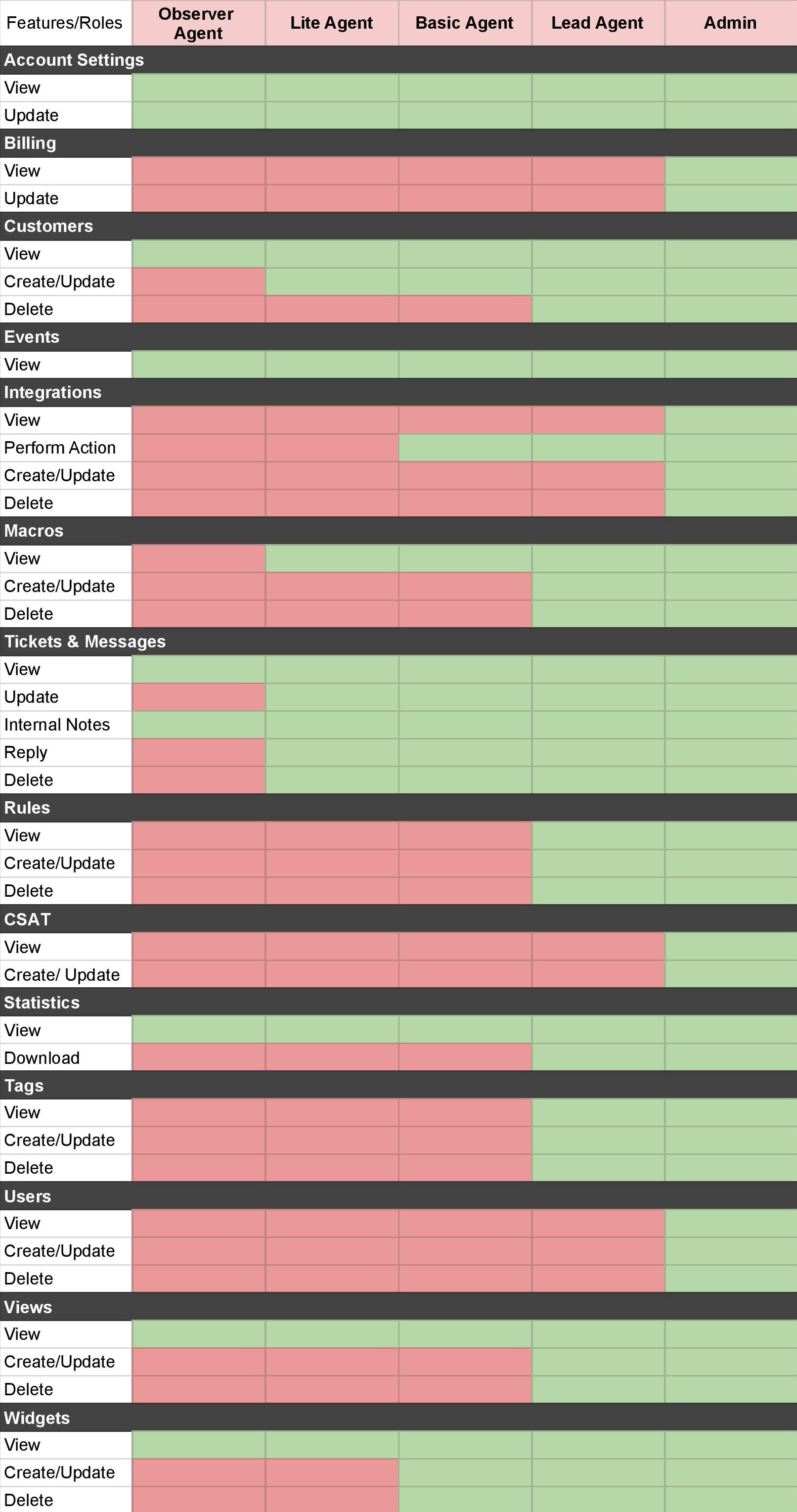 Hiding/liking comments and responding to private/direct messages on Facebook/Instagram are considered integrations-related actions as well. Lite and Observer agents can't do integrations-related actions, however they can perform this action directly on Facebook and Instagram.
Anyone can use the search function
, regardless of their role, and access all of the tickets within the search results. If you have
view sharing
set up, searching will not prevent any agents from finding tickets in private views.
Transfer account ownership to another user
The Account Owner is established upon account creation with the email address used to configure the account. A Gorgias account can only have one Account Owner. You cannot delete the Account Owner, nor downgrade their role from Admin.
If the Account Owner is no longer with the company and you would like to transfer the ownership, you would need request this by sending us an email to support@gorgias.com and CC the Account Owner as well as all the other Admins. Once the all the Admins confirm and if the Account Owner does not contest this decision, the ownership can be transferred. In case there are no other active Admins on the account or if they do not respond, the case will be reviewed by Gorgias managers.
Note that the default billing address of an account is the Account Owner's email address.
Only the current Account Owner can transfer the ownership of a Gorgias account to another user. Here's how:
Navigate over to "Settings" and from the left-hand navigation panel select "Users".

Click on the user you want to set as the account owner.

Click on the "Set as account owner" button, and confirm.
Delete User
In case that you need to delete a User please follow these steps:
Go to Settings > Users
Click on the User that you need to delete
Hit the Delete User button in the bottom-right corner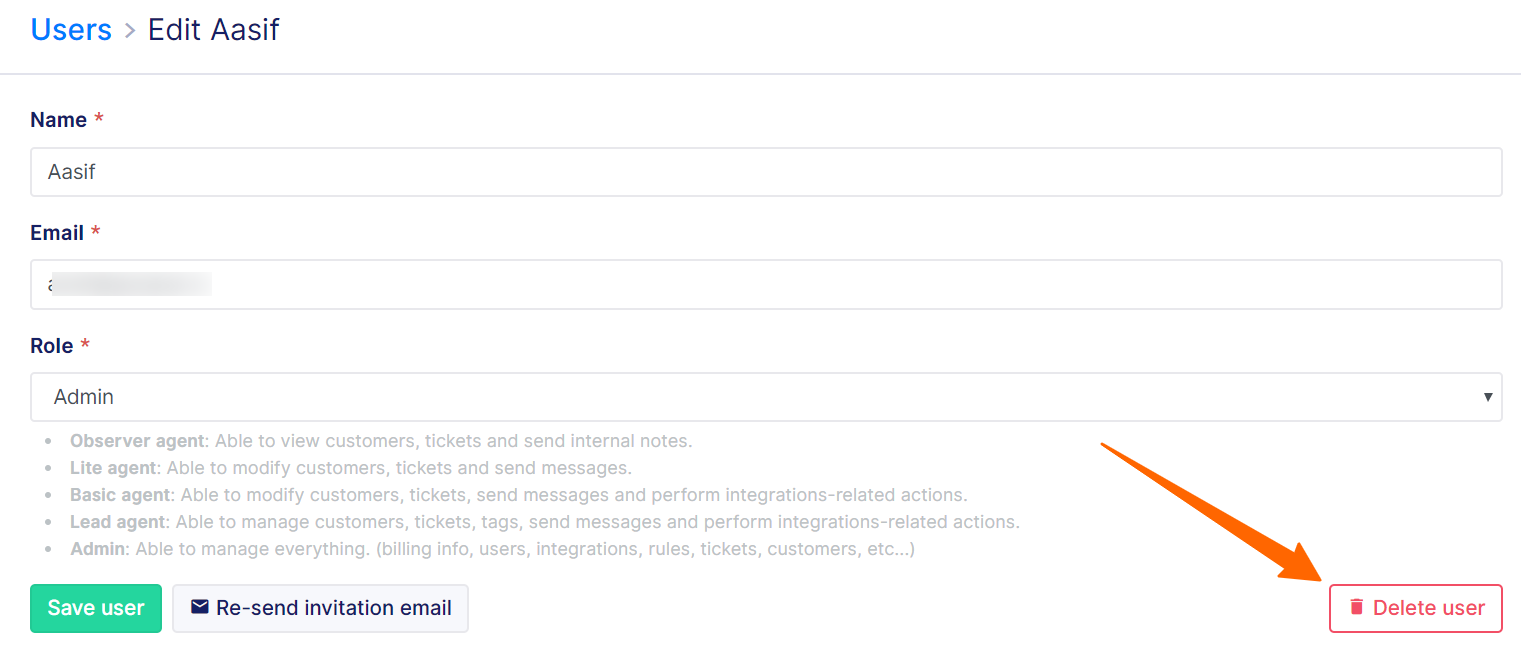 If you delete a user this action will un-assign this user from all its tickets, open or closed, and delete its statistics. The tickets however will not be deleted, they will just be unassigned.
Agent knowledge checklist
You don't know what you don't know. This checklist provides key functions within Gorgias that user should know, segmented by role.
Use this as a guide to check your knowledge and identify areas for further learning.
📄 Download Agent knowledge checklist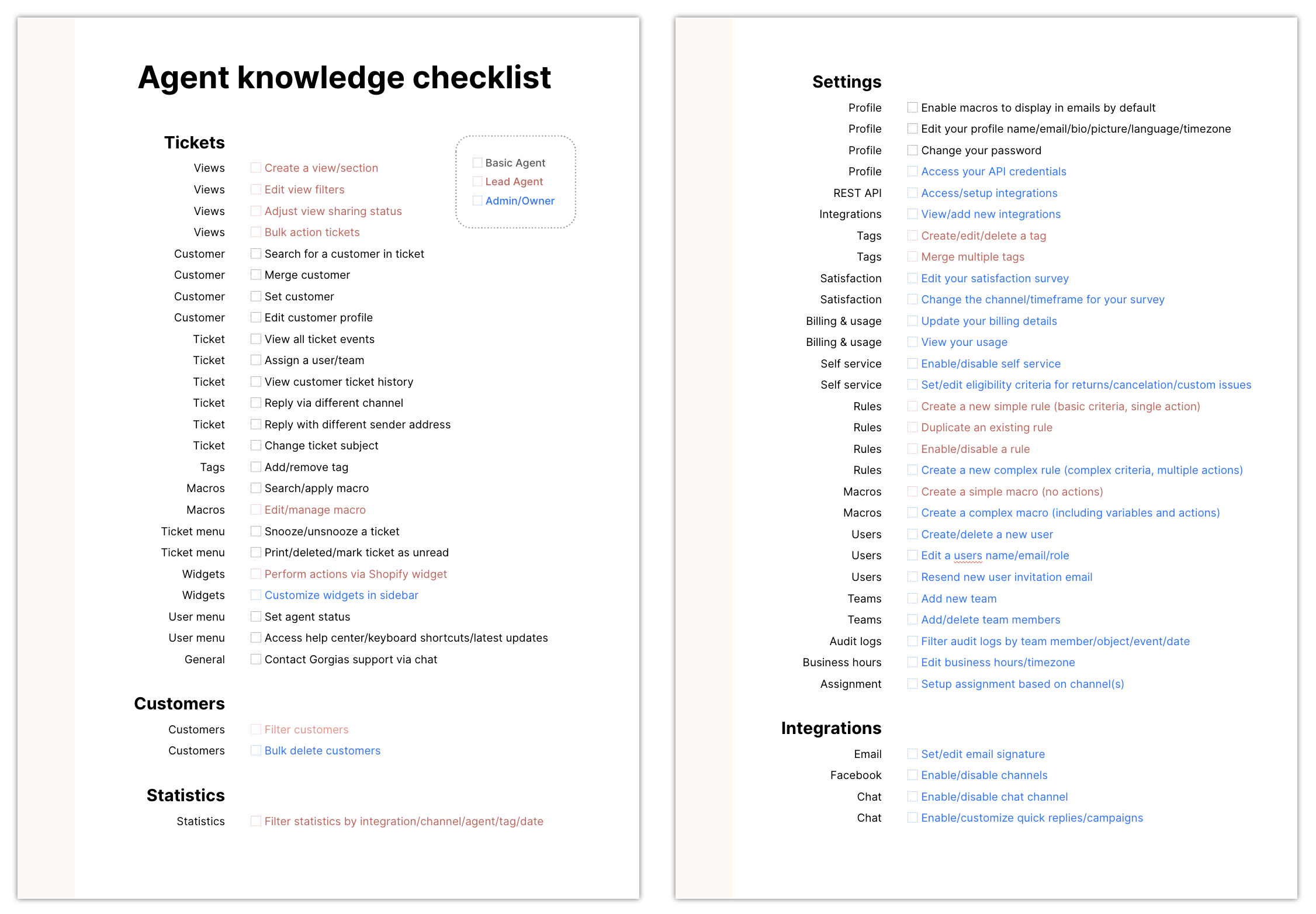 FAQs
If I am on a Basic plan which roles will all my users have?
There is no user roles on a basic plan, so all users will have the Admin role.
I am unable to change my user email - the error message states the email is already in use, but there are no users registered under it.
Make sure the email address you want to use is not already used in integrations or as a customer email address. A single email address cannot be used as a login email of a Gorgias user and a customer email at the same time. If you do locate a customer under that address, please delete their profile and try changing the email on your user profile once more.
---
What do you think? Yay or Nay?
---