Auto-assign and auto-unassign tickets
Updated 4 days ago
With these features you can automate ticket assignment for all of the available agents in your Gorgias account.
If you prefer your tickets assigned manually, feel free to check out
this guide
for more tips.
How it works
To access and customize your auto-assignment settings, navigate to Settings -> Users & Teams→ Ticket Assignment.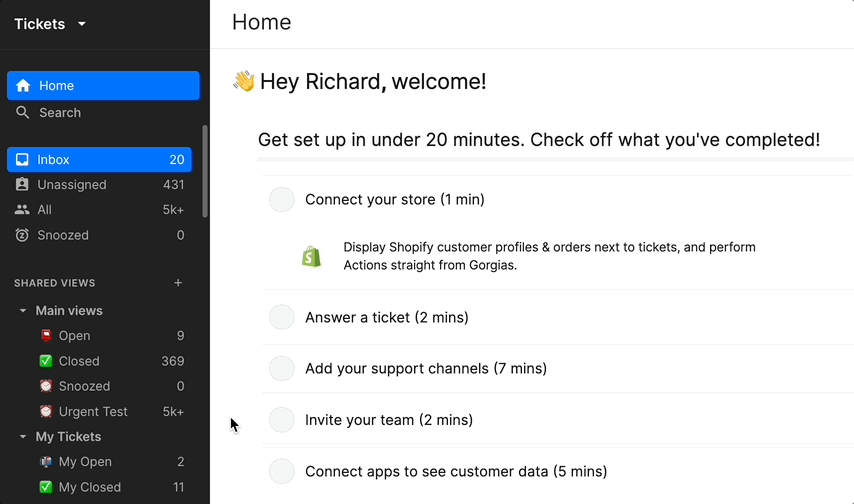 When auto-assignment is enabled, tickets assigned to a team will be automatically assigned to eligible team members.
Team members are considered eligible if they:
are online
set their status to 'Available'
are below one of these assignment limits:

they have fewer assigned "Chat & Messaging" tickets than the defined limit (3 by default). This includes chat, SMS, Facebook Messenger and Instagram Direct Message channels.
they have fewer assigned "Other text" tickets than the limit (4 by default). This contains all other channels (email, social media posts and comments, API...)
The agent will be considered online and available to have tickets assigned to them until they close the last Gorgias tab in their browser. That is, of course, considering that their status is green in the bottom-left corner of the dashboard. Once they close the tab, they are considered offline and no tickets will be assigned to them, even if they remained 'green' in the helpdesk.
When the auto-assign tickets feature setting is enabled, unassigned tickets for selected channels will not appear in the "Chat & Messaging" section of the dashboard on the left. The only tickets in the chat section inside the left sidebar will be the ones assigned to the logged-in user.
When the auto-assign tickets feature setting is disabled (and you do not wish to enable it) then all unassigned tickets will be visible for all the users in the chats section. Before, you could avoid this if you turned the auto-assignment on (but didn't create rules/teams) and just added the channel you wanted to remove from the chat section. 
Team auto-assignment
You can now directly create a rule assigning tickets to the team you've just created.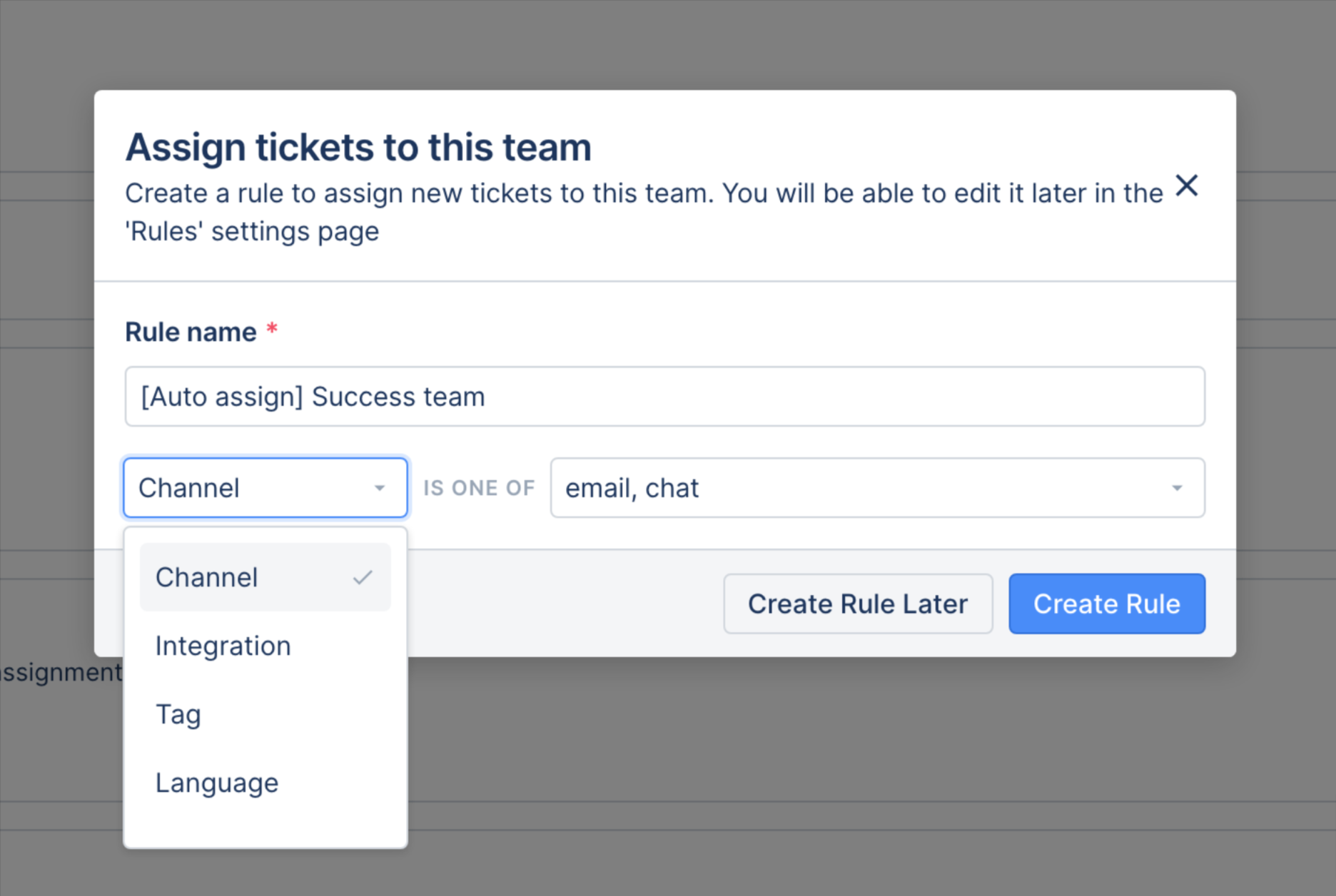 Up until now, if you wanted to set up auto-assignment for your team you needed to manually access the rules and set up a rule. In order to make this process more straightforward, we have added a simplified rule creation step in the team creation flow! Once created, the rule is accessible in the rules settings.
If you still wish to create the rule manually, you can do that as well, by navigating to Settings → Rules → Create Rule → Create Custom Rule.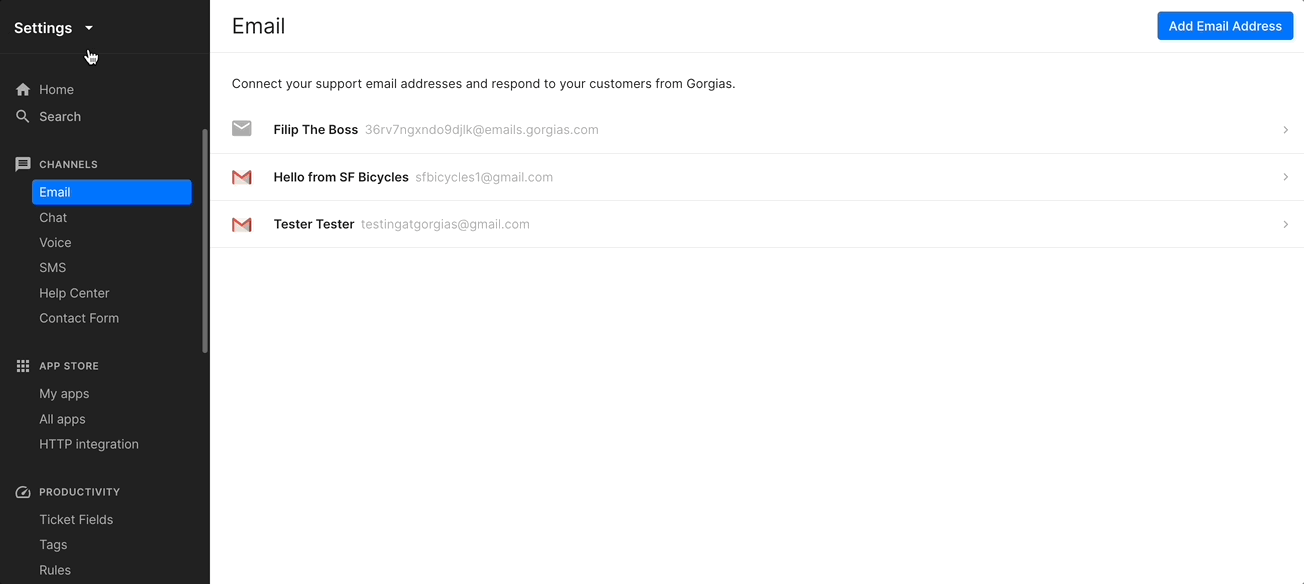 Here's how a rule example would look like, for auto-assigning chat tickets to the Chat Team:
Setup instructions
In the following example, we auto-assign chat tickets to available users from one of our teams:
1. Create your team and add members to it. You can check out this article for a more detailed guide on that part.
2. A new prompt will appear once you've created the team. Please follow this video tutorial to see how to automatically create a rule to assign tickets to this team:
Auto-Assign Tickets
This option will allow you to have your helpdesk automatically assign incoming tickets to available members of your teams. You can now also determine the limit of possible auto-assigned tickets per agent, as you can see below:

This feature will hopefully help you lower your response time! Your agents will no longer have to hunt down new tickets and aim to address them as quickly as possible. Now they will see them on the dashboard on the left assigned to them (for chat-type tickets) and, in combination with notifications, your FRT will go down in no time.

The option is found on the path Settings → Ticket Assignment. It will be enabled by default.
Unassignment settings
This feature is used to automatically:
unassign a ticket assigned to your agents who are not online or available
if the ticket has received a reply
You can use it in conjunction with team auto-assignment described above.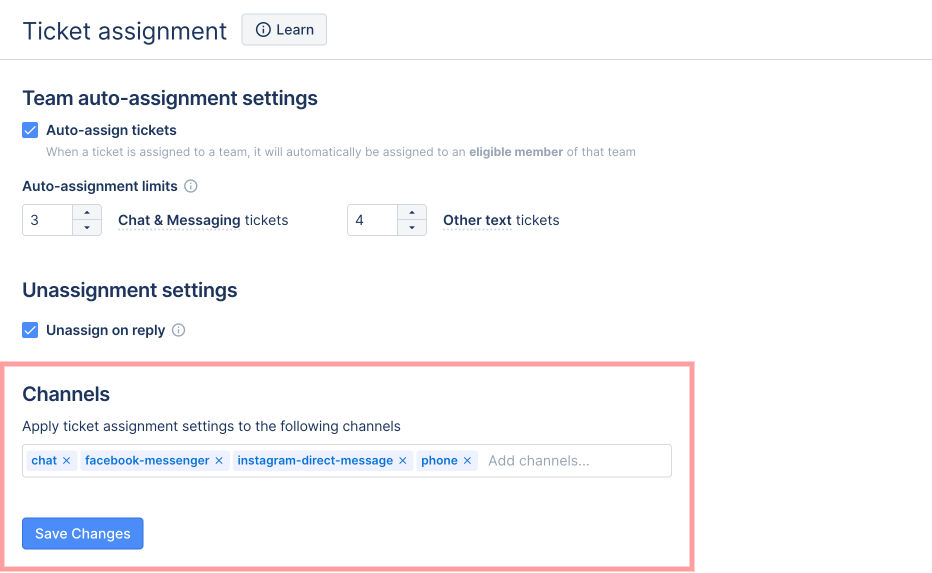 How are assigned tickets displayed
If you are set as unavailable:
Only the tickets assigned to you are visible.
If you are set as available and auto-assignment is disabled then:
Tickets assigned to you and all unassigned tickets are visible.
Otherwise, if ticket auto-assignment is enabled then:
Only tickets assigned to you are visible.
FAQs
I already have the maximum number of tickets assigned to me. Why do I keep getting more assigned?
If an agent has 4 or more non-chat tickets assigned to them for example, they are still eligible to be auto-assigned chat tickets, provided they are under the chat-type ticket limit of 3 (if that is the set limit).
Similarly, if an agent has 3 chat-type tickets assigned to them, they are still available to be auto-assigned non-chat tickets, provided they are under the non-chat limit of 4 (if that is the set limit).
Which tickets does this feature prioritize?
The auto-assign feature prioritizes the oldest ticket created at all times.
What if I want to prioritize chat-like tickets?
The engine considers the "chat-like" and "mail-like" capacity of each agent independently.
If agents want to answer chats first, they will not be assigned more "mail-like" tickets to replace the "chat-like" tickets they've closed. They will only be served "chat-like" tickets until there are no unassigned "chat-like" tickets anymore in their team.
How does the engine choose the next agent to assign a ticket to?
Auto assignment will pick a random agent from the list of available agents with the smallest number of open tickets first.
If multiple available agents have the same number of open tickets, then a random agent will be assigned.
Why can't I access these settings?
Only the users with the Admin role (and the Account Owner) can access the settings page for this feature.
---
Last reviewed on Fri Dec 1st by Daniela S
Was this article helpful?