Set up voice
Updated 7 days ago
Note: As of now, if your billing cycle ends during December 2022, you will notice two new lines on your invoice - voice` and `SMS`, at $0.00.
How 

it works
The Gorgias Voice integration allows you to make and receive phone calls directly from your Gorgias dashboard.
Please note that this feature is only available on non-legacy plans. Upgrading can be done easily by following these instructions.
This integration was previously named 'Phone', but as we have prepared many special updates for you in the near future, this naming convention is a bit more fitting!
If you have a new account and you try to add a phone number for the first time, you will receive an error. This is intentional and can be removed by reaching out to [email protected] who will whitelist the account.
Ready to get started?
Have questions about voice integrations or aren't sure where to get started? Our support team is here to help at [email protected] For Enterprise and Advanced customers please contact your CSM.
For pricing information, please visit the Voice section on the Billing and Pricing page.



Setup ins

tructions
To install a new phone number and voice integration in your Gorgias helpdesk please follow these steps:
Navigate to Settings → Phone Numbers and add a new phone number.
On the next page, you'll be able to give your new number a name, assign it to the relevant country and country code, as well as pick between 'local' or 'toll-free'. Once you're happy with the setup, hit 'Add phone number'.




Find the location and area code that you would like to create a new number in, or add an existing phone number.

Please note that at this stage, you can only create US, Canadian, UK, French, and Australian phone numbers, however, more regions will be added soon!

The following page will present you with options to assign your new phone number to a Voice or/and an SMS integration. As you can see you can further manage these integrations from the same page:
We added Voice in this case, so if we hit 'Manage integration' on the right off it now, you will find yourself in your Voice integration settings. Here you can chose if you'll be recording your calls, sending them to voicemail outside business hours, as well as pick the ringing behavior for your team - round-robin or broadcast.
6. In the 'Voicemail' tab you will find settings for your voicemail greeting message, or you can just have none. And in the 'Greeting message' tab you can upload your recording, use text-to speech like with voicemail earlier, or not have a greeting message at all. If you choose to upload a recording, please note that the only format supported is .mp3.
And you now have a new Gorgias voice integration!
Your new phone number can now be managed from the page shown below:
Please just keep in mind that you can't have two voice integrations associated with the same phone number at the moment.


Call Recording
Please note that you are responsible for using the recording features in Gorgias in compliance with all applicable laws in your given area of residence. By enabling call recording, you are indicating that you have received end-user and agent consent before call recording began. You are also indicating that you will not be collecting payment information over the phone while the call recording feature is active.
The calls are automatically recorded based on the settings from (phone) integration. The user will have the UI button to start/pause the call recording for ongoing calls.
Managing Live Call Recordings
Customers may not use our call recording feature when any credit card, debit card, and other payment information is made available to any party during a call.
Note: After 6 months, call recordings will be automatically deleted.

Once the call ends, the Call ended event should show the following message:

Call routing
Each time a new phone number is created in Gorgias a number of additional elements are automatically created in your account. You'll notice that you have a new:
View: Phone - (xxx) xxx-xxxx

Rule: Routing rule - (xxx) xxx-xxxx
Team: Phone team - (xxx) xxx-xxxx
From here you can choose to have the incoming calls assigned to individual agents (members of the phone team) or have them ring for everyone on the team at the same time. If you go to Settings → Integrations → Voice → Your Voice Integration and scroll a bit down on the Preferences tab, you'll notice a section called 'Set ringing behavior for teams'. Here you can choose between one of the two options in order to determine how your phone calls will be assigned.
By default, the team will include the user who created the phone number. Please remember to add any agents who will be handling phone calls to this team in order for calls to be successfully routed to them.
Forwarding
If you have an existing phone number you wish to keep, you may wish to set up call forwarding.
This requires you to create a phone number in Gorgias and forward calls to this number. You can currently only create US, Canadian, UK, France, and Australian phone numbers in Gorgias so you would need to use one of those numbers for forwarding. To set this up please contact your current service provider and forward calls to this number.
Please note that forwarding and/or international call charges may apply. Contact your provider for more information.

Please follow your providers' instructions on how to set up call forwarding correctly:
This list is not cumulative, so if your provider is not on this list please don't hesitate to search their documentation and settings as well.
For known limitations with forwarding, please refer to this guide here.

UK, Australian, and French numbers
You can now create United Kingdom, Australian, or French phone numbers as well.

France
To request a French number, please submit an international phone number request.
Once you have submitted the request, our team will manually purchase the number for you. Once done, you will receive an email notification confirming that the number has been acquired.
Numbers supported
For now, we support Local for Australia, Local/Mobile/National for the United Kingdom, and Local/Mobile numbers for France.
We will iteratively be adding other countries based on demand. If you are interested in creating a number for other countries, please submit it as feedback to our public roadmap.
Using Voice
Receiving calls
To receive calls in Gorgias, agents must be available. This means that their availability status must be toggled to on.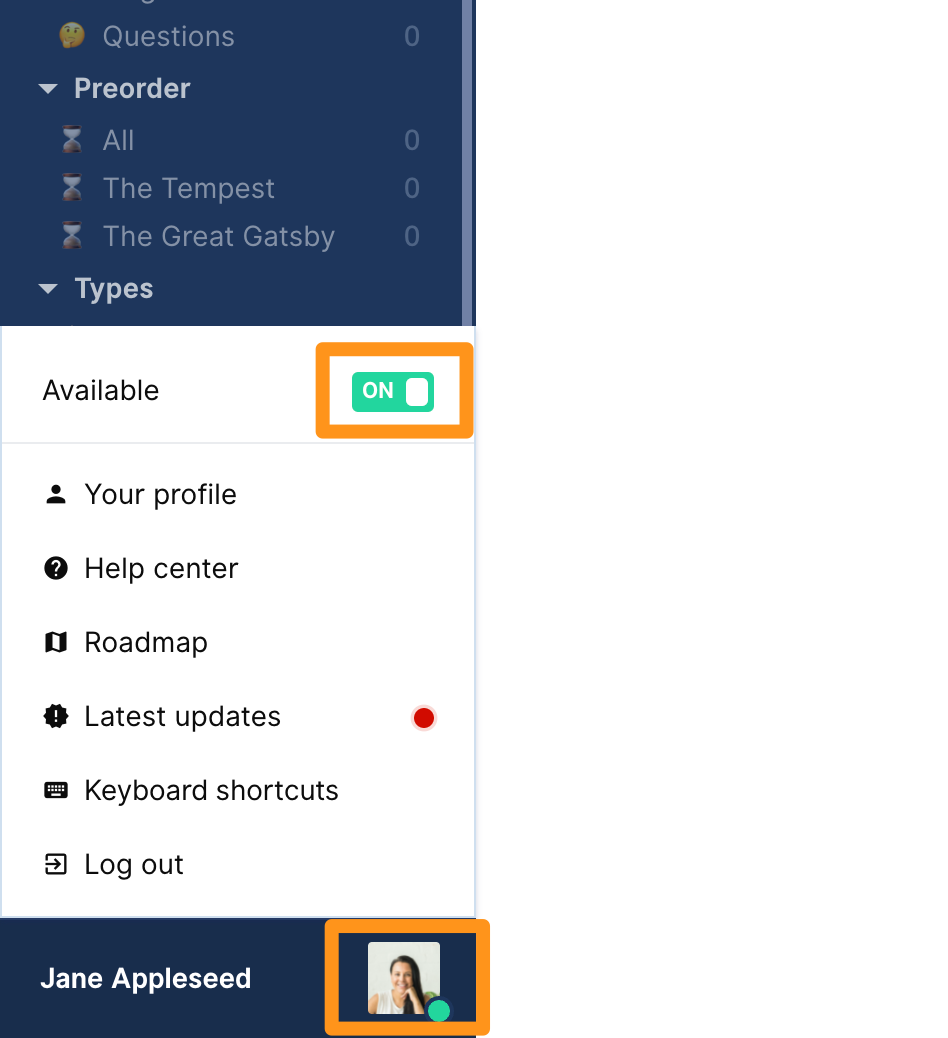 This is the interface you will see when receiving calls from a client as well as when you answer the call: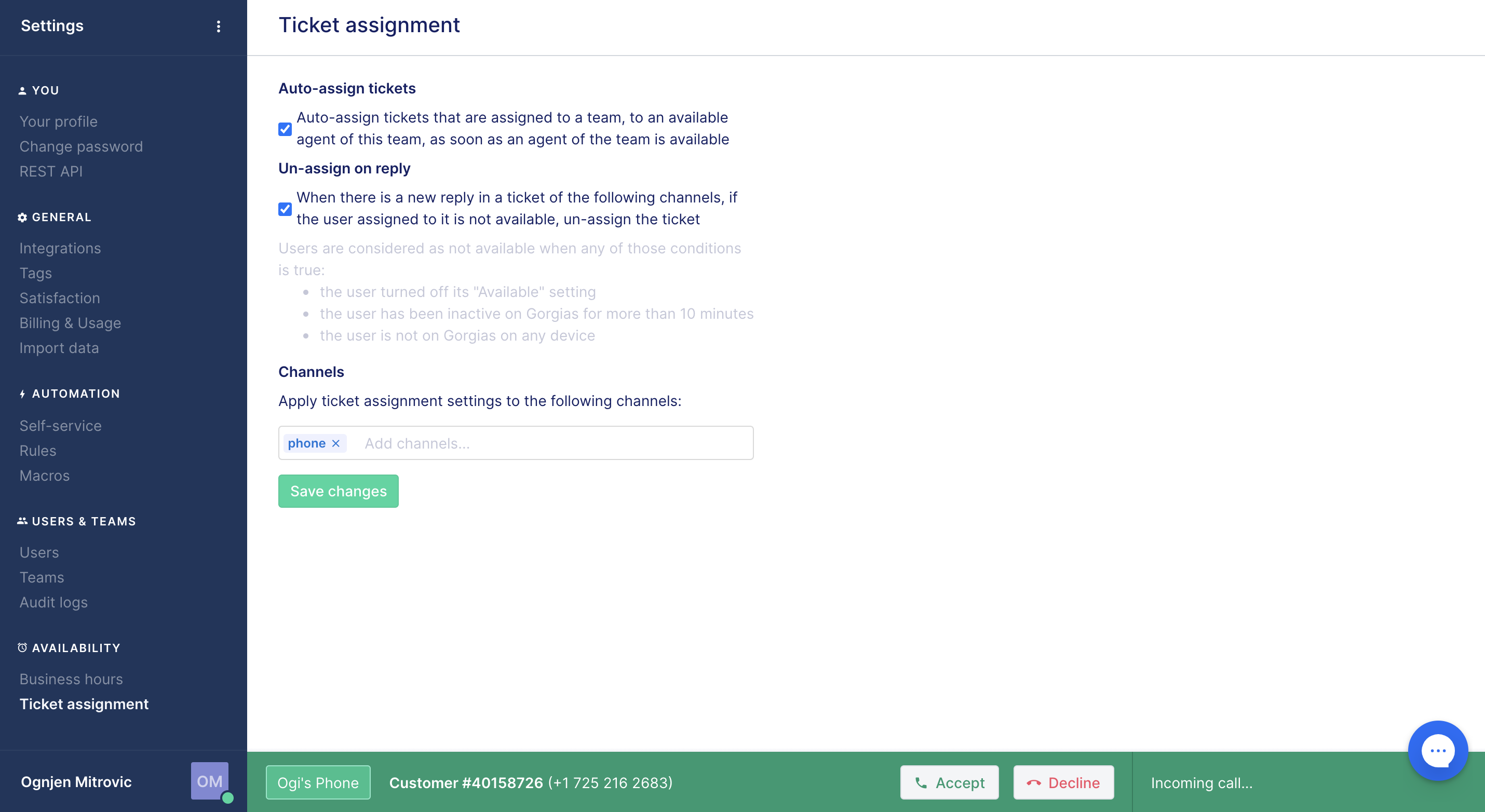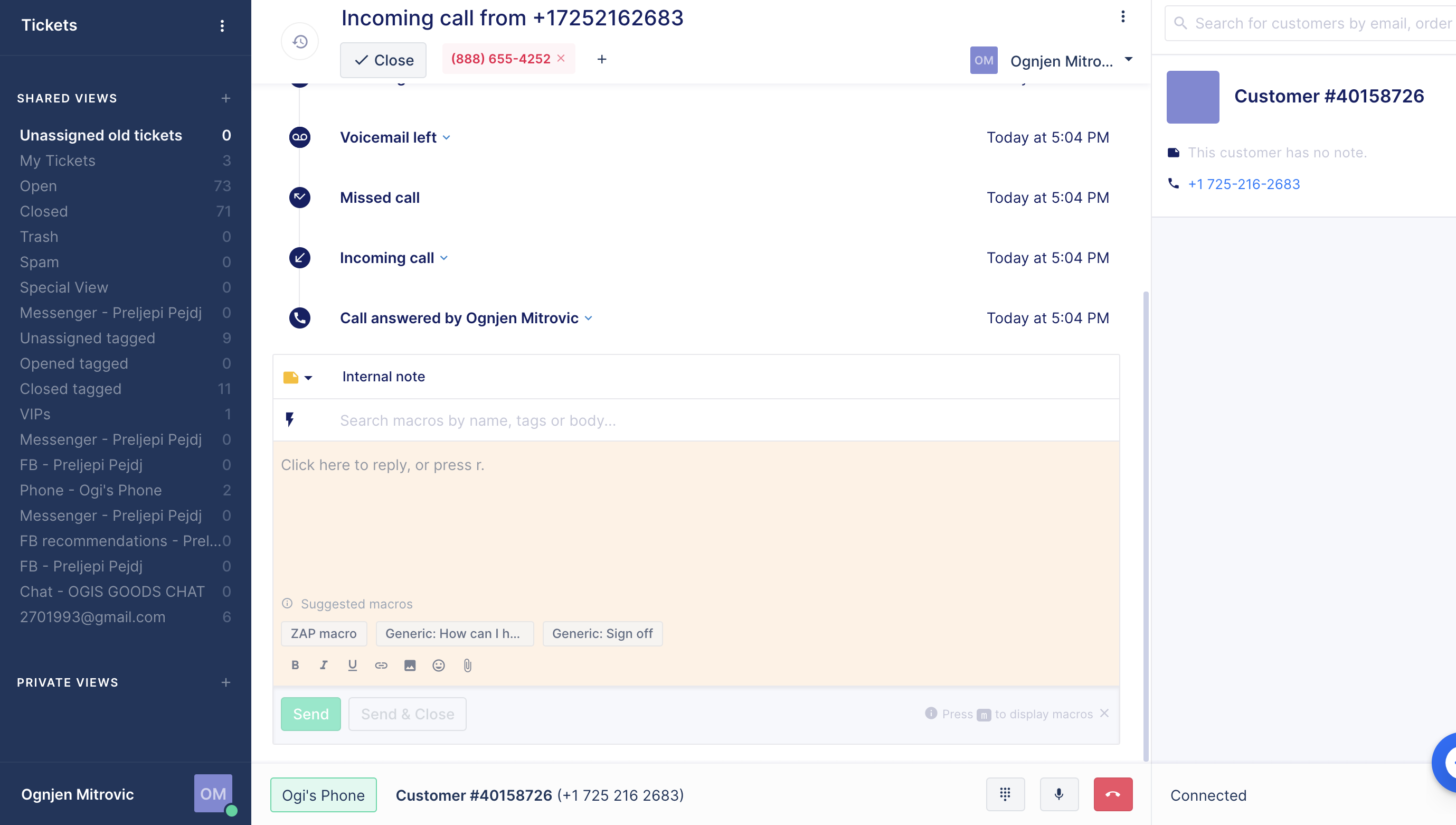 Unlike other channels, agents
will be routed calls even if they have the
maximum number of tickets
assigned to them. The only time an agent who is available will not have a call routed to them is if they are already on another call.
Make sure that you have your microphone permission allowed in Google Chrome in order to accept the call. In case the permission is not allowed the call will be terminated upon clicking on the green "answer" icon.
Making outbound calls
Calling from the customer's profile
The easiest way to make a call is by clicking on the phone number on the customer profile:
Once you click on the phone, Gorgias starts an outbound call and redirect to a new phone ticket Outgoing call
This will automatically create a new ticket with the outbound call regardless of the current screen that the agent is on
Customer phone number can be accessed both via ticket and/or customer page.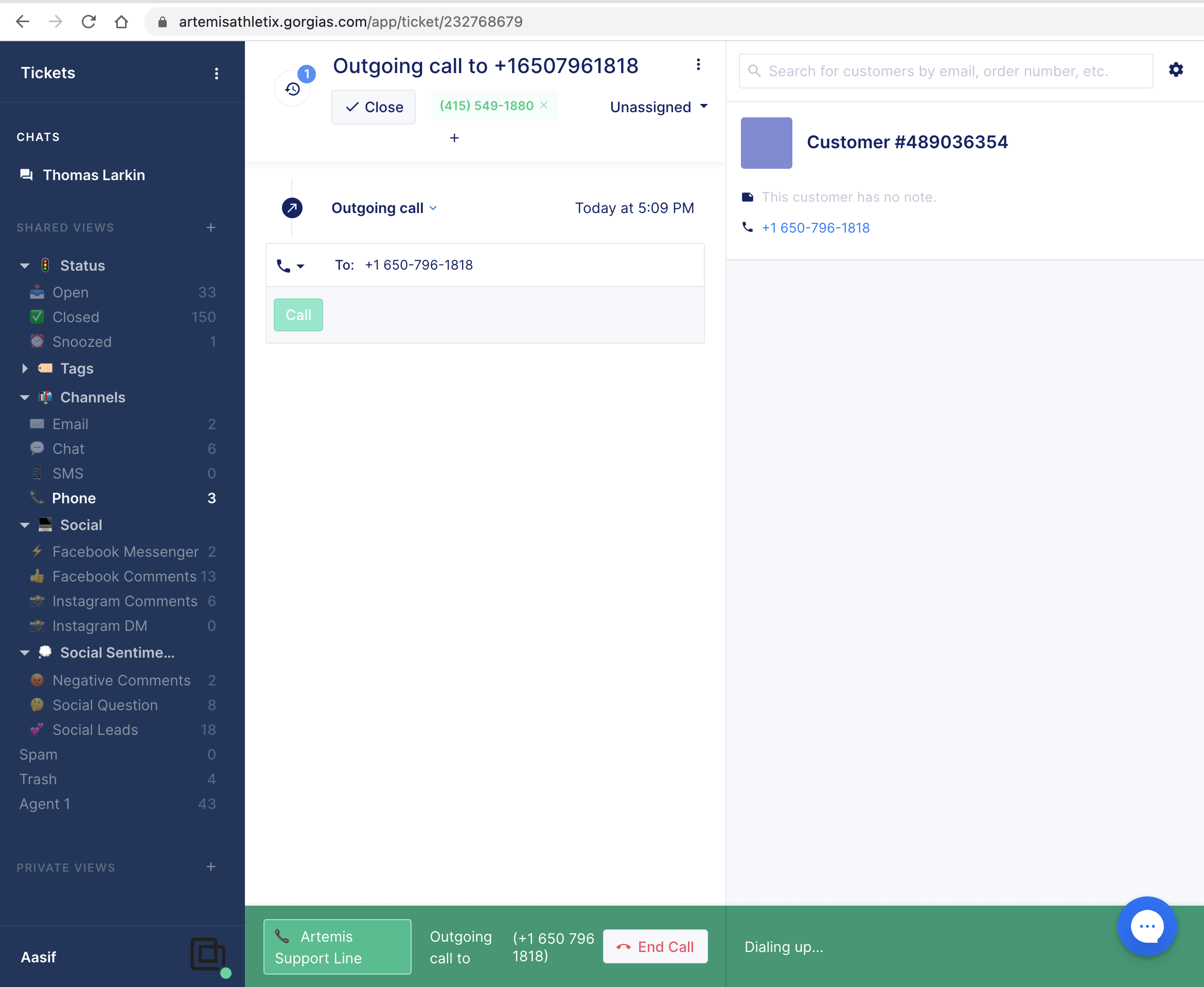 Calling any number
You can also call any number, it does not have to be linked to the customer profile!
In order to do that, please create a new ticket → change the ticket channel to outbound call → Enter the desired number → Click on Call.
You can also find a quick video explaining how to do this here:
A customer needs to be created in Gorgias in order for you to be able to call their number. There is no dial-pad at the moment, but you can call anyone as long as you make the customer profile for them.




Setting up an Interactive Voice Response (IVR)
The Gorgias IVR is a separate phone number, which provides the caller with a menu of customizable options to either forward the call to a specific phone number or play a message. Callers can respond to IVR menus by selecting the 1-9 keys on their phone's dial pad, which will trigger an action.
1. When creating a new voice integration with your phone number, you'll be prompted to choose between a 'standard number' and 'IVR'. Once you pick 'IVR' please click on 'Add voice'.

2. On the following page, you can configure your IVR options and where they will lead to. Some can just play a message, some can lead to an external or internal number.
Now, whenever your caller goes through the IVR options, you will be able to see the exact path they took via the events outlined in the ticket. It'll look something like this:
Every call will be marked by three events in the ticket:
"Incoming call" event to mark the beginning of the call.
Customer selected option event; could be "Message played", "Call forwarded to a Gorgias number" or "Call forwarded to an external number".
"Call ended" event to mark the end of the IVR Call.
If no option is selected or an invalid option is selected, then the IVR message will be replayed.
IVR for non-Gorgias numbers
If an IVR phone call does not get forwarded to a Gorgias number, it will need to create a ticket in the app.
If voicemail is left, then a standard voicemail ticket will be created.
If the message is played, then it will show the following events (on left = text-to-speech, on-right = audio recording):
Number formatting
The phone number needs to be in the format +1 234-235-3455 in order for Gorgias to locate the ticket in the customer search. When entering phone numbers, please make sure to add the number in the following format, otherwise it will not be possible to make a call:

We match the number with the customer profile in Shopify, not the shipping section.
Forward incoming calls to agents' phone numbers
Using call forwarding, you can take Gorgias calls on any physical device, including mobile phones or landlines.
Call forwarding works on an agent-by-agent basis. This means that each individual agent can add a specific number to forward calls to. When they are rung in the helpdesk, rather than calling them in the browser, the agent will receive the call on the number they added.
If the call is assigned to a team and an agent declines or misses the call on their mobile device, the call will continue to be forwarded to the next agent
Activating call forwarding
Go to your profile page: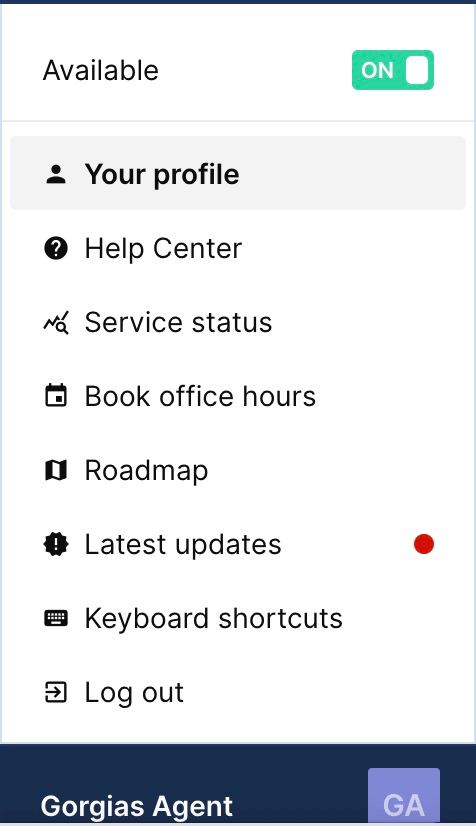 In Forward calls to an external number section, please enable the toggle Enable call forwarding and specify the desired number, then press Save preferences.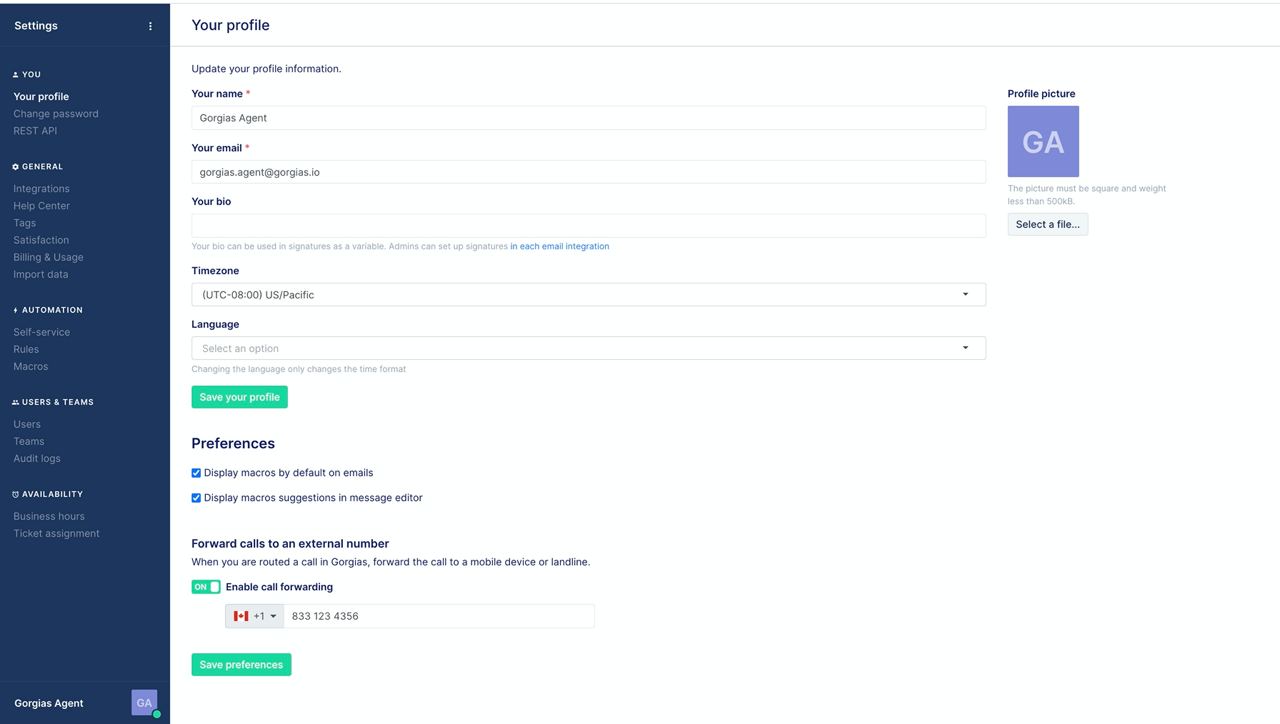 Now all calls for tickets where this agent is assigned are gonna be forwarded to this physical phone number, regardless if it was assigned manually or with auto-assignment.
The call will only be forwarded to a mobile device if the agent is available in Gorgias with a browser open to the helpdesk.
Call forwarding will only work for tickets assigned to agents. Auto-assignment needs to be set to "On" for phone tickets so that calls are being assigned across the team.
When the call is forwarded, the person who accepts the call on a forwarded number is supposed to press 1 on a dial pad to accept the call. The message with instruction should be played to a called party as soon as the call is accepted.
If you want to forward an agent's incoming calls to an external phone number, there cannot be a greeting message set up on the external line. Otherwise calls will be dropped because of a requirement for the called party to press a digit.
Managing tickets
Phone tickets do not have messages, they only have actions. Therefore, to order your views, please use `Ticket created` and `Ticket updated`.
Due to the nature of the phone integration, call tickets/channels are isolated differently from other channels.
Channels can be isolated via:
Views using the filter Tags > contains one of > (xxx) xxx-xxxx
Rules using the filter Ticket Tags > (xxx) xxx-xxxx or Ticket Channel > is Phone
You can merge phone tickets with any other tickets if the phone tickets do not contain any "unfinished" calls (ringing, answered, in progress etc.)
Additional features
Available now:
Create a local or toll-free phone number in Gorgias (USA, Canada)
Create a phone number in Gorgias for France, UK and Australia - see more here
Make and receive calls in Gorgias
Receive and listen to voicemails
Voicemail (customer recording and text to speech)
Automatically recognize Shopify customers
Round-robin incoming calls for agents within a team
Accept forwarded calls from Aircall
Record and listen to calls
Porting
IVR
Customer greetings
Future releases
Call queueing
Call holding
Call transferring
Custom voicemail for outside business hours
Multi-language text-to-speech
Wrap-up time
Advanced phone statistics
Keep up to date with product releases in our public ProductBoard!
FAQs
Phone integration FAQs can be found in this guide here.
Of course, our Support Team is also here to answer any questions that you may have about our native phone integration both via live chat and email at [email protected]
Was this article helpful?