Installing and using Gorgias Chat
Using our chat integration is a great way for your customers and leads to connect with your support team without the hassle of sending an email and waiting on a reply.
Installing the chat on your website
To add a chat widget on your website:
Add a new chat integration
In Gorgias, click on Settings > Integrations > Chat
Click Add chat
Name your chat. This will usually be the name of your company
Once the chat is added, it is automatically enabled, but not yet connected to your store
Install chat integration



One-click installation
If using Shopify, and looking into showing your chat widget on all webpages, this is the fastest way to go:

In your chat integration go to Installation
Toggle the button 'ON' next to your Shopify store name

Manual installation
You can also copy and paste the HTML code to your website, this is especially useful if not using Shopify. But also if you wish to add the code manually to just some of your Shopify webpages.
Follow the steps below to manually add chat code to your Shopify store:

Under 'Themes' in your Online Store click on 'Customize'

Then under "Theme actions", click on "View theme"

Open file "theme.liquid" files and scroll down to the bottom

Finally, copy the code from your chat Installation section and paste it above the </body> tag
Please note that by copying the code to your Shopify theme.liquid files, the chat will also be shown on all webpages. Make sure to copy the code to just specific pages if needed.
You are free to add multiple chat integrations. This is especially useful if you are managing several stores from Gorgias.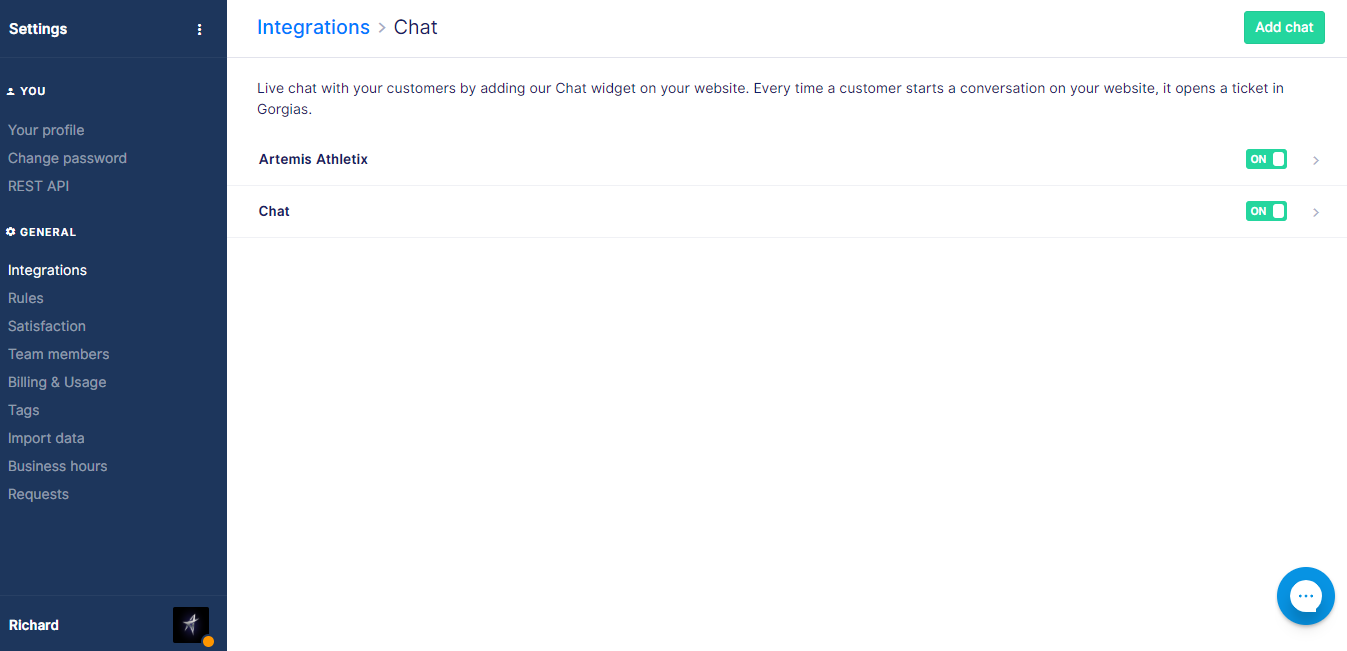 Availability on chat
The chat status will always depend on your business hours settings (under your Gorgias dashboard > Settings > Business Hours). Outside of business hours, the chat will show in offline mode. During your business hours, the chat will show in online mode.

Note regarding agents profile image:
- Even if no agents are set as available for chat during business hours, the chat will still be shown in online mode, but their profile picture will have little orange circles. If agents are available, their profile images will be displayed with little green circles.
- In case that you have agents available for chat outside business hours, the chat widget will still be displayed in offline mode and the agent's profile picture will always be displayed with orange circles (regardless of their availability).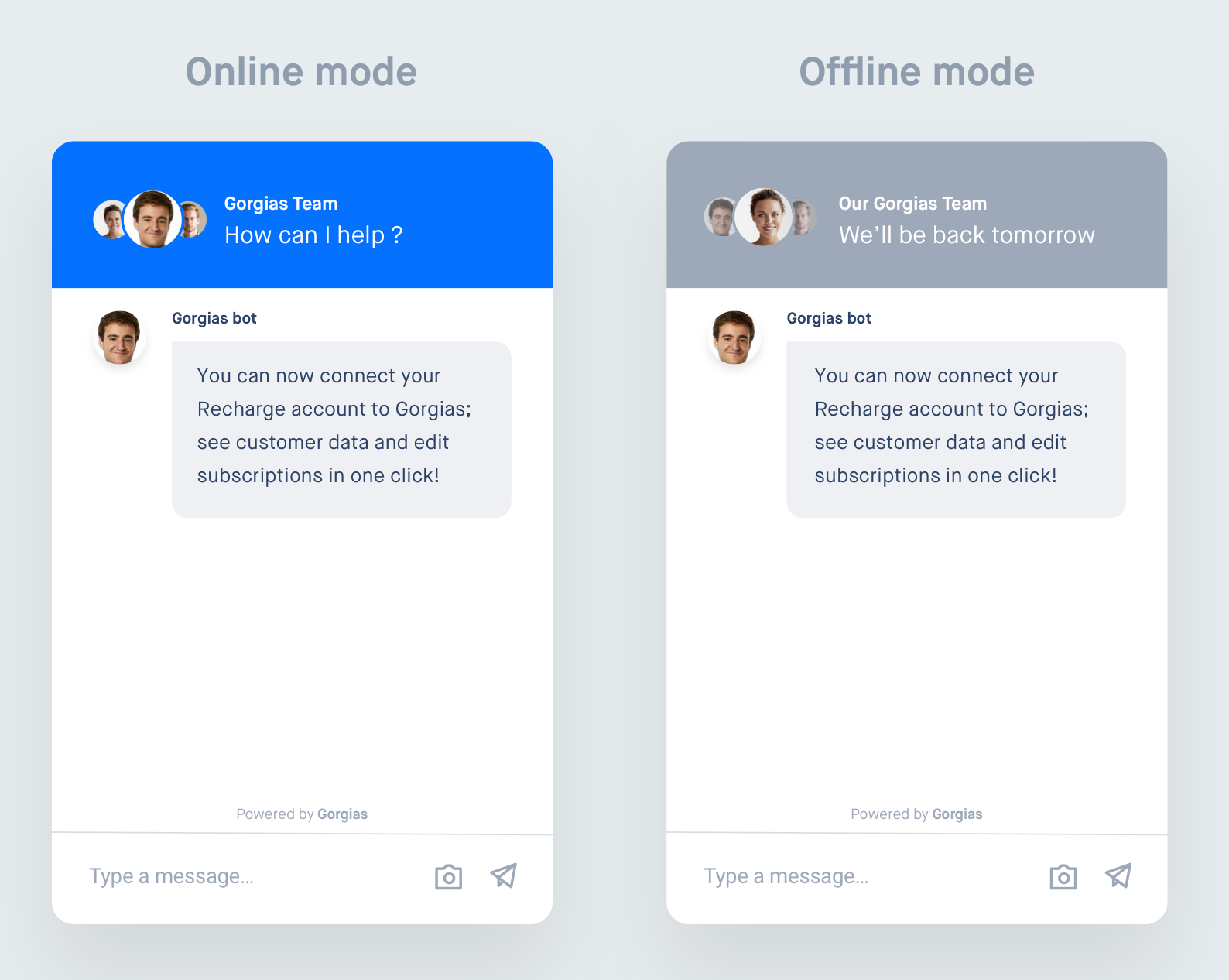 Note regarding setting a single picture for the whole team:
This option is only available when updating an existing Chat integration, and not when creating a new Chat integration, for technical reasons. If you want to set a single picture for the whole team on a new Chat integration, please create it without it at first, and then go back to its appearance tab: you will then be able to upload a picture and enable this setting.
Setting yourself as available for chat
You can determine when you're available to chat with customers or not. Please note that this will not affect the overall availability of the chat - this is changed by setting up your business hours.
To set your availability, click on your name at the bottom right, and use the available for chat toggle.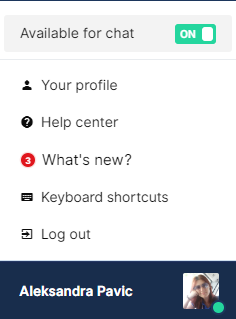 There are 3 ways an agent can appear as unavailable for chat:
If the agent marks themselves as not available for chat manually
If the agent has closed their Gorgias tab
If the agent hasn't been active for more than 10 minutes
When an agent in Gorgias is replying to a chat ticket and the customer still has the chat widget open on their end, the customer will be able to see that the agent is typing their message. However, the agent will not see when a customer is typing a message or if they still have the chat widget open.
If the customer closes the chat widget and misses your message, we will send them the missed messages via email. This event will also be displayed on the ticket in Gorgias, as shown on the screenshot below. Moreover, clicking on the event will highlight the exact messages that were sent in the email.

Auto-responder for Chat
You can set automatic responses that will be sent to your customers outside of your business hours. This is a great way to let your customers know when they can receive a response from your agents.
The auto-responder is not related to the agent's availability, but will instead behave differently depending on whether you are currently within or outside of your business hours.
During business hours auto-response
If a new ticket is created by a customer message and no one answers after 30 seconds, an automatic reply will be sent to the customer, reply which you can choose among 4 options: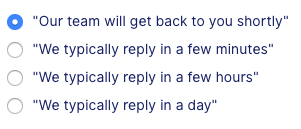 Outside business hours auto-response
If a new ticket is created by a customer message, an automatic reply will be instantaneously sent indicating when is the soonest time when agents will be available (based on your business hours)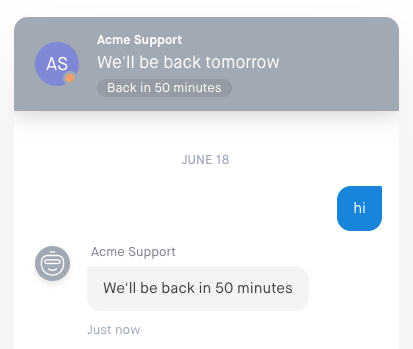 All those messages are translated into the language used by your integration, which you can now configure on the "overview" or "appearance" page of each of those integrations.
The chat auto-responder will trigger just for currently logged in customers. If the customer is not logged into your website, they will receive just the email capture message.
Required email capture for chat
The required email capture feature will allow you to prevent your customers from sending a message to your chat if they haven't entered their email address.
This should help a lot in reducing the number of tickets where customers left after leaving a message in the chat and did not provide you with an email address you can use to contact them, thus becoming unreachable.
There are three options for the email capture:
Optional: the default option, which is also what was enabled for now. Customers can send messages, but if they are not associated with an email address, they will be prompted to enter theirs.
Always required: customers can never send a message without entering their email address first (except if we already have their email address).
Required outside business hours: outside of business hours, behaves like always required; during business hours, behaves like optional.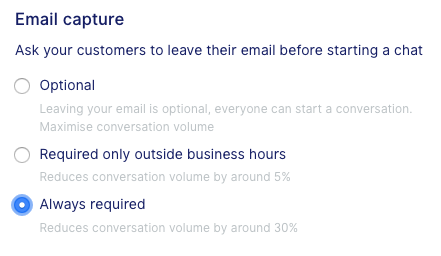 The email capture feature cannot be disabled. Also, we cannot affect the time after which it would be triggered, at least for now. If you wish to change the email capture message, please check out our
video
tutorial.
If you are adding your Gorgias user email to the email capture, it won't be picked up by our system, please check more info
here
.
Chat view and section
Apart from being able to check your chat tickets in the Chats view, these will also appear in the Chats section on the left-hand side just above the views section. This section will appear only if you are set as available to chat and shows you chats that are assigned to you as well as any unassigned chats.
If more than 6 conversations are open (unassigned or assigned to a current agent), we only display 6 based on when last message happened within a chat ticket. Tickets with most recent last messages will be displayed.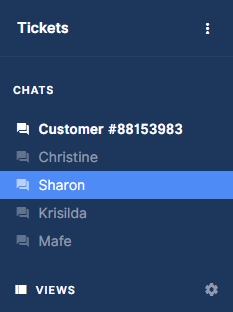 Chat assignment setting
You can use the Chat assignment setting to remove an assigned agent from a ticket if they are unavailable. For more information take a look at this article.
If a customer responds to a chat ticket after 3 days of inactivity, this will create a new ticket. This way, we can separate conversations about different topics.
Send some replies!
Now that you're completely ready to answer your chat tickets, here's some additional cool stuff that you can add to your replies to spice them up!
We've added the ability for you to send messages with rich text formatting and embedded hyperlinks when replying to a chat ticket in Gorgias. The same goes for chat campaigns, of course.
When viewing a chat ticket, you will see additional buttons below your text input field that will let you insert bold, underlined, and italic text, as well as the ability to create hyperlinks, insert inline images and add emojis to your message.
Here's a quick example of this below: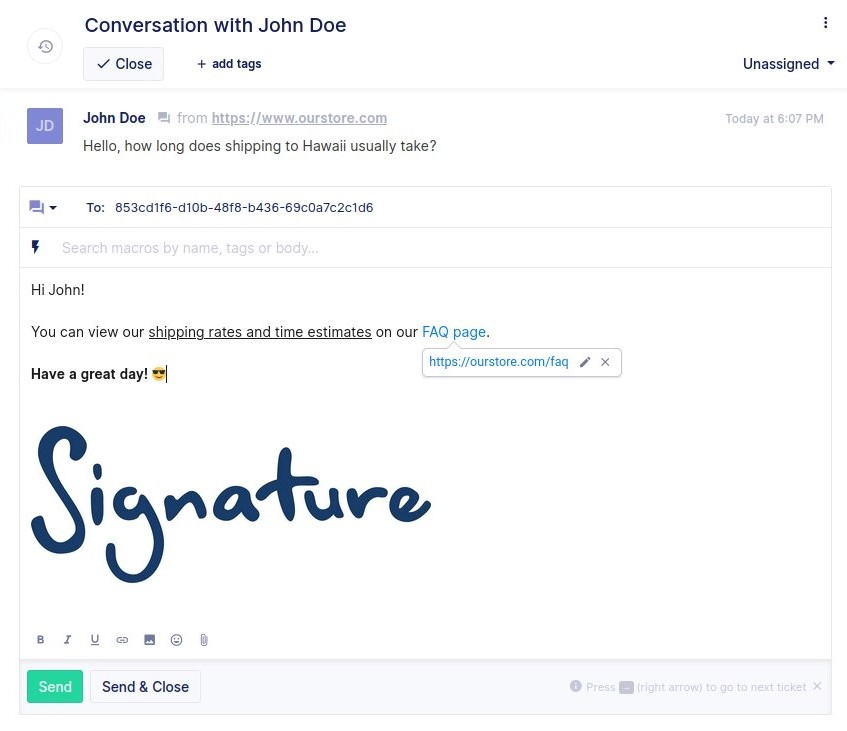 ---
---