Email FAQs
On this page, we will respond to the most common questions regarding Gorgias email integrations.
If you can't find the answer that you're looking for here, please refer to our other email articles below:
If you're still having some trouble, then please feel free to contact our Support Team at support@gorgias.com or reach out to via our live chat.
What is the default email address in our email integrations used for?
The long email address under your integration page is a default email address added automatically with creating your account. Under the email integration page, you need to have at least one email address. So until you add your support email, this default one cannot be deleted.

This email address is mostly used for setting up the forwarding, if your email integration is not the direct one (email providers: Gmail or Office 365). You can still delete this email address from your integrations page if you are using forwarding as well, since it will be available in further forwarding steps, you can check that here.
To be able to use this feature and the mentioned address, the address needs to be verified first, and when your Gorgias account is created, the email verification is automatically sent to the account owner's address.
If you have finished your forwarding setup, you can delete this address from your integration page and it won't have any impact on your Gorgias account. Also, if you have accidentally deleted that email address, it can be added back, by copying and pasting the address from the forwarding settings and verifying it.
What happens if I send a mass email to a lot of BCC'd customers? Can I split their replies into different tickets? Will everyone see everyone else's replies?
Not exactly. Gorgias is generally not made for sending mass emails. One of the reasons being, all the replies from the recipients of the mass email will go to the same ticket thread and this thread will be visible to all other recipients (regular recipients, not the ones who were BCC'd) should you chose to reply to one of them. We have no way to prevent this and split it into multiple tickets.
Now, the BCCd recipients will not be visible to other recipients initially. However, if one of the recipients replies to you (even using the reply option, not reply all), that message will go to the same ticket as the messages from other recipients. Should you choose to reply to an inquiry from that ticket at any time, the entire conversation thread will be visible.
If we respond to our customer emails directly from our mailbox, will the Gorgias tickets refresh and update as closed?
If you respond to an email outside of Gorgias (e.g. through your Gmail), your response will be shown in Gorgias as well, but the ticket will remain open until manually closed. Similarly, you can reply to and close a ticket in Gorgias, but the email will remain in your inbox and appear as unread.
Can we send an image to a customer without typing anything in the message body?
Currently, you cannot send an image by adding it to your reply directly and sending it without any text. However, if you simply attach the image, you will not have to type any text at all and can easily send the picture. The only difference is how this will appear to the receiver of your email.
What is the size limit for files sent through Gorgias?
Currently, the limit for Gorgias is 10 MB. However, different email clients might have different size limits. E.g. when a customer attempts to send a file/files larger than 25 MB via Gmail, those will be sent as a Google Drive link. In that case, the file will be viewable only if the sender shares access. Link sharing is best in this case.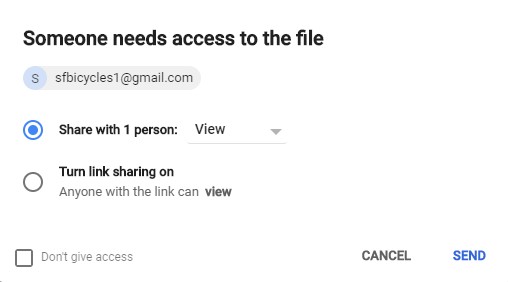 What does it mean when an email looks like it was sent by the Gorgias Bot?
A Gorgias Bot is (in this case) simply indicating a response was sent outside of Gorgias, via one of the integrated email accounts. If a reply to a customer's email is sent through your email directly instead of through Gorgias, it will show as sent by Gorgias Bot when you take a look at the ticket in Gorgias. This is because Gorgias cannot tell which agent sent the response through your email account.
Another time when you will see Gorgias bot instead of a users name is when the reply was sent by a rule in Gorgias. When this happens, you will see a link to the rule next to the Gorgias bot.
Can I forward the chat transcript to a certain email address once a chat ticket is closed?
If your customer didn't get back to you on your chat ticket after 1 hour, our system will automatically send them the transcript of the chat so far. There are chat settings that allow you to choose which email integration the transcript is automatically sent FROM, but as far as the TO address goes the transcript will be sent to the one that is on file for this customer.
Please just keep in mind that if after the conversation via chat is done you forward the email to a certain email address, all of the previous messages in the thread will be visible to the party that the thread was forwarded to as well. This is important to remember due to customer data protection and security.
There are certain limitations to forwarding threads at the moment, however, in order to maintain the best performance possible. The limits for thread length are:
<= 15 messages in the thread
<= 150 reply area content lines
<= 1200 reply area content words
(reply area content  = user input + signature + reply thread)
I'm getting an error message "You have reached a limit for sending mail. Your message was not sent." I cannot send messages from either Gmail or Gorgias.
It could be that you have reached the Gmail sending limit for the day.
After reaching a sending limit, a Gmail user can't send new messages for up to 24 hours. However, they can still access their G Suite account and receive incoming emails. The user can also access their other Google services. After this suspension period, sending limits are automatically reset and the user can resume sending mail.
You can learn more about the Gmail sending limitations here.
My integration is set up correctly. Why are a number of emails not appearing in Gorgias?
If you're finding a number of emails are not reaching your Gorgias helpdesk it could be due to the in-built spam filter in Gmail.
This works by filtering out emails that Gmail suspects are spam from your inbox. At present this setting can be increased but cannot be relaxed. You can find out more about the spam filter for Gmail here and G suite here.
Gorgias does not have a native spam filter and it mimics you main inbox's spam filters and marks those tickets as spam.
You can also add a "spam" tag to your ticket but the ticket will not be placed in the spam folder until clicking Mark as spam.
Some emails do not create new tickets.
We do not create tickets when they should have been created with only an automatic reply in them (for example, automatic replies to indicate that someone is on vacation). If you see an email in Gmail that did not create a ticket in Gorgias, that might be the reason why.
---
What do you think? Yay or Nay?
---